The talks about how Tesla cutting prices of its vehicle impacting the industry continues. Now, Electrify America sent out notices to its customers saying that the charging fees will be increased amid networked reliability issues. Could this be a change impacting other EV charging fees as well? While Electrify America provides much more affordable EV charging compared to Tesla Supercharger. The change could indicate that some changes are going to happen.
Regardless, the increase in price is in cents. Where Pass EV charging is as follows as stated by Drive Tesla Canada,
Pass

per-kWh – $0.43 to $0.48
per-minute – $0.16 to $0.19 (up to 90kW), $0.32 to $0.37 (up to 350kW)

Pass+

per-kWh – $0.31 to $0.36
per-minute – $0.12 to $0.15 (up to 90kW), $0.24 to $0.29 (up to 350kW)
Electrify America said that they have tried to keep their prices low but are being forced to issue increases due to "rising operational costs and energy costs." The new prices will be implemented across the US at both stations that bill per minute and per kWh, with all stations having the same uniform pricing. While the new prices are still fairly reasonable, Electrify America customers might be a little annoyed at having to pay more when the network is suffering from severe reliability issues.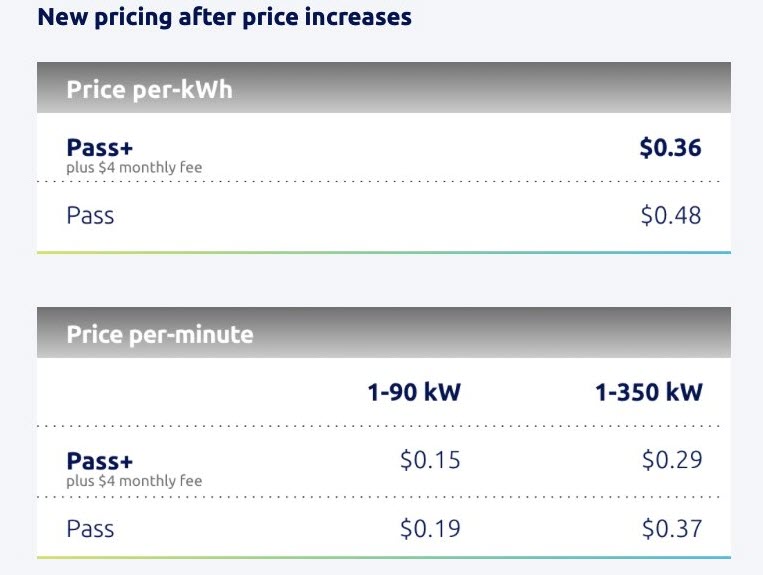 New prices
As we can see, the minor changes may not seem like a huge deal. However, they could slightly indicate the struggle in keeping up with the rising operational and energy costs. In the email to customers, the company sends, "We've tried hard to maintain our current pricing, but rising operational and energy costs have now made adjusting our pricing necessary. We shall continue to maintain simple, uniform pricing across the country, and this adjustment ensures we can uphold our commitment to drive an electric vehicle (EV) adoption and the future of electric mobility."
Electrify America currently operates one of the largest DC fast-charger networks in the United States, consisting of roughly 800 charging stations that contain about 3,500 individual EV chargers. In 2023 and beyond, the network is working to expand in the United States and Canada, growing to approximately 10,000 chargers across 1,800 different Electrify America stations. This expansion now includes over 1,000 EA fast chargers being implemented across 200 TravelCenters locations in the US, as well as new Mega-Watt-backed storage stations to charge EVs while alleviating dependency on the grid.
In the US, Electrify America is often recognized for its lower prices or even free charging on busy travel holidays, in addition to complimentary charging for certain EV purchases, like the new Kia EV6 GT for instance. Basically, the change doesn't indicate anything. However, customers might better be prepared for the rising prices despite the EV prices going down.