Elon Musk is one of the leading innovators of our generation. His investments go beyond just SpaceX and Tesla. At the age of just 46, the entrepreneur has launched a number of successful companies and is now worth a huge $20 billion.
Whether he's launching satellites or working on the Tesla production line, Elon Musk is constantly proving he's a man of unexpected capabilities. We take a closer look at the entrepreneur's empire.
He became a multimillionaire in his late 20s when he sold his startup company Zip2, and since has gone on to invest in a number of projects – and whatever Musk has invested in, he's certainly been involved in: major online payment services, building and launching spacecraft, and trying to cover the world with solar panels, to name a few.
His biggest investment ever made comes in the form of SpaceX, the California-based rocket and spacecraft manufacturer founded by Musk himself in 2002. Musk started as CEO, and he remains in that position today. The goal of SpaceX was, and still is, to revolutionise space technology. The company, which was started with $100 million from the sale of PayPal, is now worth over $21 billion.
As of December 2017, SpaceX had successfully landed 19 rockets, which they plan to reuse on future missions, and lets not forget Musk's intention to take humans to Mars by 2024.
Other SpaceX milestones include becoming the first private company to launch a payload into orbit and return it to Earth intact—something only government agencies like NASA had done before, as well as its upright landing and recovery of the first stage of the Falcon 9 rocket in 2015.
In the last year alone, SpaceX had successfully relaunched a recycled Falcon 9, and sent a used Dragon capsule back to the space station. The company is now in the midst of its next major step—test flying its new rocket, dubbed the Falcon Heavy.
Other major investments include $70,000,000 spent towards Tesla, and a further $35,000,000 spent towards SolarCity.
It's widely assumed Musk was the founder of Tesla, but in fact, the company was founded by engineer Martin Eberhard and computer scientist Marc Tarpenning in July 2003 – Musk joined the board in 2004 after leading the company's series A funding, and became CEO in 2008.
By the age of 32, he had invested $70,000,000 into the company in a bid to develop, manufacture and sells high-performance, fully electric vehicles and electric vehicle powertrain components.
Five years after its formation, in 2008, the company unveiled the Roadster, a sports car capable of accelerating from 0 to 60 mph in 3.7 seconds, as well traveling nearly 250 miles between charges of its lithium ion battery. Fast forward to 2017, and Musk made another splash with the unveiling of the new Tesla Semi and Roadster at the company's design studio.
The semi truck, which enters into production in 2019, boasts 500 miles of range as well as a battery and motors built to last 1 million miles. The Roadster, set to follow in 2020, will become the fastest production car ever made with its 0 to 60 time of 1.9 seconds. It's safe to say that Tesla is now easily the global leader in electric car technology.
With SolarCity, Musk provided the initial investment, a solar energy company that was started by his cousins in 2006. The company has grown in the last 11 years to become the 2nd largest solar power provider in the country.
In 2014, Musk promised to build a bigger and more advanced production facility for the company in upstate New York, and as of 2016, Tesla officially acquired the solar startup for $2.6 billion. Over his career, he has been involved in four businesses with family members, and it's clear his businesses regularly cross paths and transact with each other.
Between space rockets, electric cars, solar batteries, research into killer robots and the billions he's made along the way, just what will he invest in next? Find out more about Musk's investments here.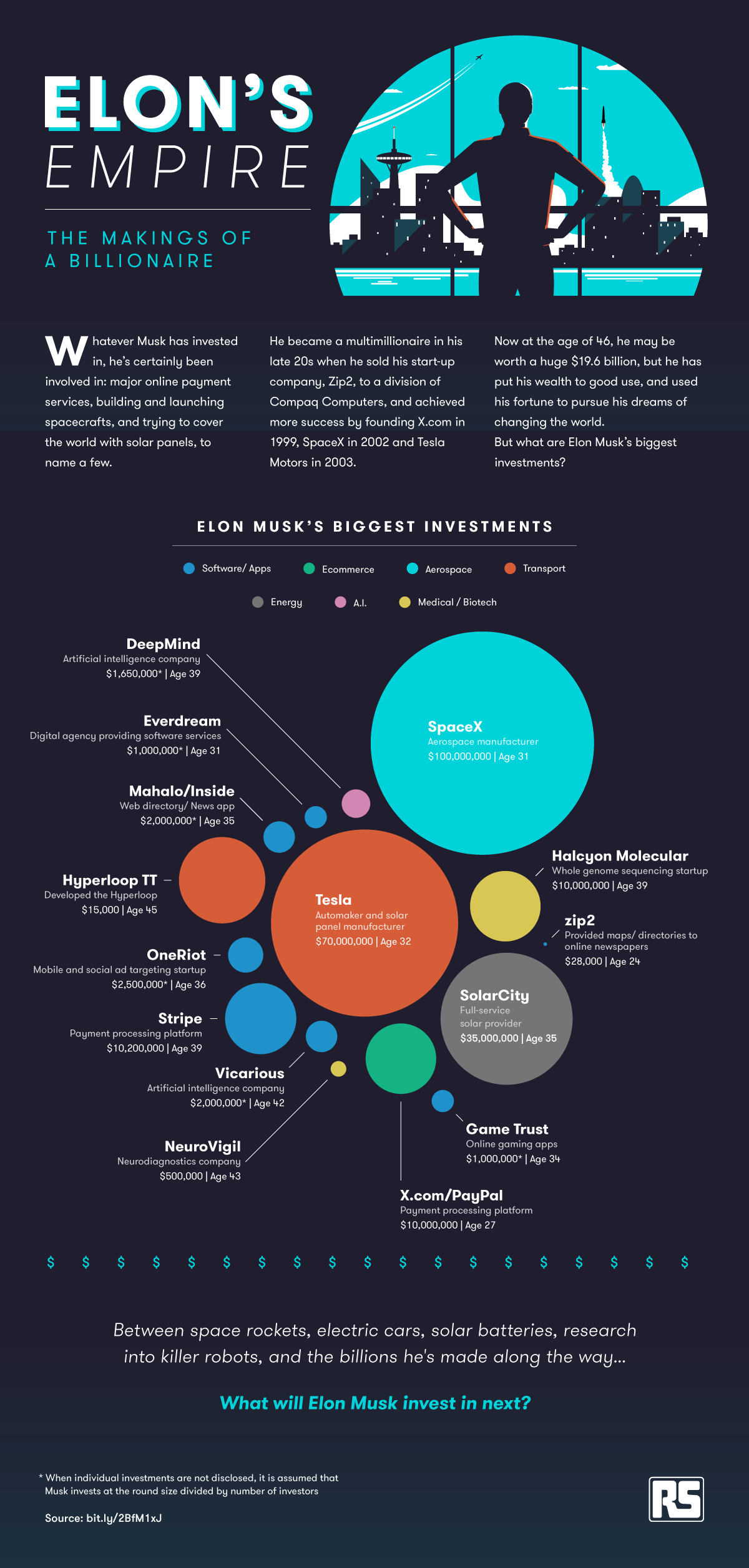 Also Read:
Elon Musk – Real Life 'Iron Man'
Top 5 Electric & Hybrid Scooters To Be Showcased At Auto Expo 2018
(Disclaimer: This is a guest post submitted on Techstory by the RS Components. All the contents and images in the article have been provided to Techstory by the authors of the article. Techstory is not responsible or liable for any content in this article.)