One of the most loved brands, Adidas has a long and interesting history. Did you know that Adidas is the second largest sportswear manufacturing brand in the whole world? and they stand only after Nike.
History
In the early 1920s, a German shoemaker, Adolf Dassler started working in his mother's laundry room. Due to lack of money and resources, they couldn't afford a factory. But Adi was a sports lover and it was his passion to create sports shoes that he managed to create magic even in an under-facilitated laundry room.
In 1924, he was joined by his elder brother, Rudolf Dassler. Rudi had marketing experience in the industry.  Together, they founded the Dassler Brothers Shoe Factory. With Rudi's genius marketing skills and Adi's designing abilities, the Dassler brothers soon made a name for themselves.
But 2 decades later, due to a rift between them, the Dassler Brothers Shoe Factory was dissolved into 2 brands, Adidas and Puma. And that's how, 69 years ago, Adidas was created in 1949.
Interesting, Yes? So, let's get ourselves briefed with the Evolution of this amazing brand through various interesting facts.
Name
There is a very popular myth that Adidas stands for,
A – All
D – Day
I – I
D – Dream
A – About
S – Sport
Being one of the biggest sportswear brands, this name does justify, right? But on contrary to that popular belief, that's now what Adidas means. Adidas had a rather simpler origin. How.
The creator, Adolf Dassler was also known as Adi Dassler. Now, combine the first three letters of the name with the first three letters of the surname and Voila! that's 'Adidas' for you.
Breakthrough
Before the rivalry, in the 1936 Olympics,  Adi knew that this was his chance to demonstrate the world how good his shoes were. He somehow managed to convince the American athlete, Jesse Owens to try them. After the third pair, Owens became the first major adopter. He loved the shoes so much that he even stated, "wanted those shoes or none at all".
Adidas received worldwide fame when Owens won 4 gold medals using Adi's shoes.
Iconic Logos
Adidas logos are so iconic that the brand is often referred to as the three stripes company. One might find it hard to believe that these three stripes concept is actually inspired by a Finnish shoe brand Karhu. Adi Dassler bought the trademark from Karhu for a bottle of whiskey and €1600. Let's take a look at the evolution of these brilliant logos-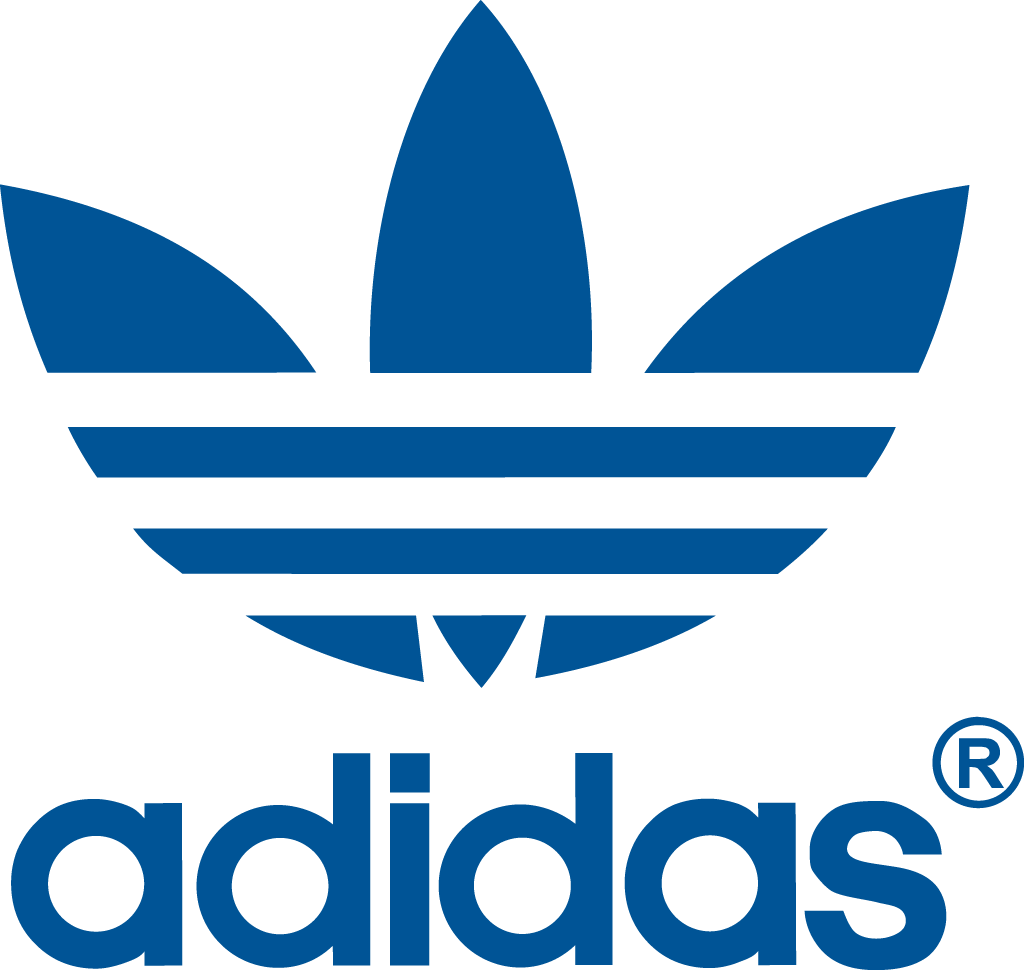 Trefoil
Developed in1971, this logo is called the Trefoil. One of the best features of Adidas is that they carry their legacy and therefore this logo is still used for the Adidas Originals. This logo symbolizes 'diversity'.
Mountain
The most popular logo of Adidas is the mountain. It was created in 1990. The mountain is used in most of the Adidas shoes, be it sorts or casual.
There is a reason behind the logo, the mountain depicts adventure, growth, courage, and progress. Adidas follows and encourages its admirers to follow their dreams.
Three Stripes
This is the latest logo of Adidas. It was developed in 2005. Following the Minimalism trend the world has adopted, this logo is used in the clothing of Adidas. Just like the logo which shows simplicity and minimal, the name given to it is 'Three Stripes'.
Three Stripes depicts quality, the calmness of the lines show leadership, balance, persistence, and flexibility.
Which logo is your favorite?
Starting from the scratch
In 1992, due to the lack of leadership and bad strategic decisions, the brand almost shut down due to bankruptcy. It was a harsh time in the history of Adidas but it was in early 2000 when the company was finally able to stand up again. Their fall and rise was the inspiration behind their famous tagline, "Impossible is Nothing".
Adidas' Only Regret
Adidas once had a golden opportunity to sign the basketball legend, Micheal Jordan. In his early days, Jordan being an Adidas fan wanted to deal with Adidas but the owners didn't believe in young prodigy's potential. Nike saw the opportunity and got Jordan. Since then, Micheal has given Nike a massive success and a profit of more than $500 million.
Following their misstep, Adidas acquired footballing legend, David Beckham and signed a lifetime deal with him. Other greats include Lionel Messi, Sachin Tendulkar, Ricardo Kaka, Zinedine Zidane, Kanye West and many more.
Parent 
Did you know what these massive brands have in common? 

Reebok, TaylorMade, and Rockport are owned by Adidas.
Vision
Intelligent Shoes
Adidas was the first one to create 'Intelligent shoes'. The first one was introduced in early 2005.
They had installed microchips in the shoes. The micro pacer designed by Adidas would show the athletes features such as how much distance they covered, calories burnt etc.
Speed factory –
In order to deal with their massive demand and large production, Adidas introduced the Speed factory.

It has been designed to not only look after the quantity but maintain quality too. The Speed factory also looks forward to utilizing the raw materials to their fullest in order to avoid any wastage.
Plastic Shoes
Using their 3D printing technology, Adidas has decided to create more than 11 million shoes made out of recycled plastic. This is a major step towards ending the toxic plastic pollution in the oceans.
Adidas might be trailing to Nike. But it's also true that their innovations and upgradations are on a different level. The best quality of Adidas is their constant evolution. Perhaps, that's why people love this brand, cause they know, Adidas always has something up their sleeves.
---
 References –
Comments
comments