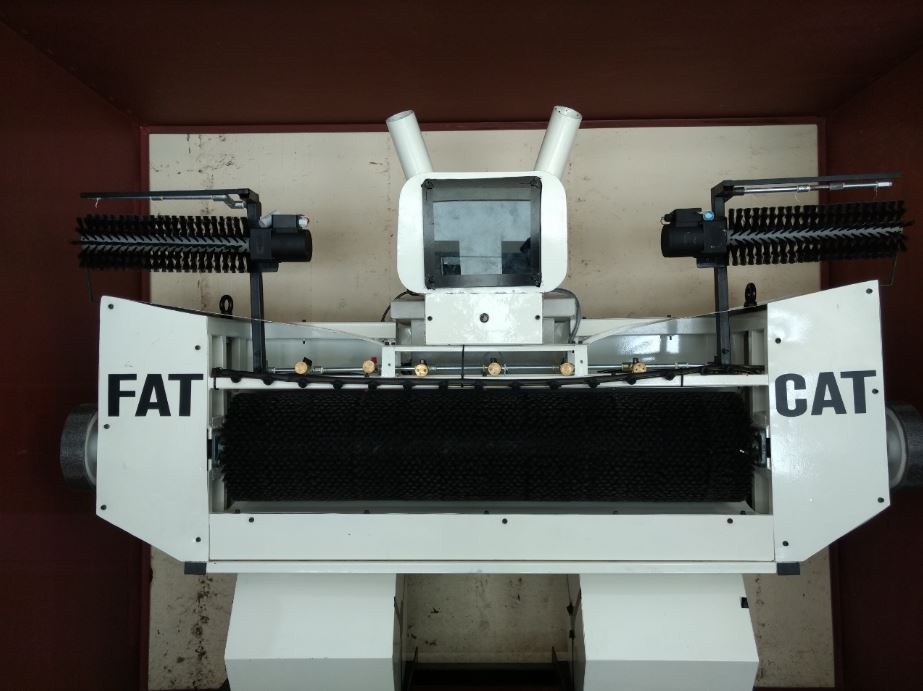 Can robots replace human beings? While its been a burning question among people in U.S., China, Japan and others, India is still in its nascent stage when it comes to the field of robotics. Moreover robots taking over a few labour intensive work is actually beneficial for people in general. May be this particular problem that Fat Cat is solving can strengthen my point better.
Fat Cat founded by two brothers was started with a vision of making India self sufficient in robotics. "The name Fat Cat signifies we aiming to be the 'fattest cat' in business when it comes to robotics" says Ameya Kank, co-founder of Fat Cat.
Started with the dream that India needs its own technology break through and other countries should learn from India, Ameya & Aditya Kank, the co-founder brothers started working on the concept in 2011 and held it back as they felt that the market needs to mature more to accept their product.
Shift in Market
Automated cleaning industry was valued at USD 1.04 Billion in 2014, and is expected to reach USD 2.50 Billion by 2020, at a CAGR of 15.3% from 2015 to 2020 as per sources. Although, the addressable market in India is still virgin, Government of India is as well contributing with projects like GIFT cities in Tier 2 & Tier 3 towns.
Fat Cat was on the continuous look out for the opportunity to begin their work, but after witnessing rise in glass facade towers, they decided to launch their product after prototyping in June 2016, an automated high-rise window/facade-cleaning robot.
While the FCM industry is divided into two parts, hard and soft services, Fat Cat's window cleaning falls under soft services. There are no significant players yet in India and South East Asia where cleaning is still done manually using rope access method or through scaffolds which is highly risky and can be life threatening.
Also Read: The New Workforce Model: Say Hello To The Robot At Your Doorstep
Some part of US and Europe has come up with automated cleaning but they lack in features that Fat Cat provides. The business model that the company has adopted is very different and major differentiator on how the duo plans to take over the cleaning industry. Further, globally there are very few players who are able to figure out this technology giving Fat Cat open markets beyond India.
Fat Cat
The product is smart where it clean glass facade without absolute human intervention for its vertical movement; the horizontal movement can also be automated. The bot provides unique features like different options to use water for cleaning like white wash & regular wash. Wind anemometer helps detecting wind speed at high levels ensuring safety.
We can say we will be making a paradigm shift in how high-rise towers are cleaned in India and Globally.
The fine brush bristles are even capable of cleaning bird poop from the glass without leaving any scratch. The bot uses pure water which does not leave any white stains after cleaning is done. Their product can clean external facade at a speed of 4000 SQFT per hour. They have also patented the utilities of the robot within India.
The product is designed by keeping in mind not only the end user (Ultimate Consumer) but also the operator of bot this helps them stand out significantly, secondly people are still trying to figure out the technology whereas Fat Cat are on the verge of product launch with customers who are willing to use their robots.
Being Non-Engineers
Journey hasn't always been a smooth one for the Fat Cat team, but rather a very uphill battle for them. The manufacturing industry is highly influenced by its prejudice towards engineering innovation. Sadly, most of the engineers today believe in copy pasting stuff under the liberty of "Jugaad".
Their challenge has been maintaining original product design, pushing the impossible factors and challenging engineers on engineering when the team themselves are non-engineers.
Also Read: Why You Need To Robot Proof Your Jobs To Secure Your Future!
Ameya is a computer management post grad with experience into diverse fields including operations, customer management, operations excellence. He had co-founded a company in past where they had developed a unique product, which was one-stop utility payments.
Whereas Aditya is a Marketing and Sales post grad with experience in designing business strategies, building sales pipeline and branding. He also had co-founded a company in past into social media marketing and had successfully launched two Italian brands namely AGV Helmets and Dainese in India. Other companies in portfolio were Inmark Retail (Fashion retail outlet), iPlanet (apple store), Hotel Empire etc.
We being Non-engineers is advantageous as we don't have restrictions while thinking for solutions.
One of the key challenges for the non-engineeering duo was building pulley system from scratch, as available pulley systems were not suitable for the bot. Over the period they have learnt a lot and have blue prints in their mind for further product diversification.
Waiting for the Aha! Moment
While their non-engineering background helped them come up with innovative solutions, not everyone accepted their solutions in the initial stages. The learning for them is that you need to have patience and keep holding your belief strongly around your idea.
Initially, when they shared the idea with few angel investors and some of the best engineers, the automated cleaning concept was ridiculed, laughed at and at times completely killed but they did not give up.
Finally, when we developed the working prototype it proved to be our Aha! Moment.
The current team of 4 currently is in its pre-revenue stage and the product will be launched officially in August after site trials are done. They have received exceptionally positive response from Mumbai, Pune and Bangalore cities and are also in talks with few overseas companies for exporting the products.
Also Read: 10 Best Robots Of The World That Were Present Since Industrial Revolution!
The journey so far for Fat Cat has been magical, it's great to build something that does not exist in industry. You can expect seeing, experiencing the products cleaning high-rise towers in Metro and sub metro cities of India.