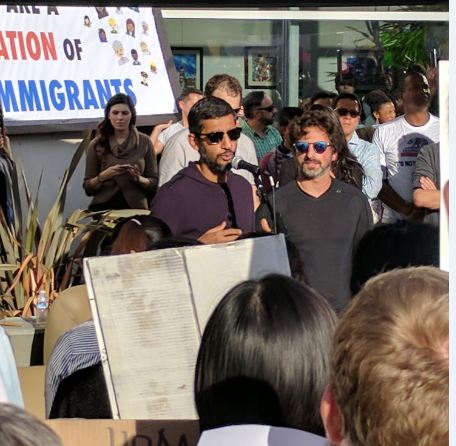 31 January 2017, India:
Google CEO Sundar Pichai and Co-founder Sergey Brin addressed crowds of employees rallying against President Trump's immigration ban on Monday, as about 2,000 Google staffers in offices worldwide took to the streets with signs as per the report by SF Gate.
Pichai, who was born and raised in India, told the crowd assembled at Google's Silicon Valley headquarters that "the fight will continue.
Twitter is built by immigrants of all religions. We stand for and with them, always.

— Twitter (@Twitter) January 29, 2017
As per the Business Standard report, The late Steve Jobs, Apple's co-founder, is the biological son of an immigrant from Syria, one of the seven mostly Muslim countries targeted by the administration. The chief executive officers of Microsoft and Google were both born in India. Among start-ups, 51 per cent of those valued at more than $1 billion had an immigrant as co-founder, according to a paper by the National Foundation for American Policy.
"I'm glad to see that energy here today and around the world to know that people are fighting for what's right out there," Brin said on Monday, according to Forbes. Several tech companies, including Facebook, Apple and Airbnb, have spoken out against the order, but Google's protest seems to be the sharpest rebuke from Silicon Valley.
#GooglersUnite against #Trump's #MuslimBan executive order today. h/t: @sharonw pic.twitter.com/rIs8FKhjix

— Jacob Goldstein (@GoldsteinStreet) January 30, 2017
Tech giant Google has created a crisis fund that could raise up to $4 million for four immigrant rights organisations, including American Civil Liberties Union and UN High Commissioner for Refugees (UNHCR). Set up with an initial funding of $2 million, the campaign will see Google employees matching the amount in donations. The funds will go toward the American Civil Liberties Union (ACLU), the Immigrant Legal Resource Center, the International Rescue Committee and the UNHRC.
At HQ today #GooglersUnite to show solidarity with immigrants, refugees, Muslims and fellow Googlers worldwide. pic.twitter.com/g4V7fh8nZZ

— Life at Google (@lifeatgoogle) January 31, 2017
A Google spokesperson confirmed the development. The $2 million crisis campaign is the largest ever for the Mountain View-based company. Since 2015, Google has given over $16 million to organisations focused on humanitarian aid for refugees on the ground, WiFi in refugee camps, and education for out of school refugee children in Lebanon. The spokesperson said the four organisations were chosen for their efforts in providing legal assistance and support services for immigrants, as well as for their efforts on resettlement and general assistance for refugees globally as per the report by Deccan Herald.
Google CEO sundar pichai at rally at Googleplex "the fight will continue" pic.twitter.com/cZOfn9FiGY

— Daisuke Wakabayashi (@daiwaka) January 30, 2017
A minimum of 187 Google staff are directly affected by the ban, according to Google. Around 100 of its staff from overseas were recalled on Friday in an effort to protect them.
This is what Chuck Schumer, US Senator had to say about Trump's recent actions-