Human and animal relationship can be traced back to the early days of civilisation, dogs, cats, horses and camels would travel around with human groups and became man's trusted furry companion and also a source of well being for the humans. Fast forward to modern times and they still continue to be our best pals.
India has been recognised as the top five fastest growing dog population countries in the world. With dog ownership in India rising, Euromonitor International has projected India to be the fastest growing global pet market, and the rising pet ownership rates are driving demand for pet food, health products, and pet accessories (IIPFT Report).
Also checkout: pet paintings
A PETty Thought
A random conversation over a tea session with the founder of an e-tailor company  led the 3 to the idea; keeping in view the paucity of time (which is a catalyst in new and emerging  buying patterns) and having faced challenges themselves in  buying pet services online turned out to be a eureka moment. Next 3 days saw rigorous research on the internet looking up people offering similar services, they left no stone unturned in looking up merchants overseas. They found zilch in India and that was the birth of "HOME4PET".
Pet Lovers
Rajeev Talwar aged 46 is the brain behind this who brought together the pet lovers. A seasoned professional with profound knowledge of finances apart from being an avid animal lover.
Avtar Singh Virk aged 47, a thoroughbred risk and fraud management degree holder from US who will be looking after the logistics, operations, market tie-ups and other areas to ensure a seamless delivery experience.
Vinod Agarwal aged 46, a science graduate having deep sense of connect with the furry companions as a trainer and handler himself. His thorough understanding of the cause helped bring the Vets on board.
The core team consists of old buddies that have stayed connected in various phases of their corporate life and share a common love towards animals. They all were itching to carve a niche outside of our corporate worlds.
The selection of the initial team members was a very challenging and a time consuming exercise though. Their concept being niche and very specific to an audience that is extremely discerning, meant that all who came onboard had to be sensitive, perceptive and compassionate towards animals and genuinely understood the woes of the pet parents.
Rajeev discussed this idea with the other core members and it was voted for a go ahead, then on they began filling their blank canvas with colours. The persistent confidence in the vision ensured that they weren't knotted up in their stomach.
Bow-Wow Moments
They sat every day sketching a blue print, searching through data on the net as to how to bring together this concept from paper to portal, endless sessions of tea in hotel lounges and brainstorming finally brought them to a list of services that could be started with from phase 1.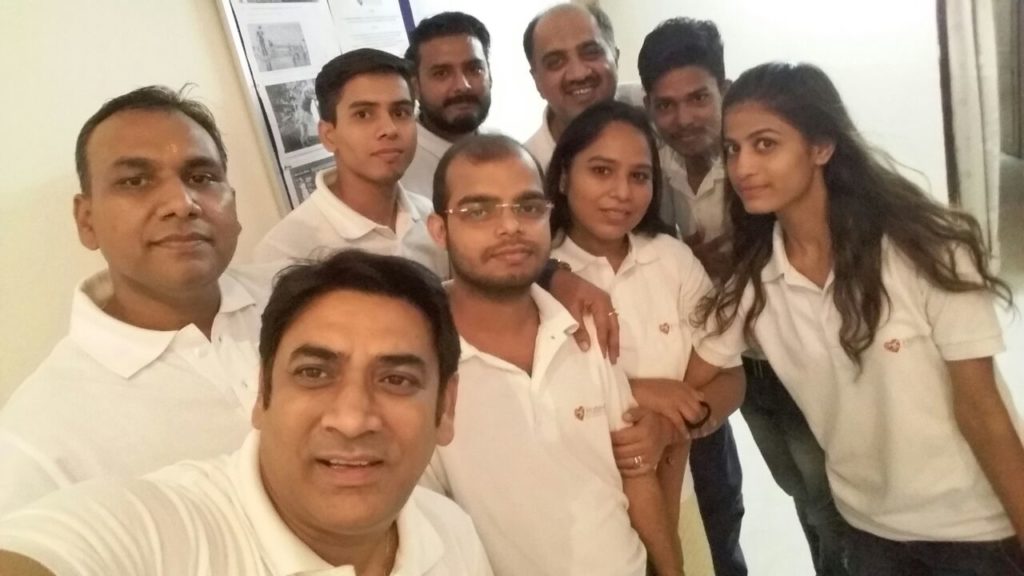 The most arduous task was to find the right people who offer these services with the same relentlessly undying passion and have operations in India. They traveled the length and breadth of the city to speak with these people and educate them about their concept. 3 months and Home4Pet was able to convince the first set of providers that would be on board.
The unadulterated conviction in the concept and vision was infectious, percolating onto the partners. They adjusted sails time and again with "We shall overcome" jingle in their heads when navigating the course.
Pet Care Provided
Home4pet aims at providing the pet parent with products and services that range from pet food, pet toys, pet designer clothing and bedding, other accessories, vets on call both allopathic and homeopathic, pet lab, pet boarding and lodging, pet taxi, pet ambulance, pet burial services, pet trainers, pet spas, pet cafe, pet photographer, pet security tags, pet rehabilitation and fitness equipment, pet magazines, pet birthday organizers, online pet training courses and to top it all pet insurance to keep them secure from all medical contingencies at wallet friendly prices.
Purrfect Journey
Home4Pet kicked off operations in end of May 2016. The website went live in August mid and orders have started to "wow" them.
"We have embarked on this journey that begins with home for a pet and to further enhance it to other categories coming very soon given the kind of awe that we are being expressed at "wow this is possible" kind of comments make us go further in this journey."
Their next phase of expansion would be to tap into 4 other metros, additionally, work is underway for a pet fitness application on android, making their presence felt globally too is being discussed with the right channels.
They aim to have a PAN India presence, and a brand which people associate with, in terms of a one stop solution to all pet parent needs.
Also Read: GlobeChat's Multi-Lingual Simultaneous Translation Engine Allows You To Chat Global While Maintaining The Language Local !
Comments
comments