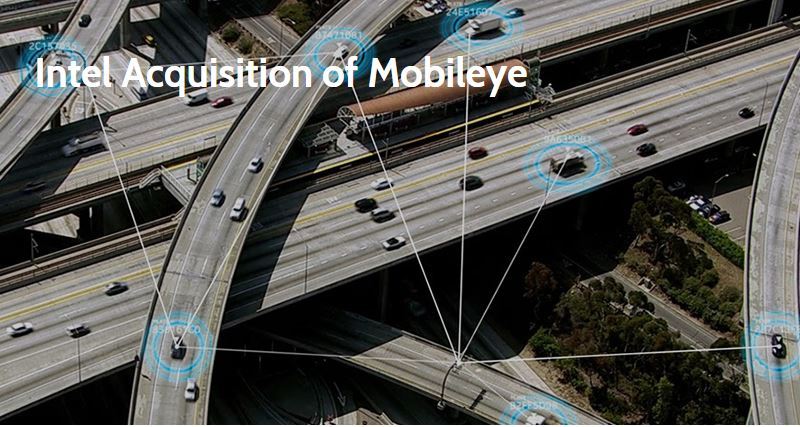 14 March 2017, Tuesday:
Intel and Mobileye today announced a definitive agreement under which Intel would acquire Mobileye for $15.3 billion.
Mobileye is a global leader in the development of computer vision and machine learning, data analysis, localization and mapping for advanced driver assistance systems and autonomous driving.
The combination is expected to accelerate innovation for the automotive industry and position Intel as a leading technology provider in the fast-growing market for highly and fully autonomous vehicles. Intel estimates the vehicle systems, data and services market opportunity to be up to $70 billion by 2030.
Brian Krzanich, Intel CEO said, "This acquisition is a great step forward for our shareholders, the automotive industry and consumers. Intel provides critical foundational technologies for autonomous driving including plotting the car's path and making real-time driving decisions. Mobileye brings the industry's best automotive-grade computer vision and strong momentum with automakers and suppliers. Together, we can accelerate the future of autonomous driving with improved performance in a cloud-to-car solution at a lower cost for automakers."
Mobileye Co-Founder, President and CEO said, "We expect the growth towards autonomous driving to be transformative. It will provide consumers with safer, more flexible, and less costly transportation options, and provide incremental business model opportunities for our automaker customers. By pooling together our infrastructure and resources, we can enhance and accelerate our combined know-how in the areas of mapping, virtual driving, simulators, development tool chains, hardware, data centers and high-performance computing platforms."
Prior to collaborating with Intel, Mobileye used to be the supplier of vision systems for Elon Musk's Tesla Motors. However, the two companies ended their relationship last summer after Tesla learned of the death of a Tesla Model S driver who was using the Autopilot system prior a fatal accident. (Image- Vanguard Daily)
Comments
comments