Russia state media saw a major outage. All the state's media websites and TV stations were reportedly hit by a cyber attack right when President Vladimir Putin was addressing the country in the two houses of the parliament on Tuesday.
Putin was delivering a speech on last year's Ukraine war when the broadcaster of the state reported an outage on Tuesday morning.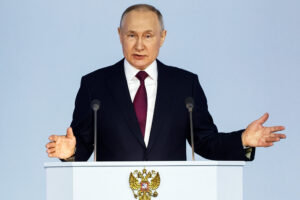 The media stations that went down during the ongoing speech were the All-Russia State Television and Radio Broadcasting Company (VGTRK) website and the Smotrim live-streaming platform.
A note was seen on the All-Russia State Television and Radio Broadcasting Company (VGTRK) website that mentioned, "technical works were being carried out". On the other hand, the Smotrim website was not even loading properly.
Different media agencies investigated the matter. News agency RIA Novosti, which is state-runed, believes that this outage can be a result of a distributed denial of service (DDoS) attack. However, this claim has yet to be verified by different sources.
It was noticed that, before the speech started broadcasting on different channels and websites, the state TV channels mentioned the technical preparations that were needed in order to broadcast it all over the state, as the live stream was to be carried across all important TV channels of Russia.
The speech went on for two hours and the President, Vladimir Putin pledged to continue the year-long war in Ukraine. He even accused the international organization, Nato, of intentionally trying to fuel the fire of conflict by believing that Russia would be defeated in the war.
Vladimir Putin, with four Russian tricolor flags on both sides of him, informed Russia's political and military nobility that the country would "carefully and consistently resolve the tasks facing us."
Putin also mentioned that his country did everything possible to avoid war but Ukraine had other plans. It joined with the Western in order to attack Crimea.
Putin said the West spread the fire of conflict across the world by sowing chaos and war.
"The people of Ukraine themselves have become hostages of the Kyiv regime and its Western masters, who have actually occupied this country in a political, military, and economic sense," he added. Defeating Russia, he said, was impossible
He also vowed to support and help Russian soldiers by saying that any kind of social and medical support would be provided to the affected ones.
He said: "Each family of a lost fighter, each veteran, must have a social care coordinator attached to him or her which must communicate with them personally and settle their issues."
Comments
comments