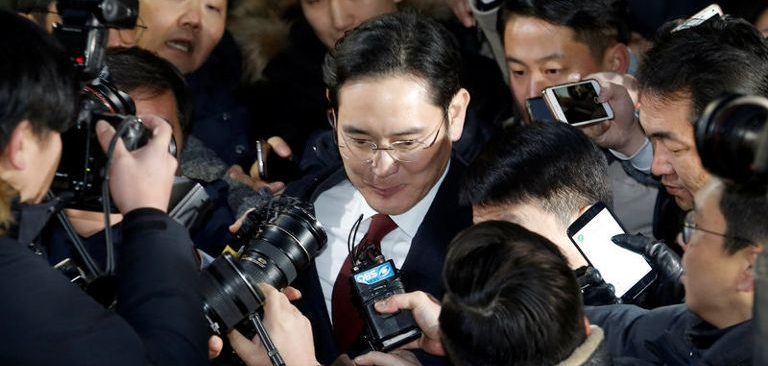 16 January 2016, USA:
South Korea's special prosecutors' office said it will seek a warrant to arrest the head of Samsung Group, the country's biggest conglomerate, on bribery charges in the corruption scandal involving President Park Geun-hye and her confidant Choi Soon-sil.
Al Jazeera stated charges against Lee include bribery, embezzlement and perjury. Jay Y. Lee, the vice chairman of Samsung and the only son of Samsung's incapacitated chairman, Lee Kun-hee, faced accusations that he instructed Samsung subsidiaries to make multimillion-dollar donations to the family of President Ms. Park's confidante, Choi Soon-sil, and to two foundations Ms. Choi controlled NY Times reported.
Samsung Group chief Jay Y. Lee was questioned for 22 straight hours last week as investigators probe a scandal that has reached the highest levels of power in South Korea. Park remains in office but has been stripped of her powers while the Constitutional Court decides whether to make her the country's first democratically elected leader to be forced from office CNBC stated in a report.
Samsung has acknowledged providing funds to the three institutions but has repeatedly denied accusations of lobbying to push through the merger.
"The spokesman of the prosecution said the economic impact of all this is important, but justice is more important," Al Jazeera reported. "That is a sign that there is a recognition of just how big an entity Samsung is, it's revenues worth about a fifth of South Korea's GDP. So obviously they weigh this very carefully, before deciding to move ahead and seek the arrest of such a vital part of South Korea's economy."
Choi, in detention and on trial on charges of abuse of power and attempted fraud, again denied wrongdoing on Monday as per Reuters report. She said she had access to a former presidential aide's email address which had Blue House (presidential office) documents, but that she only looked at Park's speeches for "emotional expression".
Choi described Park as "a person without ulterior motives" who "does not allow people to take private interest or take private interest herself". (Source & Image- Reuters)