Startup Grind hosts Santosh Panda of Explara fame. Come hear him share how to scale an online business, and to continue growing it in a tough funding environment.
The event is on 03rd August (Wednesday) at 6:15 pm and the venue will be Karya Spaces, Chennai. Get your tickets here.
More on Santosh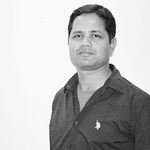 Santosh has decade of diverse experience in software Industry in UK, USA, Finland and India. He has extensive experience in product development, consulting for FTSE 100 companies and start-up companies across the globe.
Some of the organization for whom Santosh was involved in building products are BBC iPlayer, eBay UK, Cyclone Commerce, OnStation, William Hill, Spoke Software and few startups. Santosh holds a bachelor degree in engineering.
Explara is an Event Platform – Only "Unified" platform in the world that makes organizing and attending events super-easy.
On event organizer side, Explara offers a Do-It-Yourself solution platform that serves any body to create event, offer free/paid ticketing/registration, payment collection, event promotion, sales management, attendee management, event communication and event management needs.
On consumer side, Explara offers Discover things to do in your city – Events, Activities and Experiences!
Hurry up ! Don't miss the chance !
Updated (19th July, 2016; 12:00 pm): The previous scheduled date for the event was 23rd July, 2016. The event was postponed to the present date 3rd August due to extraneous reasons.
Startup Grind will block your tickets for the
3rd August
event. In the event you are unable to make it on
3rd August
, Startup Grind will ensure that you get 2 free passes for any one future event in lieu of this.
Comments
comments