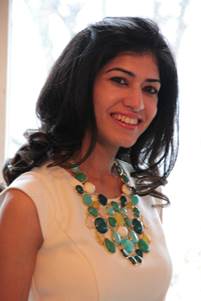 Will represent India at Blackbox Connect, powered by Google for Entrepreneurs program in Silicon Valley next week.
National, April 16th, 2015: Swati Bhargava, Co-Founder of CashKaro.com – India's largest & fastest growing Cashback & Coupons site has being selected and will be representing India at the coveted Blackbox Connect – Female Founders Edition 2015- powered by Google for Entrepreneurs program from April 27 – May 8, 2015 in  Silicon Valley, California.
Blackbox Connect brings founders from top companies around the world to take part in a two-week, fully immersive program where they collaborate with like-minded entrepreneurs, investors, experts and executives from the Silicon Valley community. The Female Founders Edition is the first program by Blackbox that will be entirely women and will be focusing on female founders. Women led startups have been selected from around the world including countries like Australia, Canada, France, Germany, India, Ireland, Israel, Lebanon, Poland, Uganda, United Arab Emirates, United Kingdom, and the United States for this exclusive program.
The India Chapter was launched in partnership with NASSCOM's 10,000 Start-ups and invited participations early this year. 10,000 Start-ups is a NASSCOM initiative supported by Google for Entrepreneurs, and supports Black Box program in India
On being selected, Swati Bhargava, Co-Founder CashKaro.com said, "It gives me great pride to represent India at such a powerful international stage. It's an honor to be a part of one of the most exciting platforms for the start-up community where global born start-ups are empowered and exposed to Silicon Valley resources. I've always wanted to spend time in the Valley & learn from the vast experience of companies & investors there. Blackbox Connect is a great opportunity to do just that and I'm really excited about it! The programme also paves the way for the next generation of female entrepreneurs in the tech space and I'm sure will be a valuable experience."
Mr. Rajat Tandon, Senior Director, NASSCOM 10,000 Startups commented, "We would like to take this opportunity to congratulate the team at CashKaro.com for being selected in the Blackbox Connect Female Founders Edition. It is truly exciting to see a member of the 10,000 start-ups be chosen for such a prestigious program and showcase their talent on a global stage. At 10,000 start-ups, we feel that it is imperative to evangelize more women led start-ups in the country and platforms like these will go a long way to inspire more women to start-up like CashKaro.com."
Swati is an alumni of the prestigious London School of Economics and was working with Goldman Sachs, UK before she left her lucrative job to start on her entrepreneurial journey. Swati along with her husband Rohan have successfully co-founded two successful cashback ventures, CashKaro.com in India & UK based Pouringpounds.com. While Pouringpounds.com remains a successful B2B venture in the UK, CashKaro.com has been catapulted to India's largest cashback and coupons site within two years of its inception.
The Blackbox Connect Female Founders Edition will take place in Palo Alto California – the heart of Silicon Valley from April 27 – May 8, 2015
CashKaro.com is India's largest & fastest growing Cashback & Coupons site. CashKaro members can get upto 60% Extra Cashback on their online shopping at Amazon.in, Paytm, Snapdeal, Jabong, Shopclues & 500+ ecommerce partners. All they need to do is visit the site from CashKaro and then shop. CashKaro receives commission from retailers from which it pays Cashback! Till date CashKaro has credited over Rs 10 crores as cashback to its valued users.
Best part is that Cashback is always paid over and above coupons, ongoing discounts and all other deals offered by retailers. This 'Extra' nature of Cashback is probably what makes CashKaro's savings truly unique. Given this irresistible combination of "More Shopping, More Earning", CashKaro.com drives over 5,500 transactions a day and has so far driven over Rs 200 crores of sales to partner retailers.
CashKaro.com has recently also launched a unique Product Discovery and Price Comparison feature which enable users to browse products and compare prices across popular sites like Amazon.in, Snapdeal, Paytm & more. Users can not only make their buying decision at CashKaro but also earn extra Cashback on their order when they visit & shop via CashKaro.com.
CashKaro was launched in April 2013. It was founded by Swati Bhargava and Rohan Bhargava, a young entrepreneur couple who left their lucrative Investment Banking jobs in London to start the Cashback business in the UK (Pouring Pounds) & have now expanded it to India. Both Swati and Rohan are alumni of The London School of Economics.
CashKaro is the only externally funded Cashback site in India. They successfully raised $750,000 funding in August 2013 by a group of angel investors in the UK from companies like Paypal, Gumtree, Investec & more.
Blackbox Connect is a two-week, residential program in Silicon Valley designed to immerse founders in the startup culture, to learn from other successful entrepreneurs, to connect with potential partners and investors, to forge valuable business relationships, and to receive expert advice from venture capitalists, successful founders, and game changers. Sponsored in part by Google for Entrepreneurs, Blackbox Connect gives founders a foundation of knowledge and access to the expertise needed to expand their vision and scale their companies globally.
Google for Entrepreneurs provides financial support and the best of Google's resources to dozens of coworking spaces and community programs across 125 countries. We also create Campuses: physical hubs where entrepreneurs can learn, connect, and build companies that will change the world.
Comments
comments