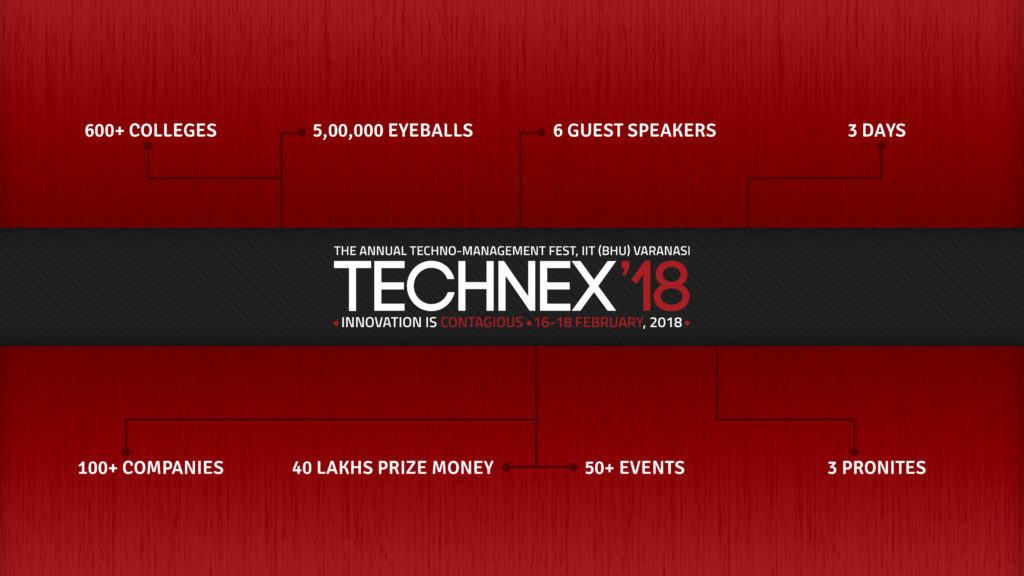 Technex, the annual techno-management fest of Indian Institute of Technology (BHU), Varanasi is up with its 2k18 edition! The enthralling three days of the event will be jam-packed with a plethora of exercises. 'Think talks', as the name suggests, will intrigue the intellect with talks from people hailing from different spheres of life.
For the eccentrics and innovators, the 'Start-Up Fair' will let one manoeuvre through the corporate world and bring up visionary changes. Moreover, the 'Corporate Conclave' gives all the business enthusiasts, the chance to interact with executives point-blank and be a spectator of how the real-world functions.
To complement all of this, Technex will host a range of events to challenge and soothe the temperament of a technocrat. Mark the calendars for an enriching retreat as Technex propounds its theme 'Innovation is Contagious'.
A celebration of innovation, Technex holds a plethora of events hailing from different areas of technology and management. Broadly, the event verticals events are:
Robonex – Next gen robotics
Ascension- Aero-modelling events
Supernova- Astronomy based events
Byte the Bits- Programming competitions
Extreme Engineering- Core engineering events
Riqueza – Management-related events
Creatrix – Digital arts and creativity
Modex – Showcase innovative ideas
Pahal – Socio-environmental events
Game Dungeon – LAN gaming and informal events
These categories together comprise more than 30 events. The fest upholds lucrative prizes worth INR 2,00,000 at stake for more than 20k participants to compete for.
Startup Fair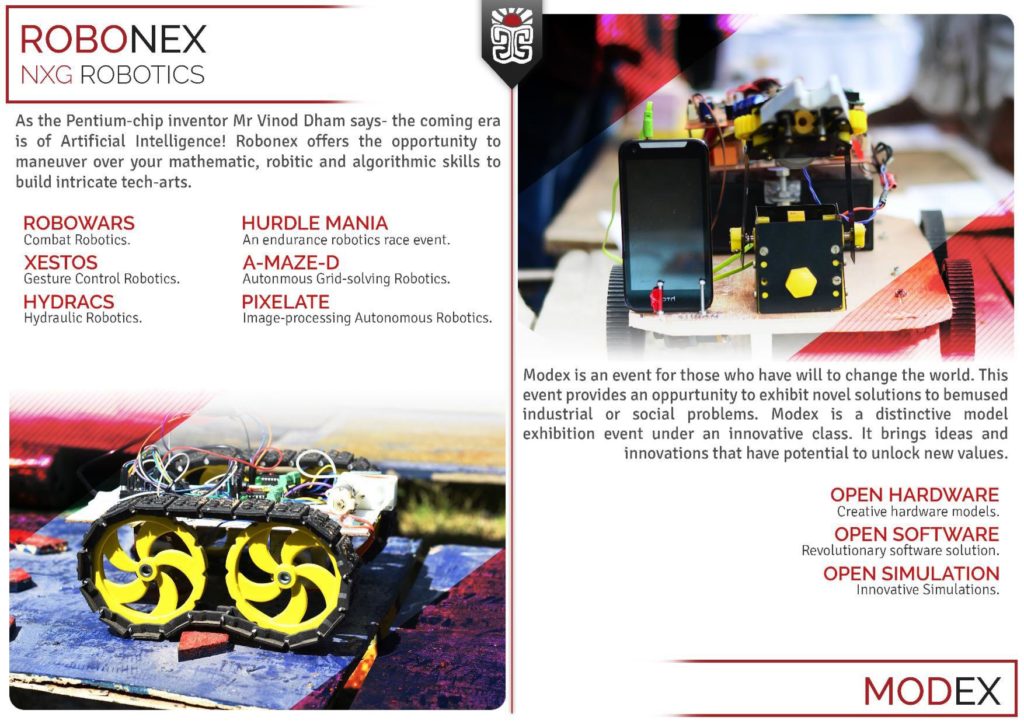 Technex hosts The Startup Fair which is an excellent opportunities for aspiring entrepreneurs to turn their dreams to reality.
Here, these unsung heroes of the economy interact with prospective investors, pitching their ideas to them and gaining knowledge from people who have seen the in and out of the entrepreneurial sector over many years.
Exhibitions
Every year, many companies an exhibitors exhibit their advanced products hailing from various domains of science and technology in Technex.
These are a great source of knowledge for the participants as they get to know about new things being devised to make human life easier.
Prof. Veerbhadra Mishra Memorial Airshow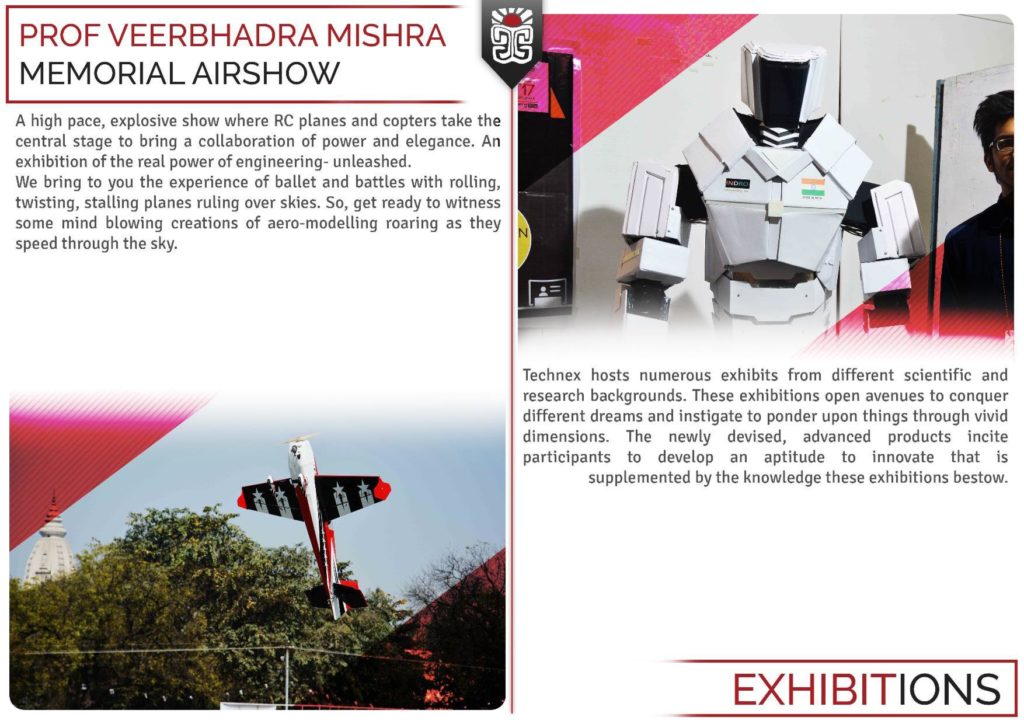 A high pace, explosive show where RC planes and copters take the central stage to bring a collaboration of power and elegance. An exhibition of real power of engineering – unleashed.
We bring to you the experience of ballet and battles with rolling, twisting, stalling planes ruling over the skies. So, get ready to witness some mind blowing creations of aero modelling roaring as they speed through the sky.
Think Talks
Technex has always been known for its stellar guest lecture series –  which have been becoming increasingly attractive over the years. Every year, this segment witnesses personalities hailing from varied domains coming together to share their knowledge and experience with students from around the nation.
Some notable personalities who have delivered talks in previous editions are DC CEO Dilip Chabbaria, Chief Scientist NASA Dr.Rosaly Lopes, Silicon valley giant Vinod Dham, Dr JN Reddy creator of FEM, Bjarne Stroustrup, Prabhu Chawla, Vinita Bali, Rosaly Lopes, Gianni Di Caro.
Workshops
Herbert Spencer said "The great aim of education is not knowledge but action". This also holds true for technology. There is no real use of technology if you don't implement it.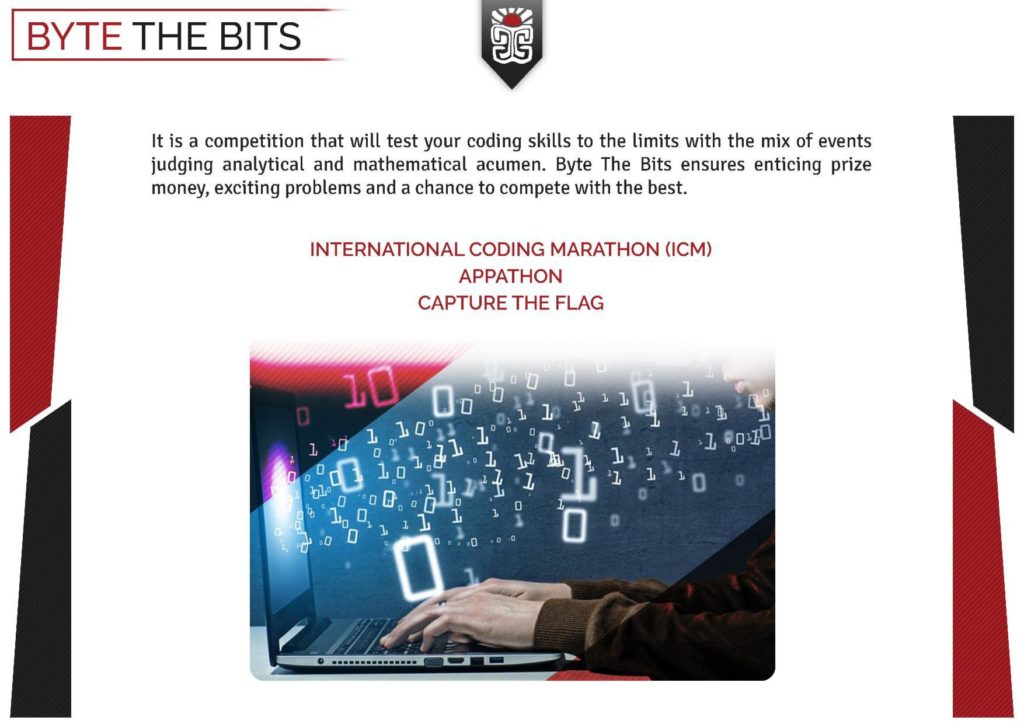 This is what workshops in Technex promote, giving you a hands-on experience of numerous skills and trends in the market of technology, ranging all the way from core engineering to software works.
Corporate Conclave
An innovative event that aims at creating a platform for the students to interact with the greatest corporate giant of our times, so as to provide them with some first-hand knowledge to gear up to face the business world.
Pronites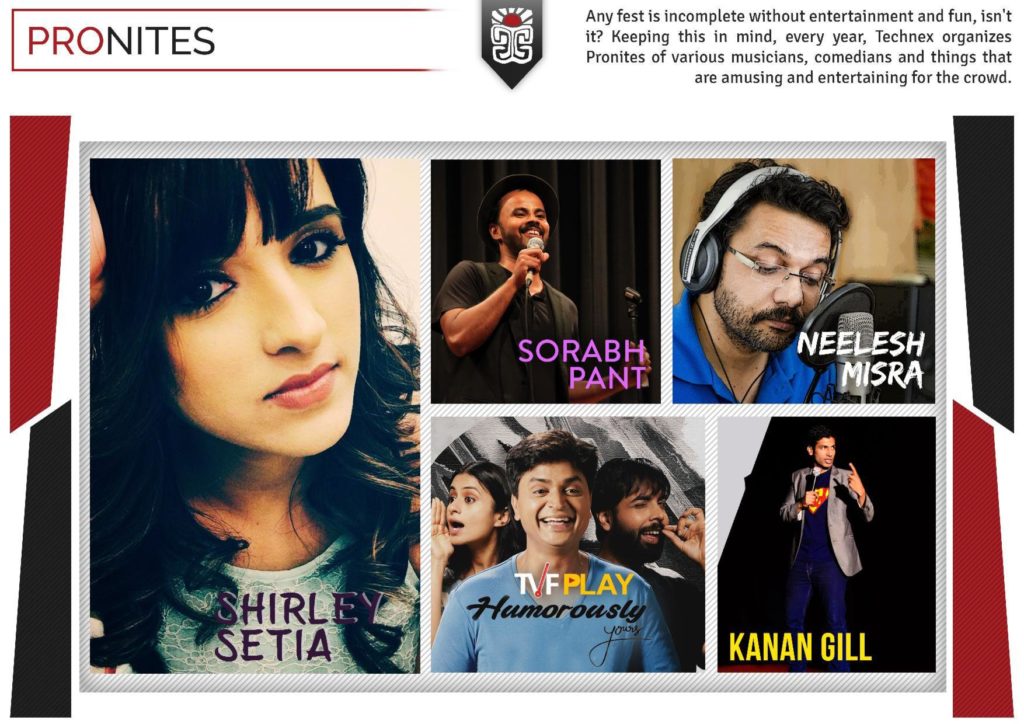 A fest is incomplete without entertainment and fun, isn't it? So, after a tiring day of hard work and competition, Technex organizes Pronites of various musicians, comedians and things that are amusing and entertaining for the crowd.
So, get ready for a lot of enjoyment which is in store for you, apart from all the 'nerdy' stuff. Shirley Setia, Neelesh Misra, The Viral Fever, Kanan Gill, VH1 Supersonic have been some attractions in previous editions of Technex.