Life is amazing and becomes really hard to manage sometimes. We all are busy in organizing things from what to do? Where to start? And what are the shortcuts to have all the things done perfectly without any hotchpotch?
Thanks to the technology which gave birth to the mobile application development. The mobile applications are serving as a boon for every problem.
Sometimes, we feel disorganized and stuck in between to find a way to manage all the things. We try every time to handle tasks smartly to avoid time consumption but in order to strategize and plan the activities, we again end up with time taking events.
The simple solution to this problem is choosing an application that can make you free from organizing and managing activities.
The app stores are filled with these arrays of apps. We can never feel unmanaged if we are organized by such apps that stand by us every time.
Here we're putting a list of apps that you can use to make your daily tasks easier and also they will help save your precious time. Let's take a look at them.
Evernote
This freemium app is available in Google Play Store and iTunes. It is your personalized manager which has lots of features like note taking, audio recording, webpage clipper, list keeping etc.
One of the most popular features of this app is OCR (Optical Character Recognition), which search text within images. You can organize your work and keep a list of prioritizing tasks with the help of this indispensable app.
Wunderlist
Wunderlist is a free app available for Android, iOS, MAC and Windows. This simple and good looking app provides to-do-list by which you can share your shopping list with others while planning for big events like wedding or festivals, and for professional purpose, you can handle multiple projects, set dates, and reminders for yourself.
This app is a task manager app where you can get the ease of managing personal and professional to-dos.
Slice
Who doesn't love online shopping? Almost everyone loves to purchase online, now imagine the new level shopping experience by your personal shopping assistant. This app keeps the track of your stuff which you are going to buy online.
You can get push notifications to grab coupons, sales as well as delivery status. You don't need to use the tracking number to remember your order details and also you get a visual map of your shipment. This app is completely free and available for Android and iOS both.
Pocket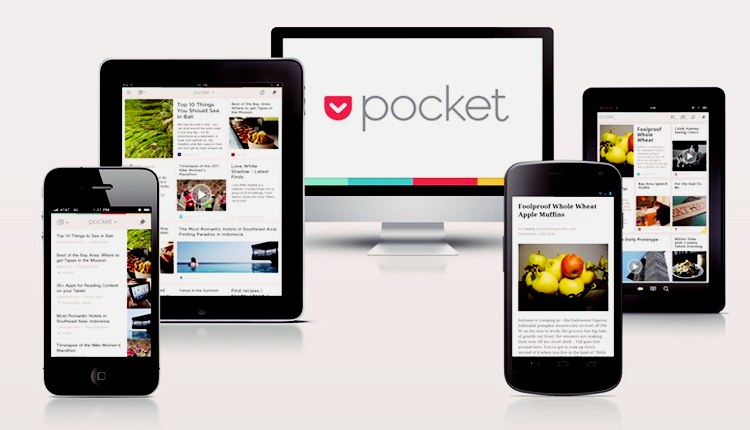 Pocket is a free app and made on a concept of "Save for later and view when ready". Most of the times, we find some interesting feed, but due to lack of time, we can't view that piece of interest. Pocket app is like a safe pocket where you can save videos, posts, links, images or any content.
It permits you to download and save the stuff and later on whenever you are free, you can view them without getting online. You can discover stories you love and get an awesome reading experience by this user-friendly app. It is available for Android and iOS platforms.
Google's Trusted Contacts
This app provides a security access to share location to your trusted contacts. You can add your friends and family members to the trusted contracts and allow them to view your location proactively and spring into action if you stuck somewhere or get troubled.
The contacts can track your phone's activity to know you are fine. This is an Android application available for free and sooner the similar app is going to be launched for iOS also.
Hopper
Buying an airline ticket from the messy airline website is a hard task. So in order to cope up with this situation, Hopper is the ultimate solution. You can save itineraries for later and you will receive a notification when the price drops.
You can check out the price breakdowns on different dates and book your tickets without leaving the app. This app can be used by both iOS and Android users.
Focus Keeper
This is a paid app and available for iOS platform only. It is a highly productive app that keeps you focused on tasks in a particular period of time. The app is elegant and has lots of cool features such as beautiful user-interface, interactive charts, customized focus sessions, goals, cloud support, sounds and audios.
You can track the progress of tasks which you have set for a specific time span. The focus sessions can be customized with desired lengths, short and long breaks. This app is the best working assistant for project managers to stay focused and make the entire team proactive.
World Around Me
This simple yet highly useful app is available for Android, iOS, and Windows phones. You can find out the nearest hub for coffee, ATMs, nearest branch of your bank, gas station and almost every place.
It provides direction of the places too where you want to reach and allows you to share your new discovery with your friends too.
Do it tomorrow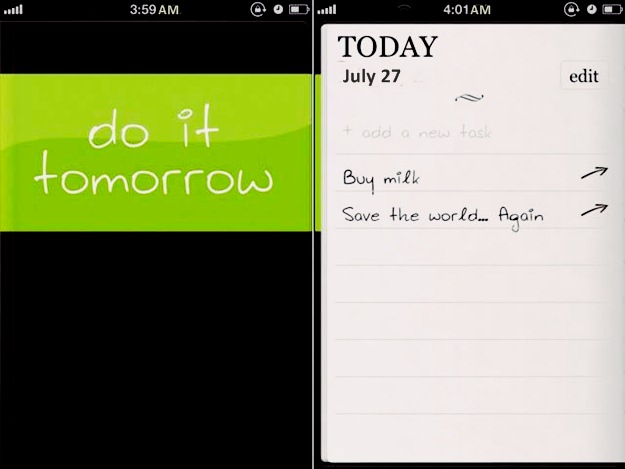 This app is designed by keeping lazy and extremely busy fellows in mind. The one who always delays the plans for tomorrow may become the fond of this forgiving app.
It allows you to set task reminders for today and makes it easy to complete things tomorrow. You can have full virtual to-do notebook experience and better user-interface. This is a paid app and available for both Android and iOS mobile platforms.
Let's wrap up:
So far, we have discussed some of the most popular apps. These all are designed with a purpose and to facilitate the users in various ways. If we miss any of your favorite organizer app that you think it must be on the list, you can share below in comment section.
Both Android and iOS are growing in their own ways but, somewhere Android is massively adopted in developing nations. The app seekers can hire a good android app development company to design their customized and responsive application.