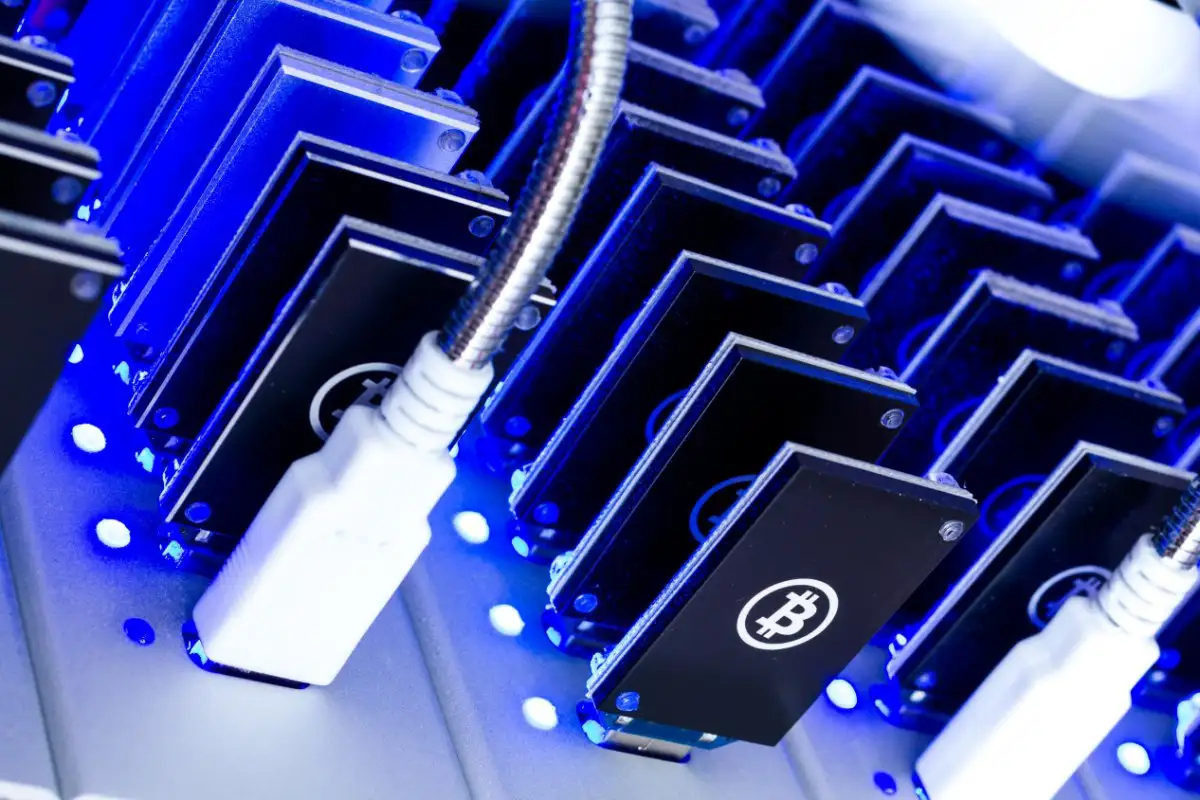 For a long time now, we have been surrounded by virtual currencies and the rate at which their use cases in day-to-day life are increasing is something that was never really anticipated and one of the major contributors to this huge success is the cryptocurrency industry.
The crypto world has been more than successful in luring in potential investors from all across the globe and has managed to make a name for itself in the global marketplace as well. Not just that, the said industry has had a surge in its overall growth and popularity recently, thus helping it to reach greater heights!
Having said that, I believe, most of you are already familiar with the basics of the industry but, if for some reason that is still not the case, let me help you with that first.
To begin with, cryptocurrencies as the name suggests are nothing but a form of online or digital currencies that can easily be made use of for a variety of purposes including the purchase and sale of goods and services as well as for the purpose of trade and exchange over cryptocurrency exchanges available over the web.
In technical terminology, cryptocurrency is a blockchain-based platform that is known to be decentralized to its very core. Being decentralized, the crypto world becomes more than capable of stepping outside the overall control and jurisdiction of central authorities and can work freely without any unnecessary government interferences as well.
In addition to this, when the industry was first introduced there were not many currencies to choose from and honestly, not many people were looking to be a part of it either as people back then were very skeptical with respect to the return on investments they could expect as well as the safety of their money too.
On the contrary, looking around today, it feels almost unreal to see how far the industry has managed to come, having pools of currencies available today for investors to choose from, with newer ones coming in with each passing day and tons of new investors joining in every hour.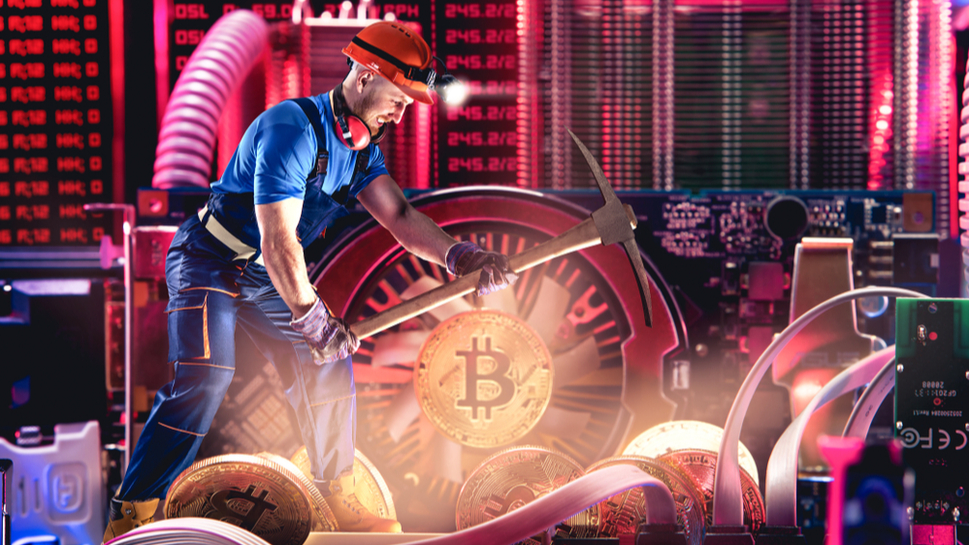 Speaking of a lot of currencies available today in the marketplace, some of the most popular ones worth investing in includes Ethereum, Polkadot, Binance Coin, Bitcoin, PancakeSwap, Dogecoin, Cardano, EverGrow Coin as well as Baby Doge to name just a few of course.
Also, it is worth noting that, some of the major contributing factors for this extraordinary success of the industry include its negligible response time, the convenience it offers, ease of use, portability, intuitive nature, high-profit margins, real-time updates as well as the volatility of course.
Being volatile, it is important for you to be aware of the fact that, it is not always possible to predict the price changes and act accordingly as the price fluctuations in the crypto marketplace are almost immediate, thus leaving no time to plan. Therefore, whenever dealing in online currencies, keep in mind that, if the industry is providing you with an opportunity to earn huge profits and make quick money, if not done right, you could also end up having significantly huge losses as well.
Not just that, as per the chatter amongst some of the leading experts in the field, it has come to our notice that, crypto is rapidly progressing towards completely revolutionizing the global payment system and from where I stand, it looks like it has already started to do so as many merchants and businesses have started accepting crypto as an official mode of payment from their customers.
Now that you have a brief backstory about the crypto world, you will be able to have a much better understanding of what we have with us today, Top 10 PCs for crypto mining. To know more, I suggest you read further!
Top 10 PCs for crypto mining (2022)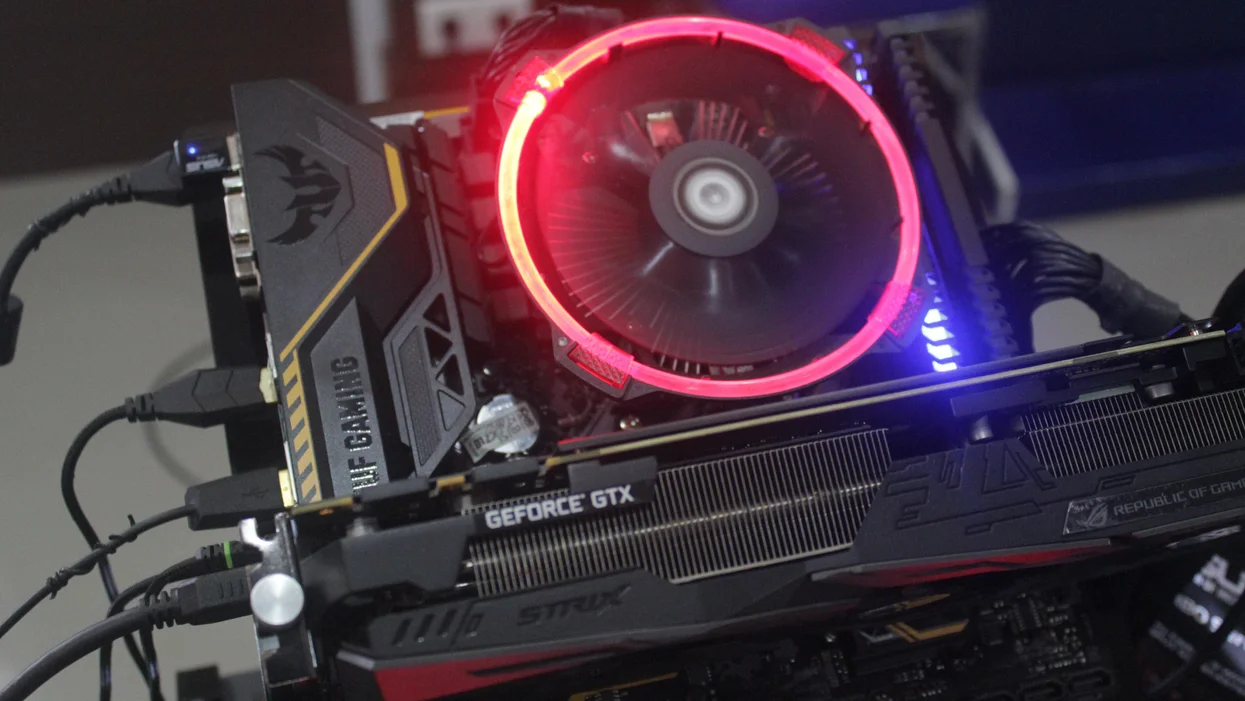 For crypto mining, it is important to have state-of-the-art hardware with some of the highest configurations. Also, if you are planning to build a custom PC, these are definitely must-haves in your PC. In addition to this, there is some crypto-specific hardware that is said to be used for cryptocurrency mining who want to make it hefty cash. This is referred to as a mining rig.
In simpler words, it's a customized PC that is known to be having several components including a motherboard, RAM, and large storage. However, the main focus of a mining rig is GPUs which are said to provide raw power for crypto mining and it usually comprises multiple GPUs.
It is probably worth noting that, you cannot use this setup for any other task and it is better to look for a powerful PC that can handle the miming process. Not just that, one can also use the same setup for video editing, playing games, as well as other daily tasks on a computer. While building a setup, the very first step before mining crypto is to actually understand the working and technicalities of the system. So, here are some of the most popular PCs for crypto mining!
1. OMEN-GT13: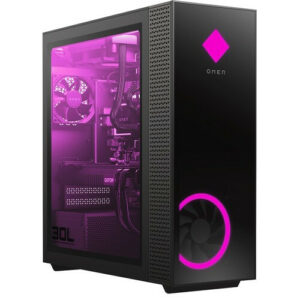 If you don't really mind spending some money on a PC, this system might just be the best all-rounder find on the market at this particular period of time, thus offering an amazing GPU power for mining cryptocurrency but is also known to be backed by some of the most powerful components like RAM and CPU. Speaking about some of the specifications, it comprises of a NvidiaeForce RTX 3090 GPU, Intel Core ii9- 10850K CPU, liquid cooling, 1 TB SSD, as well as a 32GB DDR4 RAM. All in all, it might seem expensive but is actually worth every penny.
2. ASUS ROG Strix G35CZ: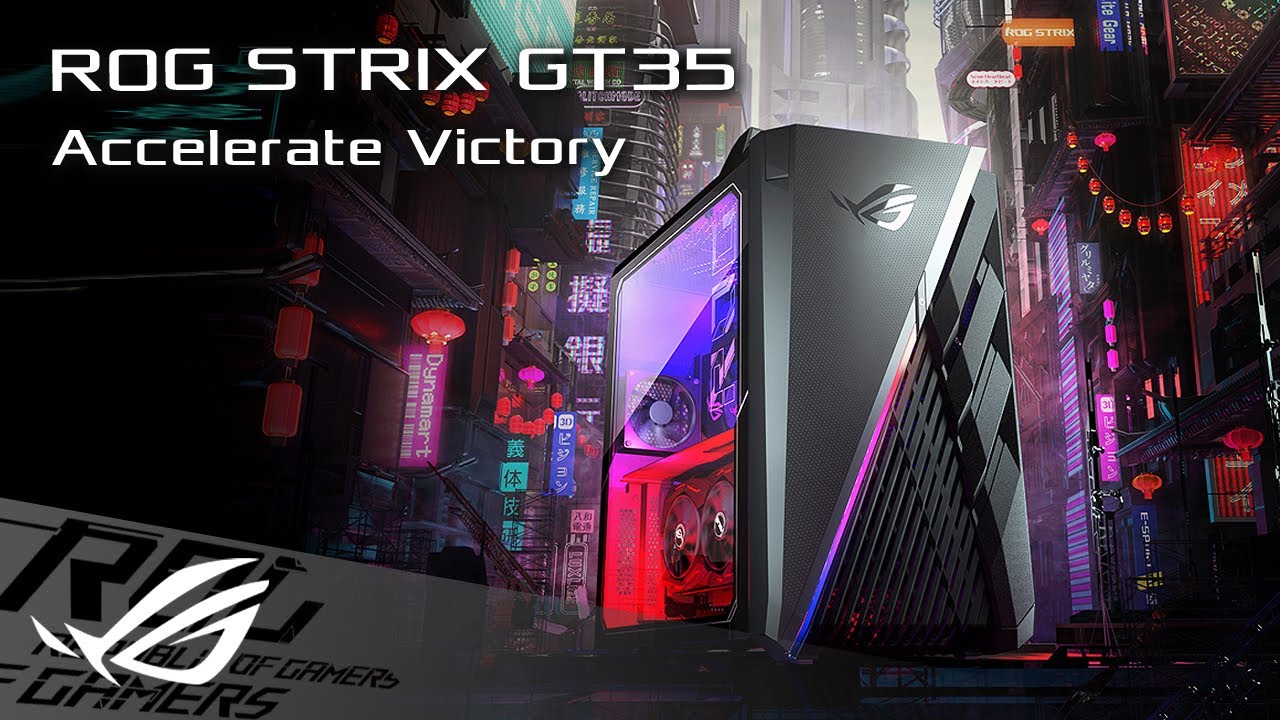 This particular system is said to be able to provide users with all the hardware you need for successful mine crypto but it is also probably worth noting that, the price is large as and when compared to the previously mentioned option. Talking about the specifications, it has 1TB of NVMe SSD and 1TB of SATA HDD for storage, and 16GB of RAM (2* 8GB RAM). It comes with Windows 10 pre-installed and will get a free upgrade to Windows 11. Also, if you don't actually use it for mining crypto, you can surely use it for games like GTA V and Forza Horizon. All in all, it is a great option for mining.
3. MSI MEG Trident X SFF:

Speaking of this particular model, it might be the case that the futuristic look of this system might not actually be able to impress everybody but I believe it is safe to say that the system's specification will surely ensure smooth cryptocurrency mining along with a rather great mining experience across the board. Again, talking about the specification of this one, it consists of a GeForce RTX 3070 GPU, 32GB DDR4 RAM, Intel Core i9-10850K CPU, 1 TB PCle SSD + 2TB HDD. However, like any other, it too has some downsides including the fact that the webcam can be better and the case design might not be for everyone.
4. CUK Continuum: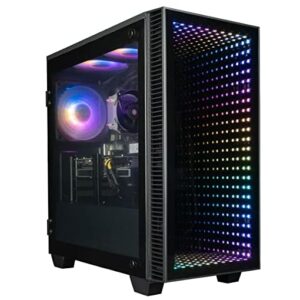 Even though CUK lacks in size when it comes to the already installed SSD, this is a rather powerful system and still is a worthy competitor to the other more expensive options available in the marketplace and in this list as well, especially when it actually comes to crypto mining capabilities. Speaking of the configurations, it is worth noting that, it has an Nvidia GeForce RTX 30070 8GB GPU, 32GB DDR4 RAM, Intel Core i9-11900KF, 512GB SSD + 2TB HDD as well as 6 x High Airflow and pressure WM fans. However, some negatives include 8 core CPU, Fans that can be loud sometimes, and a Small SSD that can actually be upgraded easily.
5. SkyTech Shadow 3.0: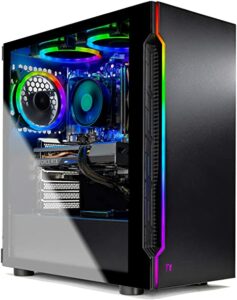 The Shadow 3.0 system is not known to offer the biggest storage space when it comes to PCs but the GPU is really powerful, the CPU does its job beautifully well and the RAM is more than enough to successfully run a crypto mining operation at an affordable price. Moving on to the configurations, it has a 12GB Nvidia RTX 3060 GPU, 1 TB SSD, AMD Ryzen 7 3500X CPU, 16GB DDR4 RAM, and has a competitive price too. However, the storage could be bigger and the fans are again loud when running at full speed. Though a great system for mining cryptocurrencies!
6. Electrobot Ultra Gaming Tower PC: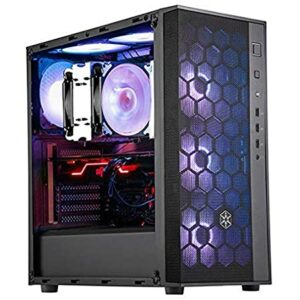 Electrobot is a system that is currently offering some insane specs with their Ultra Gaming Tower PC. To begin with, it is powered by the Intel Core I9 10900K Processor, which has ten cores, having a base speed of about 3.70 GHz, making it capable of overclocking to 5.30 GHz thanks to the cooling setup in the PC. Also, the PC is optimized for HD gaming, all thanks to Nvidia RTX 3070 8GB graphics onboard.
Not to mention, the performance of the PC is absolutely top-notch and so is the crypto mining experience as it uses a power combo of Intel CPU +NVIDIA GPU. Lastly, it offers a two years warranty and the pricing though is similar to the Asus ROG Strix GA35, the graphics are much more powerful in Electrobot. Since GPU plays the most part in mining, this rig can be worth a try.
7. HP Pavilion Gaming Desktop: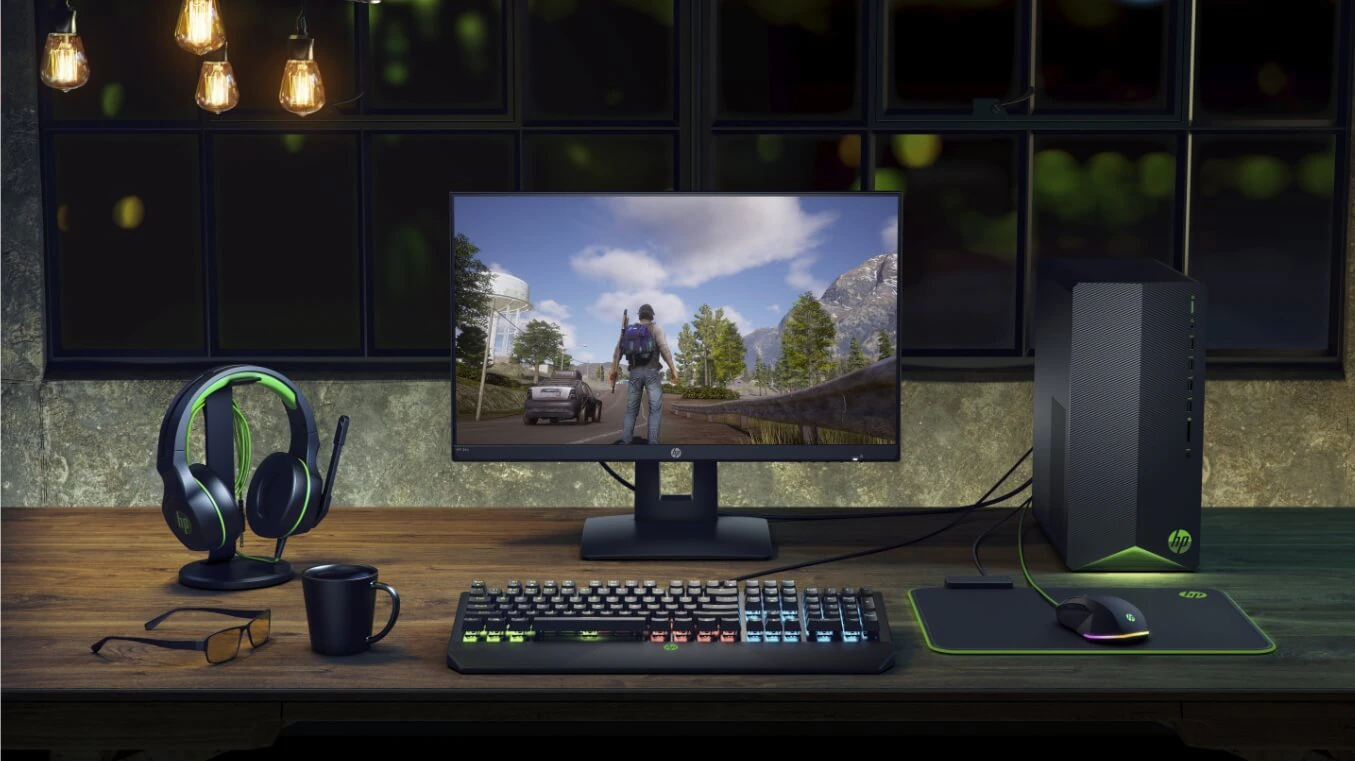 This particular gaming PC from HP is said to offer a great price to performance ratio and talking about the design, the casing is really compact and will occupy a rather small space on your table. Also, there is a good amount of ports including two USB 3.1 Gen1 (5Gbps) ports, a 3.5mm combo audio socket, two USB 3.1 Gen2 (10Gbps) ports, and one USB 3.1 Gen1 (5Gbps) Type-C port and an SD card slot.
Coming to the performance, it gets an RTX 3060Ti 8GB graphics with either AMD or Intel combo. If one goes for the AMD option, it comes with Ryzen 7 otherwise there is an intel i7 11th gen processor. Speaking of the 11th gen processor, it can surely clock up to 4.9 GHz with Intel Turbo Boost while the AMD Ryzen 7 has a max frequency of up to 4.6Ghz. lastly, the only thing is that the overall cooling part is not very well designed, and hence the thermals need to be kept In check whenever mining crypto. Otherwise, it is a good option for starters.
8. Bitmain S17 Pro: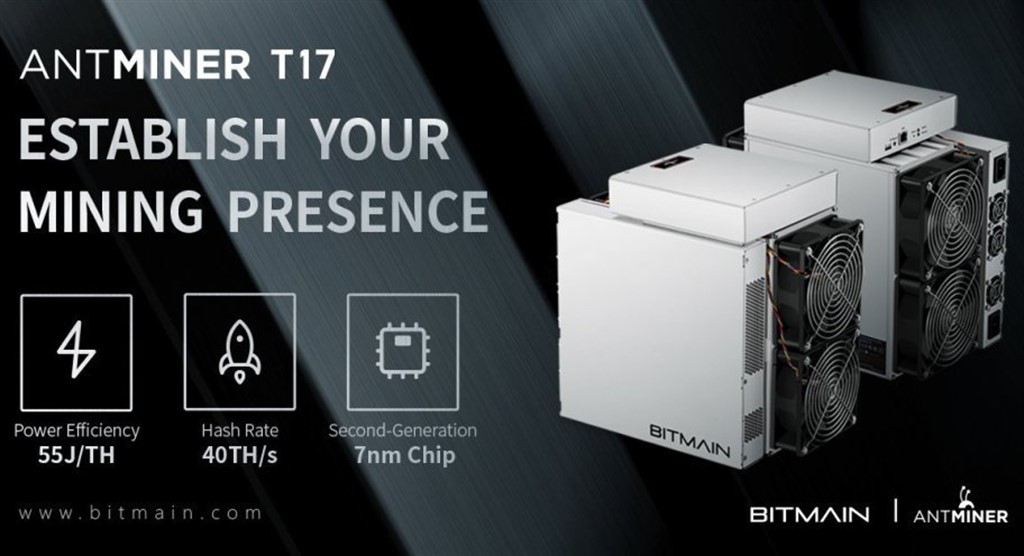 The Bitmain Antminer S17 Pro is known to give some of the set advertised performance specifications and has three different modes for advanced mining including a low power mode, normal mode as well as turbo. However, while the ASIC is said to come with a top hash rate of 56 TH/s, you will need to run it in the lower modes in order to help prevent overheating. Even still, the S17 Pro is one of the most efficient ASIC miners currently in the marketplace with lower efficiency of 93.88±10 percent.
9. MSI MAG Infinite 10th: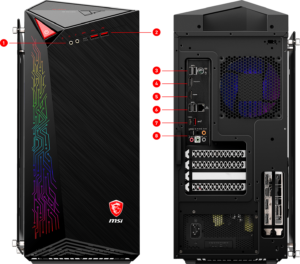 MSI is known to offer some of the most powerful gaming desktops and laptops in the marketplace and MAG infinite 10th is one such creation by MSI. Moving further, the highest variant comes with GeForce RTX 3060 Ti 8GB GDDR6 graphics. Moreover, the system is known for its power and the GPU capabilities need not be asked.
The CPU is of Intel Core i7-10700 series which would actually offer a decent enough combination with NVIDIA graphics and it is an octa-core processor consisting of about 16 threads. Also, the max turbo frequency is 4.8GHz. All in all, if you looking to mine cryptocurrency and have a powerful gaming setup you can check out the MSI Mag Infinite 10th.
10. Alienware Aurora R11 Gaming Desktop: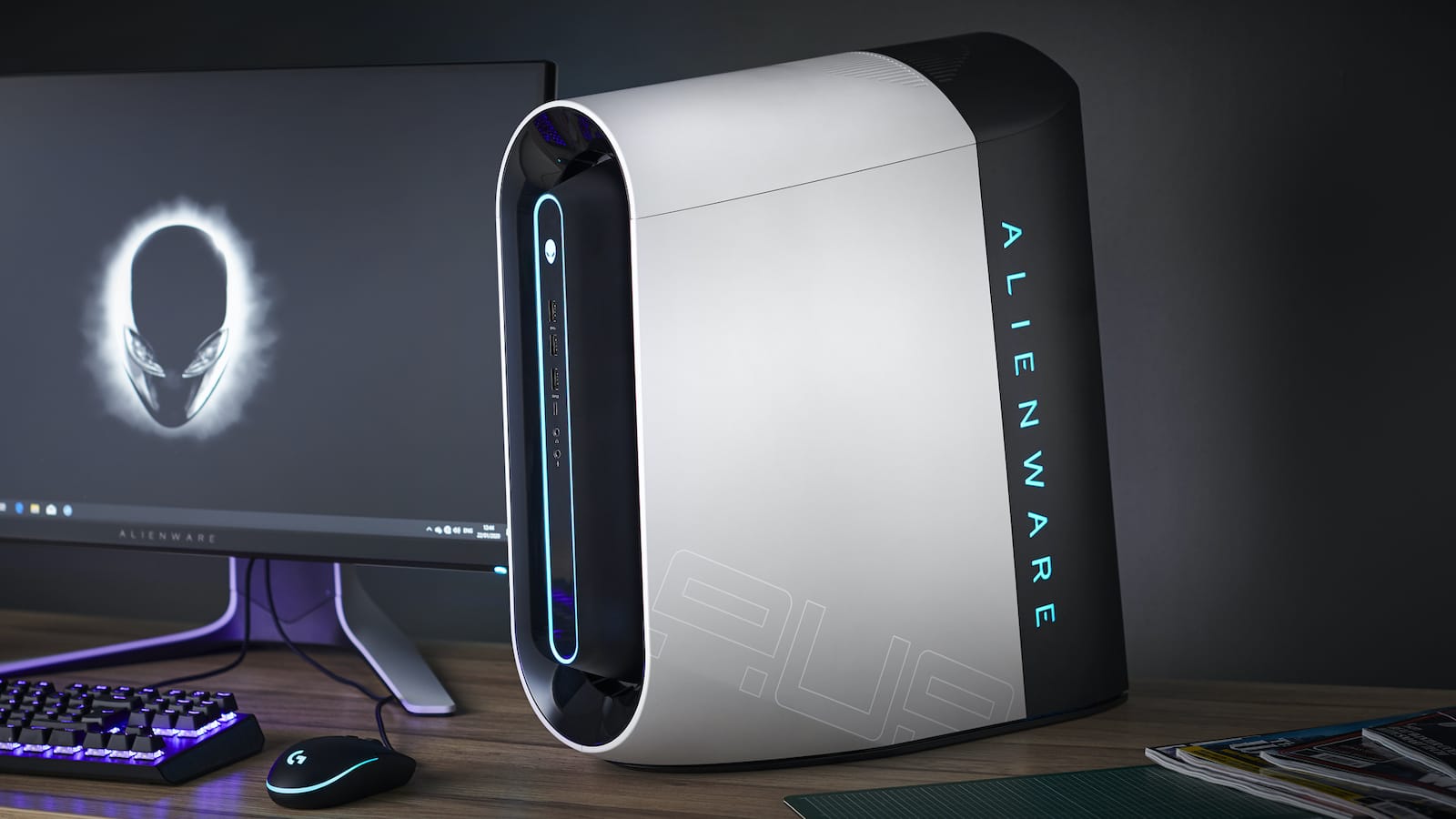 This particular system is surely an excellent choice for a gaming desktop PC and is also one of the best mining PCs that your money can buy, all thanks to the powerful components inside of it including an Intel i7-10700KF processor, which offers 8 cores with 16 threads for multitasking. Crucially, it also is said to have an NVidia GPU installed too. Moreover, speaking of storage it has a 512GB SSD + 1TB SATA HDD. All in all, it surely qualifies to be on the list of the top 10 PCs for crypto mining as of 2022.
Reading so far, I hope you must have gotten a fair insight into the Top 10 PCs for crypto mining in 2022 and I believe, now you'll be and now you will be able to decide on your own as to would you want to invest in these PCs or not, to deal your way into the world of cryptocurrencies.
As mentioned at the very beginning, crypto is a highly volatile marketplace and is extremely uncertain. Thus, you need to understand the fact that all cryptocurrencies have their risks as well and you should invest only if you are willing to take those risks and bear any losses if at all necessary.
In conclusion, what are your thoughts on the Top 10 PCs for crypto mining in 2022? Do let us know in the comments area below. To know more about various cryptocurrencies, do check out other articles we have on our website. Thank you for your time & if you found our content informative, do share it with your investor friends!
Also read: Our Happy Company: John Legend's NFT music appraises 7.5M in Seed funding