Tesla Cybertruck updated version, alpha prototype pictures were leaked and show some fine details of the vehicle. There were no door handles and the windshield wipers appear to be more refined than earlier. Two pictures were leaked from an insider, where one of them shows Cybertruck with headlights on, and the other with employees surrounding the vehicle.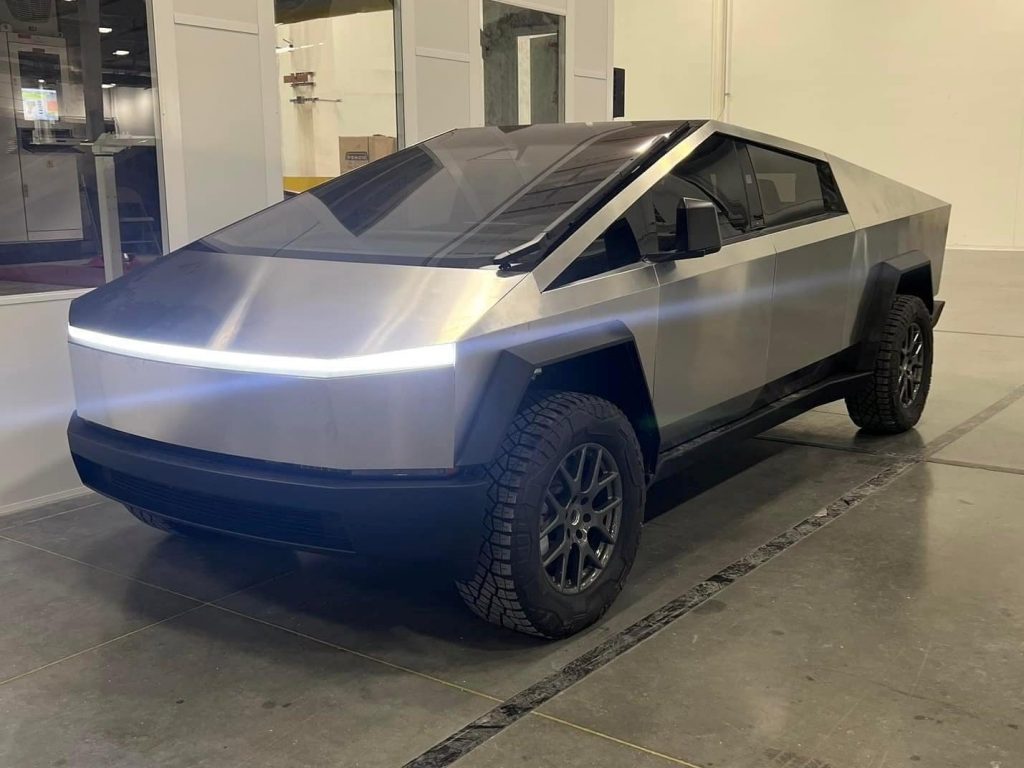 The images were first shared by Teslarati by Cybertruck Owners Club. As the pictures were of high quality, certain features of the vehicle could be seen, especially the difference with the earlier popularly known Cybertruck. Last year, the first prototype made by Tesla was seen on many occasions, more than twice Elon Musk himself was seen driving the truck. Over the course, there have been many patents from Tesla in the US patent office for the Cybertruck. Some of them include solar roofs, bulletproof armor glass, advanced wiper blades, and glass with aggressive curves. Once the truck was also seen with massive wiper blades back in December last year.
Besides all the developments, the production year was removed from the official Tesla website as the 2021 year ended. It is expected that officially more details about Cybertruck production will be known in the upcoming earnings call.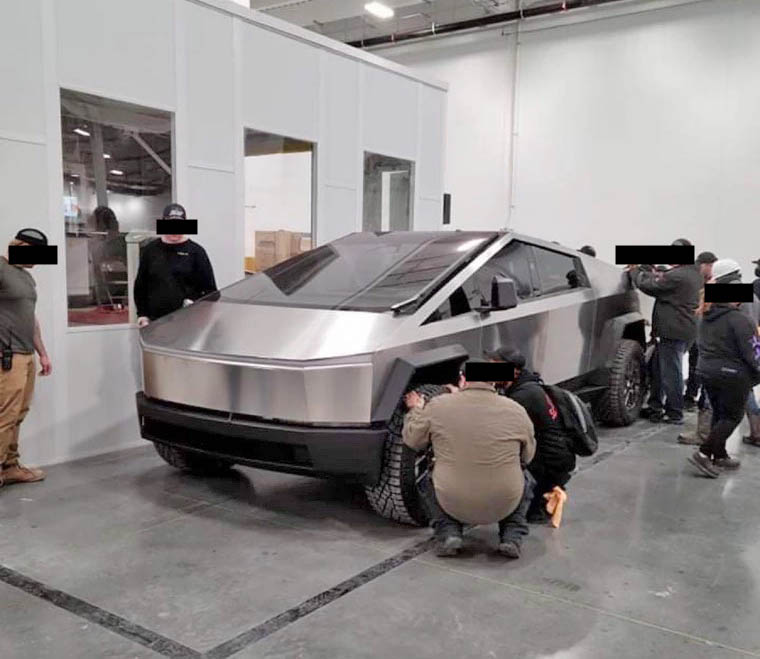 The changes
It is noticeable that the Cybertruck image is very similar to the 2019 prototype. However, close observation shows that there are some changes that could be noted. Immediately noticeable was the fact that the updated prototype really appears to have no physical door handles at all. Apart from this, the vehicle's side mirrors, which Musk has suggested would be removable, look fairly refined. More importantly, the Cybertruck's single large windshield wiper appears to have become more polished as well, with some characteristics of the component even suggesting that the wiper may be extendable.
Furthermore, the changes include observing the wheels. Earlier there were aero caps that were installed on the wheels. These aerodynamic wheel covers are usually installed to reduce drag and turbulence around the wheels. Though there is no information about the changes, the look certainly goes along with the truck. Usually, electric pickup trucks are made for tough terrains and activities. With aero caps, it could increase the maintenance of the vehicle for many owners.
This year more updates are going to come up about the upcoming Cybertruck as this is possibly not the final production model (or maybe it is). Regardless, more updates will be revealed by Elon Musk on Tesla's fourth-quarter and full-year 2021 earnings call scheduled for Wednesday this week, on January 26, 2022.