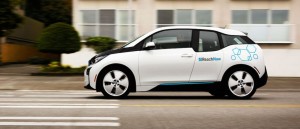 08 April 2015, USA :
BMW is jumping into the sharing economy in Seattle, with a plan to get you behind the wheel of a Mini Cooper anytime you want one.
BMW announced Friday it is launching a car-sharing program, ReachNow, in Seattle, and setting up the division's North American headquarters at a Belltown office.
"This is why we are supplementing our classic business model with additional services that make life on the road easier for people in big cities," said Peter Schwarzenbauer, a member of BMW's board, in a statement.
The service, called ReachNow, will offer several options, including short-term rental, delivery service, chauffeur service or longer-term rental. Car sharing can also be made available to closed groups such as companies or entire residential complexes, BMW said.
Users will be able to unlock and use the cars using their smartphones.
Consultants Roland Berger say the market for car sharing will grow by 30 percent a year and generate revenue of between 3.7 billion euros and 5.6 billion euros ($4.2 billion to $6.3 billion) by 2020.
The rate starts at 41 cents per minute (discounted from 49 cents) for driving usage, and drops to 30 cents per minute when the car is parked. For when a car is needed for a decent block of time, pre-determined prices are available, including 3 hours of use for $50, 12 hours/$80, and 24 hours/$110.
Several other car companies have launched their own car-sharing services, including Ford's GoDrive and GM's Maven, specifically targeting large urban areas where fewer residents are choosing to own a vehicle. They allow people access to a car when needed, but without having to pay expenses like insurance, parking, and, well, car payments.
Image : slashgear.com