Charu Malik is the Head of Decision Sciences in Snapdeal. She has over 12 years of professional experience in strategic business insights, spanning research firms and e-commerce. Her expertise in helping stakeholders make strategic decisions based on market intelligence, competitor benchmarking, and consumer behavior analyses coupled with her strong communication and leadership skills paved way for her to emerge as a women leader at Snapdeal. In this interview with TechStory, Charu talks about her roles and responsibilities as the Head of Decision Sciences at Snapdeal.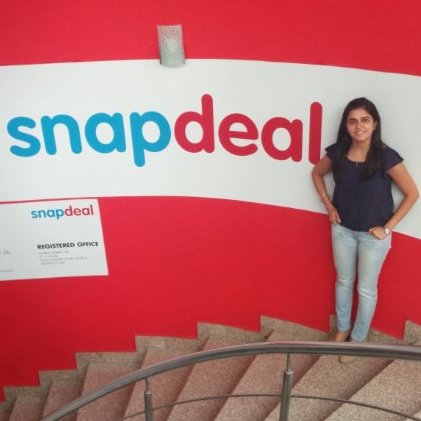 As the head of decision sciences an ecommerce company. Tell us more about your role. What are some of your key priorities?
As Head of Decision Sciences, Decision Sciences, my key responsibilities are benchmarking Snapdeal's business, operational and experience metrics vs. competition in the most unbiased and neutral manner. This helps in identifying gap/concern areas and hence arriving at key areas of improvement for Snapdeal. This assessment is done primarily via research, be it secondary or primary; strategic or market; in-house or external. This role is central to the key business function and I am directly reporting into Kunal Bahl, Company CEO.
Additionally, the team is always on the look-out for best practices and case examples – across sectors and geographies – that Snapdeal could leverage and learn from.
In essence, this function aims to add a little 'science' in the company's decision making. It's always good to ensure our decisions are backed by data, objectivity, and rationale and that's where the Decision Sciences team steps in
What are the trends that we are seeing in terms of customer behavior?
While earlier, consumers were very price/deal conscious and that was the primary incentive for them to buy from company X vs. company Y. That scenario is changing. As the industry is evolving, customer expectations are also changing. While price certainly is important, it is not the sole criteria. Trust and personal relevance are assuming importance. Also, consumers are look for a seamless shopping experience – it should be easy to use the website/mobile app, it should be easy to replace/return products, etc. And these indeed are factors that will contribute in ensuring we are able to retain customers and build loyalty over time.
What are some of the things that you are currently undertaking to drive more customer engagement and retention at Snapdeal?
Certainly, our focus is on users – getting new users, driving user growth, and encouraging repeat purchases.
[box type="shadow" align="aligncenter" class="" width=""]Also Read:
Sai Kavitha – Business Intelligence Director, Head – Wise Group, Motivational Speaker – There Is No Stopping A Determined Woman ![/box]
What are some of the most critical projects that you have come across in your current role? How did you overcome the situation? What were your learnings?
One key project for my team is measurement of buyer and seller NPS – both internal and external. On this, there were a lot of differing views from senior internal stakeholders – on methodology, process, design, and reporting. And it was critical for me to ensure complete alignment between everyone. I ensured I did my research to develop an independent point of view – I referred to global best practices and spoke to subject matter experts to understand the pros and cons of different approaches. I arranged for a meeting with all stakeholders together, wherein everyone got a chance to present their viewpoints, rationally debate pros and cons, and look at data & examples to substantiate their thinking. I was able to bring everyone on the same page, ensuring that we move beyond team goals and priorities and look collectively at what is best for the firm to do. My takeaway was that while we are all rational and logical professionals and might agree to dis-agree on some things, it is critical to (a) look at the larger benefit and (b) ensure everyone gets a chance to present their view point but ultimately effective communication is key
Can you tell us about life as a Woman Leader at Snapdeal? How does Snapdeal help its women folks to succeed?
Women hold leadership positions across all levels in the industry. At Snapdeal, the team is growing significantly and bringing more women in the decision making roles. We have launched various programmes such as a special drive to recruit returning women and women with special needs, along with rolling out a number of initiatives for employees who are parents. Sessions for managers have been conducted at a regular interval to sensitize them on diversity in partnership with Inner Sight. The company has also introduced adoption benefits for male employees who can avail of three weeks of leave while women employees can take leave up to 12 weeks after adopting a child.
What is your success mantra – some of the key learnings in life that you stick to?
I have been at the helm of Lifeway for almost 12 years and just like anyone else I have my moments when I feel tired, demotivated, and just down right bored. I had been working in the strategic business research space for over a decade before I joined Snapdeal. That's what I've enjoyed doing all these years and that's what I am best at, so the opportunity to continue doing research but in e-commerce and directly working with the CEO excited me a lot. Not only did my knowledge of the e-commerce sector grew working at Snapdeal, I also got to work and interact with several senior internal stakeholders and learnt about how to balance trade-offs and make the right decisions. Over time, my responsibilities expanded and I also got a lot of exposure to market research, gained more experience working with external research and consulting partners, and developed knowledge about interesting business concepts like NPS.
[box type="shadow" align="aligncenter" class="" width=""]Also Read:
Never Listen To People Who Say You Can't ! Vasanthi Ramesh – AVP, Customer Promise And Return @ Snapdeal[/box]
Honestly, I have been able to maintain a pretty good work life balance. I don't necessarily look at hours spent in office but focus on getting the work done – I follow this philosophy for my team as well. If there are meetings or presentations, I absolutely need to be in office, however, if I am reviewing reports and preparing plans, I take it up from home later in the evenings. I believe one gets this flexibility only if you have earned the trust of your manager. What has worked for me is my sincerity towards my work, my ability to produce good quality work within the committed timeline.
What advice would you give your 20 year old self?
I don't believe a woman needs any different set of traits than a man to succeed. To begin with, one gets hired for the experience and skills not for gender.
Specifically speaking, one needs traits to be a successful professional and in my mind they are:
Being sincere and honest to your job
Being focused on your job/target/goal; ignore distractions
Stay positive and believe in yourself – nothing is impossible
Don't be afraid to voice your views – there is no right and no wrong
Continue to learn, evolve, and get better
Always give my best to anything I do; nothing is rocket science and not worry about things outside of my center of control/influence.
How easy / difficult it is for women in tech to break the glass ceiling? What would be your advice to other women trying to break the class ceiling?
I guess all of us would have faced some or the other challenge – big or small – in our professional lives. However, I must say that I have been fortunate enough to work with some of the best companies that have always strived to create great opportunities for me, be it in terms of my job profile, growth, flexibility, compensation, or security. A significant portion of women employees at Snapdeal work in diverse teams and build world-class products. They organize and participate in various tech-events and help shape/build Snapdeal into a leading technology company. People stereotype women, but I have to say, women can equally do the job just as effectively as men and honestly, I have never faced challenges attributed to the fact that I am a woman.