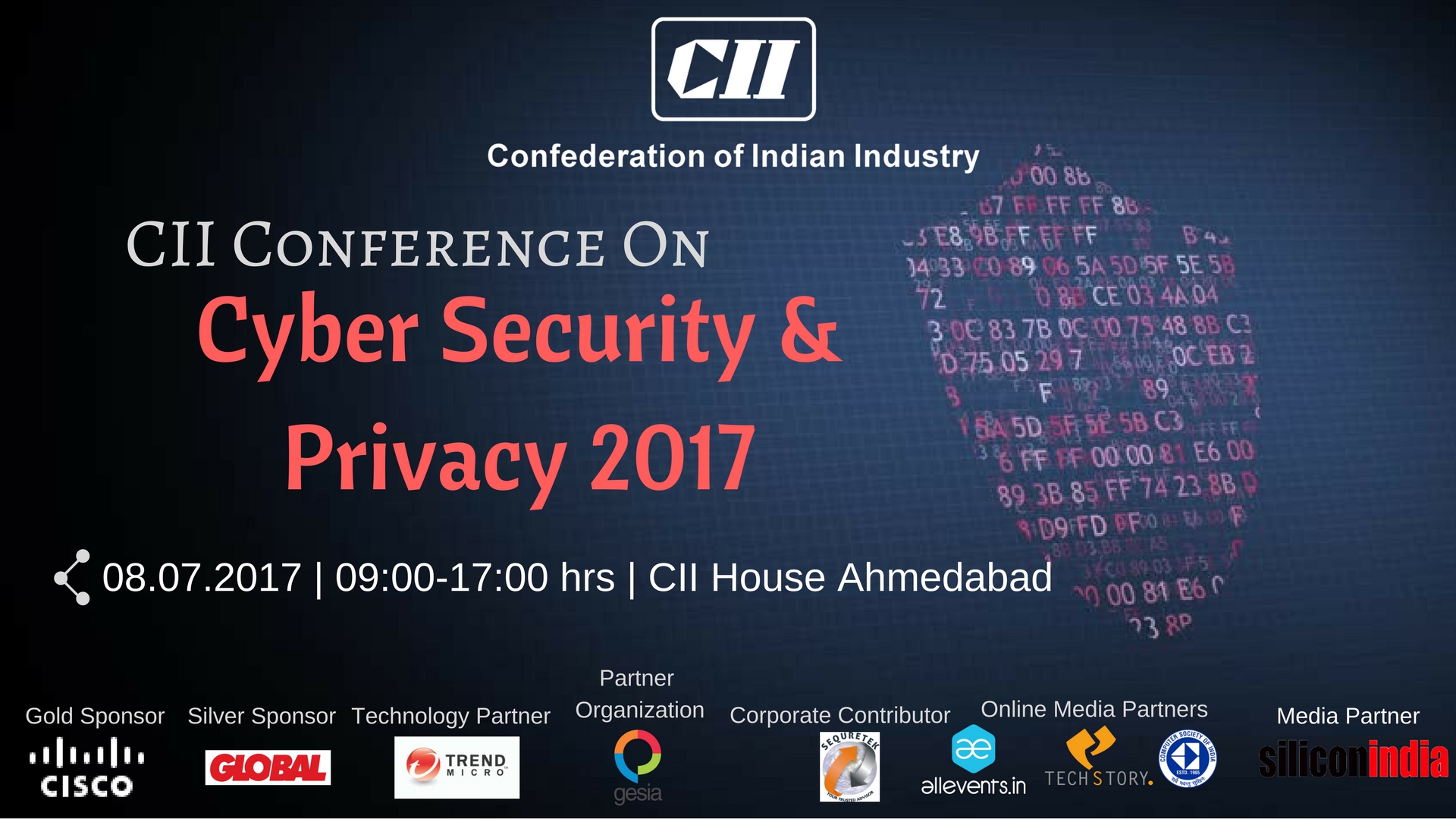 If you are an e-commerce or online trading company, an IT software company, a bank or a financial institution, here is the golden opportunity for you to learn how to defend yourself from cyber threats. Confederation of Indian Industry (CII) is organising Cyber Security and Privacy 2017.
Our daily life, economic vitality and nation security depends on a stable, safe and resilient cyberspace. Cyberspace and its underlying infrastructure are vulnerable to a wide range of risk stemming from both physical and cyber threats and hazards. The threat environment today has become extremely vitiated. Cyber war and cyber espionage is a reality now and attacks on critical infrastructure have become a dangerous threat.
India's e-commerce is flourishing with many e-governance activities being carried out over the Internet. As we grow more dependent on the Internet for our daily activities, we also become more vulnerable to any disruptions caused in and through cyber space.
India is gearing up to bring in new encryption and privacy policies to take on growing cyber security challenges. As the Digital India initiative progresses, cyber attacks have doubled year over year and Indian business and government sites have become vulnerable.
"It is not only about the battlefield. Cyber-security is becoming vital. I dream of Digital India where cyber-security becomes an integral part of national security. " Shri. Narendra Modi
It is estimated that $ 655 billion will be spent on cyber security initiatives to protect PCs, mobile devices and IoT devices between 2015-2020. Cyber security is one of the the most important emerging issue in India, particularly in Gujarat.
As Gujarat is one of the most industrialized state and key contributor to the GDP of the country making it more subject to cyber attacks. Gujarat has taken a series of steps to harden its security posture, still the cyber threat is imminent.
Cyber security agencies in the state are to be empowered to manage incidents quickly. Establishing a robust cyber security system in Gujarat is important to make Gujarat businesses globally competitive and create a safer Digital Gujarat.
CII Conference On Cyber Security And Privacy 2017 will bring together the thought leaders, experts and professionals at all levels of cyber security as well as the next generation of cyber defenders  to exchange ideas and best practicis, share experiences, debate issues and challenges. At the conference you can find new connections, innovations and resources to help define your enterprise from the ever growing cyber security threat .
Key Focus Area
High tech crimes of tomorrow
Cyber security today: how far ,how much
Digital India and India's commitment to digital cyber space
Information sharing ,cyber security-legal, policy and other challenges
Challenges for banking and financial sectors in a new cyber age
Social media: the new cyber weapons of choice
Speakers
Mr Krishna Sastry Pendyala – Executive Director, Advisory Forensic Technology Services, PwC, India
Mr Anil Kumar Roy – Assistant Professor, DAIICT
Mr Vivek Ogra – Chairman, GESIA IT Association
Mr Haresh Bhatt – IT Security Officer, Indian Space Research Organisation (ISRO)
Vivek Awasthi- Security Sales leas- public sector, CISCO
Mr Bhavin Gandhi – Sr. Technical Consultant,Trend Micro India
Mr Munjal Kamdar – Partner, Deloitte Touche Tohmatsu India LLP.
Mr Manan Thakker – Advocates, Cyber Lawyers & Information Security Consultants, Cyberra Legal Services
Mr A.S. Manoj – Liability Head, Aon Global Insurance brokers
Mr Anand Naik – Co-CEO & Founding Director, Sequretek IT Solutions Pvt. Ltd.
Mr Himanshu Shukla, IPS – SP – Anti Terrorist Squad (ATS),Government of Gujarat
Mr Sunny Vaghela – Director, Tech Defence
Dr Amit Kumar- CEO, BioAxis DNA Research Centre
Comments
comments