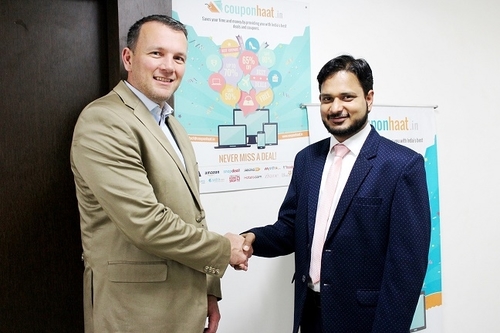 02 March 2017, India:
Delhi-based startup Couponhaat has raised its first Pre-Series A funding from a private European Investor Axel Wawrina. The amount of the funding round was not disclosed.
Established in the year 2015, Couponhaat is India's leading coupons and deals company helping online shoppers in discovering the best deals from the most reputed e-commerce brands to small brands as well. It's an e-commerce enabler which works on both B2C and B2B segments.
"Through this fund raising, we are pursuing a long-term vision to increasing our time-size and enhancing our operational efficiency by taking it to the next level. We're enabling best-in-class customer experience while providing our customers a handful of opportunities to grab the best deals and coupons on their favourite brands across the Indian e-commerce marketplace," says Vipin Kumar Yadav, Founder & CEO, Couponhaat.
"We are delighted to give our support to young, dynamic and enthusiastic team of Couponhaat. We look forward to building a bright future for the rapidly evolving start-up, which has established its unique identity as a leading e-commerce enabler in a very short period of time. We believe that under the leadership of Vipin Kumar Yadav the brand can go a long way," says Axel Wawrina.
Couponhaat enables its customers to avail unique online shopping experience in a time and cost-efficient manner. Customers can further explore the Couponhaat mobile app, that lets the user browse the offers even if he/she is offline. (Image- Newsvoir)