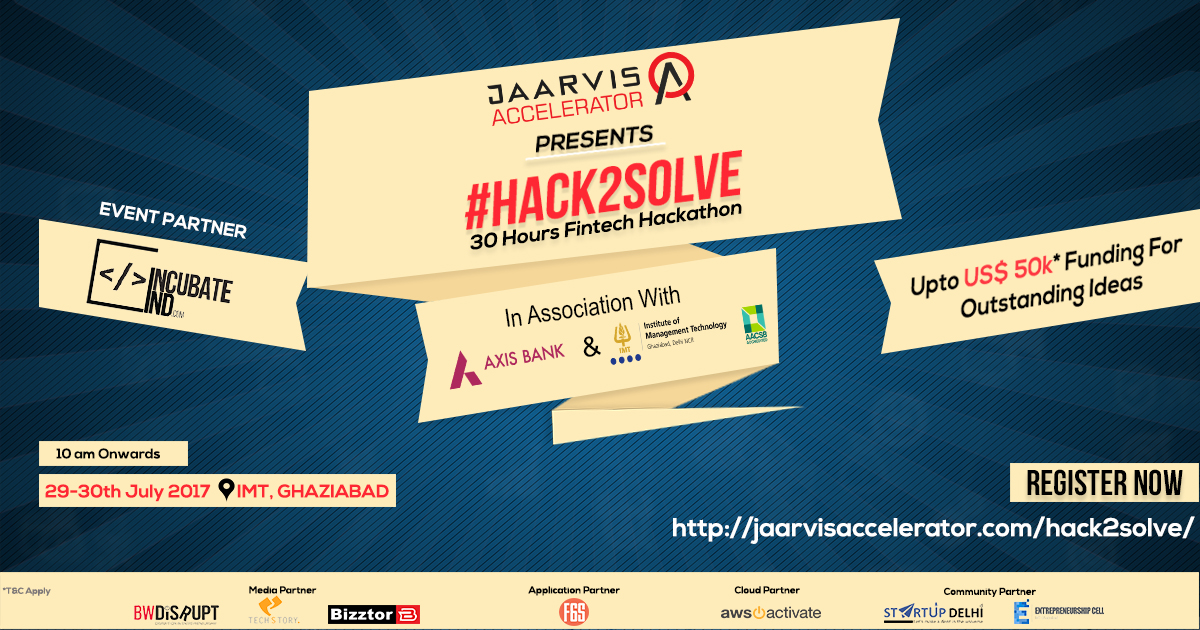 Jaarvis Accelerator launches #Hack2Solve, a series of events to facilitate hackers and start-up visionaries in transforming their ideas from a concept to a functioning product or prototype ready stage, which then would be made market ready and/or investor ready through JA's Acceleration Programme. The events will take place in a real-world space; you can code through the night or bring along your sleeping bag.
Jaarvis Accelerator is an international accelerator, operating out of Gurgaon in India, which identifies growth stage technology based start-ups and helps them rapidly build traction.
Jaarvis Accelerator guides and provides GTM strategy plans for development, marketing and customer acquisition through a mentor driven network of professionals spanning the Globe. Their start-ups have total independence in deciding which services to use, leveraging JA's curated start points and play-book to ensure success.
The first episode of #Hack2Solve would be on Fintech. This Fin-hack event marks the beginning of a series of wonderful hackathon journeys that will eventually be rolled out, across different verticals, in multiple cities in India in the near future.
Also Read: The Fintech Periodic Table: Key Enablers and Drivers Influencing Indian FinTech Startups
JA strive to bridge the gaps in the industry by providing problem statements which the real-world industry/client is facing and the hackathon will be around the topic or on the industry as such to plug the gaps or to/and disrupt the existing systems and processes.
For this episode of Hack2Solve, Jaarvis Accelerator has partnered with Axis Bank and IMT Ghaziabad and IncubateInd is the event partner. It would be a 30 hour hackathon at IMT Ghaziabad and coders from all across the country are expected to participate in it. The event starts on 29.07.2017 and will continue until 30.07.2017
The winners get an opportunity to win upto USD 50K investments, subject to meeting the accelerations criterion, and also the opportunity to be a part of the next cohort within Jaarvis Accelerator.
Also Read: Entre Cell of IIM Ahmedabad and Matrix Partners Organize Masterplan 2017