In June 2008, Kishore and Madhukar started their own digital design and development agency "Intense Interactive" a successful venture till date. Being an avid struggler, Kishore was drawing inspiration from his own life to do something helpful for the unorganized and informal job sector.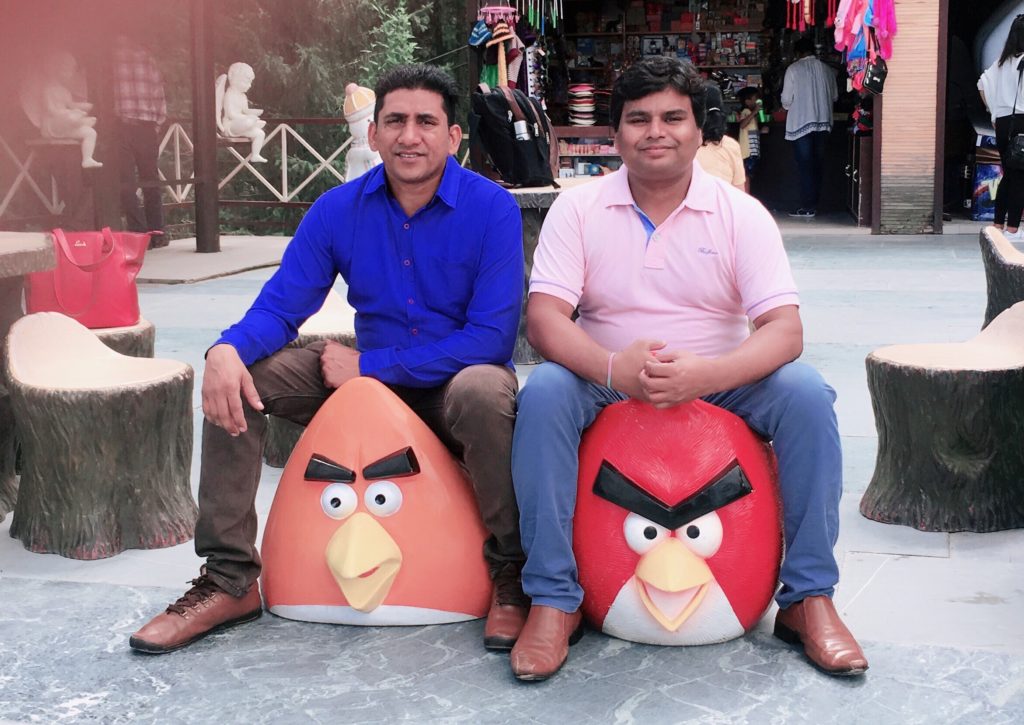 In the early years of his life, Kishore recounts, "I had worked as a construction labor as well as a waiter for almost 4 years. Having worked in an informal work environment and tough conditions, I understand the requirement of such a platform. I have experienced the life of an informal worker and know that to most of them, the future seems desolate.
Due to the lack of appropriate jobs and obliviousness to underlying opportunities in the segment, they seem clueless about how to move up in their career without losing any sleep. The insignificant level of education also doesn't help much."
It was his personal experience that led him to believe in the idea of launching Just Jobs in August 2016 as one-of-a-kind fully-featured job portal, exclusively designed for entry-level jobs sector. Today, the company is very close to him and he stands devout towards eradicating the challenges that plague this sector.
Joined by his co-founder Madhukar, a highly self-motivated individual, who stays incredibly focused on ensuring that everything works out just fine at Just Jobs in building a complete ecosystem connecting the two most important stakeholders – informal sector workforce and household and small-to-medium sized businesses.
From a Successful IT Firm to Building a Business from Scratch
Started originally as an IT firm with a forte in design, the team at Just Jobs used to do web & mobile app design work for their clients globally (still do, but it's only limited to a few existing and valuable clients).
"However, we wanted a bigger challenge. But, this doesn't mean that there was no future of the agency. Rather, we'd reached the end of where we wanted to go with it."
In this future vision, the team of 15 transitioned over to working on own products and believed that they would eventually be in a position where they would say no to any new client work and be able to sustain entirely with the revenues from the products built, or perhaps raise some funding.
However, it didn't work quite like this. They had to face the challenges of a bootstrapped company had to give heart & soul to build a business from scratch.
In the beginning, they hardly received the response that was anticipated. However, in a bid to break the humdrum, they launched the 'Free Job Posting' model. Thankfully for them, it worked and incredibly so!
Changing the Perceptions as a Startup
On May 31, 2017, meagerly 8 months after its inception, the organization reached a significant milestone. It had surpassed 11,000+ registered employers which includes (but not limited to) shops, restaurants, boutiques, parlors & all types small & medium sized businesses.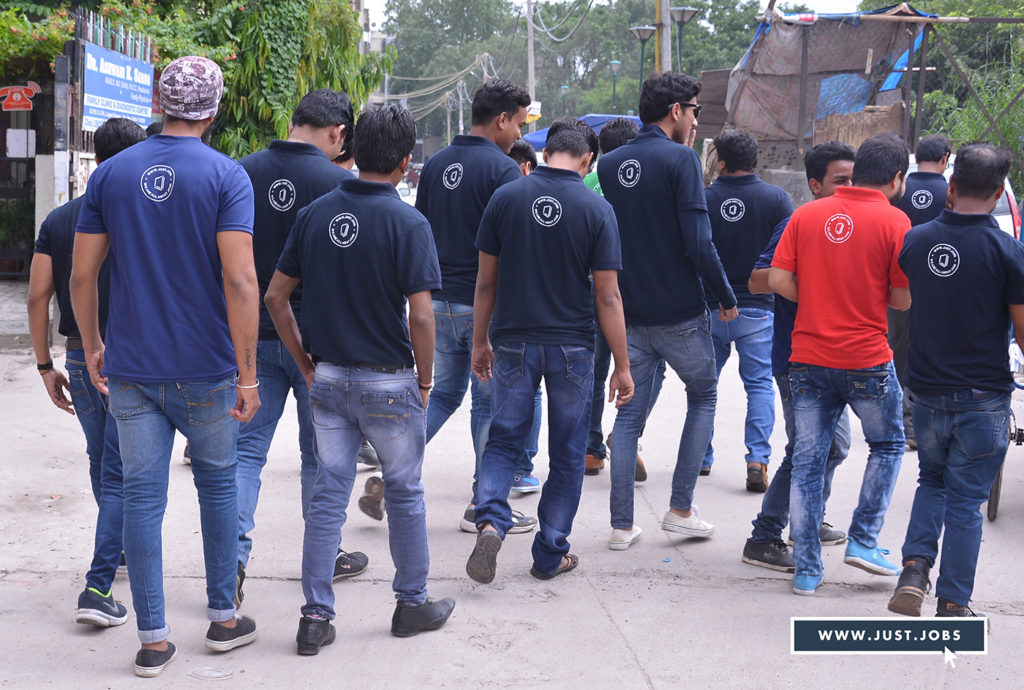 With an aim to minimize the digital divide and change the perception towards the blue collar workforce, which is considered as highly unorganized, by bringing it into the mainstream; Just Jobs is becoming one of the most reliable and well-known blue collar jobs marketplaces in India.
They also have been trusted by India's most popular startups as well as they are now officially recognized as a 'Startup', thanks to the 'Startup India', a Government of India initiative to encourage entrepreneurship.
As matter of fact, the list of registered employers with Just Jobs comprises of umpteen start-ups and esteemed companies like BigBasket, Flipkart, UrbanClap, Ola, Portea, Uber, Jugnoo, Omaxe, CrossRoads, Zoomcar, and 1 MG along with many others.
It was at this point, that one could easily decipher that small businesses and blue collar job seekers from India are increasingly relying on Just Jobs for recruitment purposes and finding better jobs.
Simplifying the Complex Problem of Job Search
At present, it is more than easy for delivery boys, accountants, babysitters, housemaids, drivers, personal assistants, electricians, cooks, plumbers, security guards, waiters, tele-callers, carpenters, and IT professionals to connect with potential employers using a one-time password (OTP). And Just Jobs offers exactly the same, in the most simplified manner possible!
"We are committed to making the experience of finding the right job as useful as possible, without compromising on any aspect of the process. As a matter of fact, we have heavily invested on our web-portal's UX considering the current needs of the industry."
The background in design has formed the roots of Just Jobs not being another traditional & complex job board; but setting new standards of recruitment by offering the easiest, fastest and most efficient solution, when it comes to the recruitment & hiring within the highly informal sector of blue-collared jobs.
This model is more feasible today than ever before, due to the high penetration of low-cost smartphones in the market, coupled with better access to the Internet.
Creating History with Just Jobs
Truly speaking, Just Jobs is successfully bridging the gap between the available jobs and skilled job seekers, in the entry-level jobs sector, a segment which wasn't being systematically catered by any other player in the market.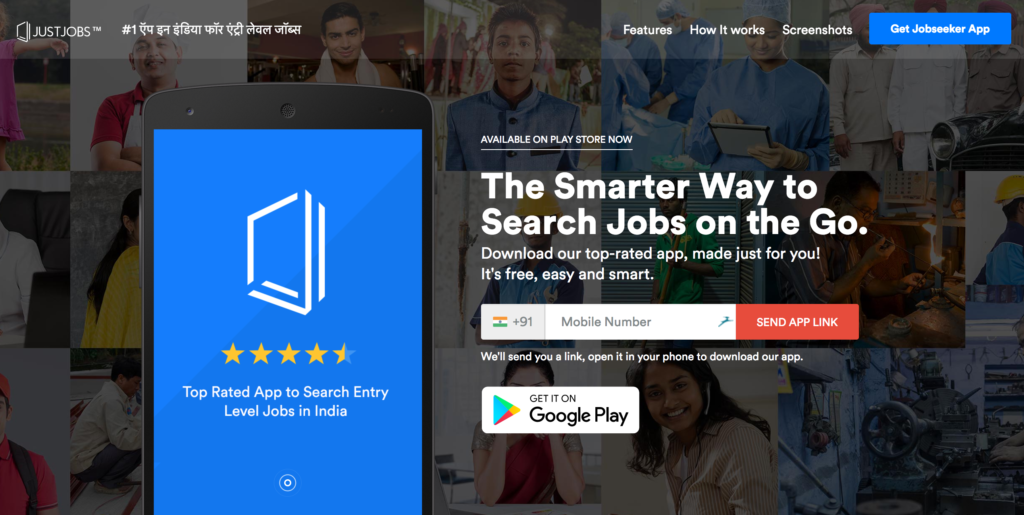 While a large majority of their competitors like AasaanJobs, Quikr, Kaam24 and others are simply concentrating on aggregating the databases and selling them off for quick profits, Just Jobs considers it as their onus to solve the actual problem.
To top it all, the platform is completely free! Under this model, employers could now enjoy payment-free access to job postings on Just Jobs.
These employers could be anyone, either households or business enterprises. This new model opened the doors for those employers who were either tied down by budgetary constraints, or were too skeptic to any upfront charges!
Thanks to the idea, hundreds and thousands of employers, as well as job seekers began trusting and enrolling themselves on the platform! And the rest, as they say, is 'History'!
Also Read:
Top 10 Hiring Tips For Sourcing The Right Candidate
Reskilling As A Solution To Technological Advancement