Healthcare Industry is one of the fastest growing industries in the country. Though, one of the last industries to be completely transformed by technology, today, digitization and technological advancements are re-shaping healthcare delivery and the way the segment is perceived by healthcare practitioners. The rapid growth in the information technology sector has encouraged and supported growth of several industries such as banking, education, entertainment,  e-commerce, and most importantly healthcare. It has brought the world closer and changed the face of communication today. The same changes can be felt in the healthcare systems all around the world, that now even look at dispensing medical advice in many more convenient ways and with greater efficiency.
According to InfoTech research and advisory firm Gartner, Healthcare providers in India are expected to spend USD 1.2 billion on IT products and services in 2015, an increase of 7 per cent over 2014.
Read Full Report Here: Healthcare providers to spend $1.2 bn on IT in 2015: Gartner
However, irrespective of all growths and efforts, yet the healthcare experience in our country is not as smooth as it should be. Today when we can order food, book tickets, and buy shoes at a click of a button, the healthcare services remain disconnected to a majority of the country's population. When it comes to healthcare, we still maintain files of medical reports, we still have to manually search for our medical records when we need them, we still don't exactly know what exactly is happening to us, we don't know what regular checkups we are supposed to do and we don't know what the health trend in our neighborhood is? This list goes on!
Diagnostics industry is an essential part of the healthcare sector. However, diagnostics industry is highly unorganized and lacks regulations. Most of the pathology labs are owned by small chains of private investors and are dedicated to accumulate wealth over providing quality services with affordable price. "The cost incurred for a test in a pathology lab is inclusive of expenditure on marketing of the lab which is around 50-70% of the total cost" says Arpit Kothari, CEO and Co-founder, Medd- IIT Bombay Health Tech Start-up!
Your Personal Diagnostics Companion!
Medd is an aggregator/marketplace for diagnostic services and procedures. Medd helps people choose the best labs and hospitals for booking medical procedures at 15-60% discount. The aim is to make healthcare delivery more efficient by creating transparency in choosing and giving the power back to the consumers (patients) through group purchase. 
Medd is based out of Hiranandani Gardens, Powai, Mumbai.
[box type="shadow" align="" class="" width=""]Medd is solving two major problems in Healthcare innovatively:
1. India is a self-pay market in healthcare, unlike US which is driven by insurers and Europe, which is driven by government. This leaves little or no buying power with the consumers (patients). Here Medd comes in – giving back the power to the consumers with group buying. Patients can save up to 15-60% on tests from the best of labs.
2.Transparency – Since healthcare is mostly unorganized, there is no reliable alternative to know which organization is trustable. Medd works with only the best labs and hospitals in an area to provide high quality service to the patients. Medd also provides additional information like whether the lab is NABL accredited, do they accept credit cards, is their parking or home collection available, etc.[/box]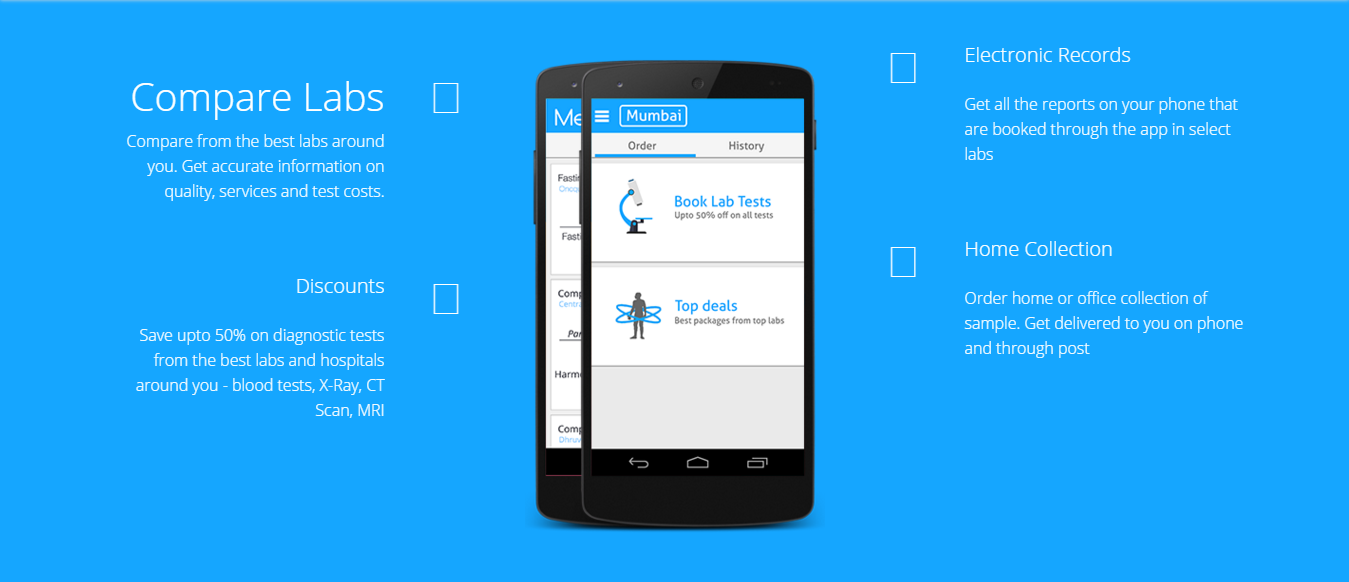 Competitor Analysis
There are players in the same space like Practo (which does only listings), 1mg and Zigi (Focused on medicine delivery). However, the company does not face any stiff competition as no major player is focused on diagnostics and everyone is trying to grab the marketplace.
Consumer Base
Healthcare is general and everyone is a target. The Company is targeting two set of consumer base with its products:
Diagnostic Labs- This involves pitching Medd to diagnostic labs and get them on board to offer their services on a digital platform
Customer- This includes asking people to buy healthcare packages online, make test booking online.
Growth 
Since its operation, Medd has touched its services in 3 cities including Indore, Mumbai and Nagpur and is already providing affordable and high-quality healthcare services to 1000+ customers. Medd plans to expand to Delhi, Hyderabad and Bangalore by end of the year.
Currently, Medd has team Size of 12 people where four of them are involved in technology and rest are in sales and development part.
The company is focusing on extensive partnership with labs across the country to create a branding. It aims to reach out to as many consumers as people as possible. The company is also emphasizing on Preventive and Predictive Healthcare. Arpit suggests that there is not much of awareness and people need to be educated about it.
"In future, healthcare providers will have to develop a model where there is win-win situation for everyone and be able to provide value-addition services by inclusion of technology. You cannot only act as a mediator in the process. Also, there would be focus on mining data to predict a person's health" Arpit comments.
Funding 
Medd has customers transacting through the platform every day and is revenue positive.
Medd raised a seed cum mentorship round from Ajeet Khurana in May 2015.
In October 2015, Medd raised its second round of funding worth 150 thousand USD from group of angels as bridge round which had participation from doctors and senior management people from big pharma, e-commerce and investment banking. This round is to fund growth till they negotiate a VC deal. The company is planning to expand to more cities with the new money. Read The Full Funding Story!
Challenges
The biggest hurdle to Medd is to make people accept technology and win their trust. Arpit says people are skeptical about adopting a digital platform to get their tests done and are not readily accepting it. Thus, convincing doctors and labs that people will come to them through a digital medium is again really difficult.
Team Background
Arpit Kothari, 22, CEO – IIT Bombay
Prior to this, Arpit was founder of Samadhan, an NGO he ran during college which has 12 centers in 3 cities and serves 400 patients a day. He was the youngest to present at the 14th World Congress on Public Health, WHO and UNs flagship conference.
Arpit comes from a diagnostic background- his mom is a pathologist. They started their own pathology lab in Indore in 2011, just before he joined IIT-Mumbai. The idea was to provide affordable healthcare solutions. And this is where it all started!
Anurag Mundhada, 22, CMO – IIT Bombay
Anurag Worked at Citi on Big Data Analytics and was the founder of Unsight, a popular satirical blog in IIT. He has also been a freelance writer with the Times of India.
Akash Deep Singhal, 22, CTO – IIT Bombay
Prior to this, he was involved with many start-ups as a developer. He has completed Google Summer of Code given to only a thousand people each year.
"When we founded the company- we had no experience; every moment ever since then has been a learning moment for us. Literally, it was three of us who did everything- raised funds, did marketing, hired and fired people. We witnessed rejections as well as acceptance- but every time we have become nothing but more patience and resilient. It has been a wonderful ride and we are excited to grow" Arpit concludes.
Links: Download The Android APP Here!
Similar Reads:
DocsApp – Making Healthcare Services Easily Accessible To Patients !
LiveHealth – Your healthcare is now only a click away !
Healthcare24by7 – Your Doctor is now on the Map !
Prevention is better than Cure ! Healthcare startup Medyog's Preventive Healthcare focus !
New online doctor portal 99doctors.com revolutionizes healthcare delivery concept
Comments
comments