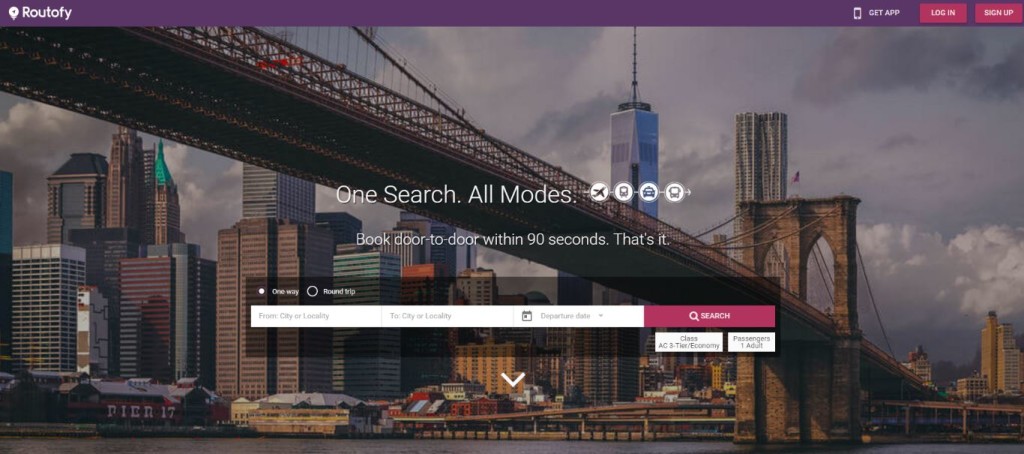 Routofy is a door-to-door travel booking platform that combines flights, trains, buses & cabs to allow users to book their journey in one go.
Imagine a situation where you need to travel and the closest airport to your destination is 350+ kilometres away. Usually in such a situation, you would have to check for flights availability, then check bus/train timings depending upon the nature of your flight and finally arrange a cab for your airport travel. The number of tabs you have to keep shifting and sometimes the number of sites/apps you need to shuffle through can be overwhelming. This plight is faced by everyone and for frequent corporate travelers that is the only night mare while preparing their itinerary.
Ronak Gupta, the co-founder & CEO of Routofy, was put under a similar circumstances when he spent a semester in France under IIT Delhi's semester exchange programme during his graduation.  All enthused to travel across Europe, he faced his first roadblock trying to figure out a suitable way to reach his desired destinations. He would open multiple tabs for flight, train, bus schedules & prices and try to find indirect routes to the places. That is when he realized that the problem assumes complex proportions in India as the system is much more complicated and fraught with delays, which inspired him to start Routofy.
Mapping Routofy
At Routofy, they truly believe that for every complex problem in this world, there exists an extremely elegant solution. They still haven't realized the true power of technology to find that elegant solution for travel planning but Routofy is an attempt in that direction. Launched in November 2014, Routofy initially started off as a route-planning portal that allows users to know 'how to reach' any destination across India using a combination of flights, trains, buses & cabs. They launched their Android app in January 2016 that allows users to avail the feature of making instant multi-modal travel bookings of these itineraries, enabling them to plan and book a door-to-door journey from the same umbrella, all in a single transaction.
Routofy is based upon the philosophy of providing users with a visionary and seamless travel experience. Unlike other Online Travel Agencies (OTA), Routofy doesn't stop once you make a booking. It accompanies travelers on their journey through its unique travel assistance, which includes facilities such as last-minute cab bookings, web check-in, transport delay information, and so on. For example, a user can now book his entire trip from Cyber Hub, Gurgaon to Amul Dairy, Anand in one go; furthermore, Routofy ensures that if your flight is running late, a subsequent cab booking is adjusted to meet you at the new arrival time.
Their current addressable market consists of corporate travelers and special features have been introduced to cater to these, including compliance assurance of company's travel policy, 24×7 hotline for instant response, data-based travel insights to promote savings, etc. The convenience and door-to-door booking features also makes their product is relevant for people travelling to cities with no direct connectivity, leisure travelers, etc.
Different Route
According to ASSOCHAM, the ecommerce market is likely to touch $38 billion mark by the end of 2016 and almost 70 per cent of the ecommerce industry is comprised of travel-related transactions. Furthermore, corporate travel, routofy's key focus area, is a $25 billion industry in India. The current players in the market follow the tried-and-tested model of having separate tabs for different modes, where the user is left to coordinate and make separate bookings for each of these. Also, these either provide airport-to-airport or just station-to-station transport.
Comparing different modes' prices, time slots, duration etc. and making multiple bookings on a mobile is even more painful and time-consuming. With India crossing the milestone of 1 billion mobile subscribers recently, Routofy is here to disrupt the mobile travel industry and cater to the needs of this large customer base.
[box type="shadow" align="aligncenter" class="" width=""]Related Read:
In Crowded Online Travel Industry, YatraGenie is Growing From Strength To Strength !
[/box]
In the corporate travel space, some players that provide similar services include Yatra, Uniglobe & Kuoni. However, routofy's product is very different from other players; they are aiming to carve a space for themselves through their unique concept!
[box type="shadow" align="aligncenter" class="" width=""]Routofy provides a realistic combination of flights, trains, buses and cabs to provide the best way of reaching any destination.
Multi-modal (combine, compare, book) – Realistic combinations of flights, trains, buses and cabs to provide the best way of reaching any destination
Point-to-point connectivity – We provide door-to-door bookings, instead of the conventional city-to-city transport.
Express single checkout – One transaction & the entire itinerary gets booked.
Connectivity to remotest locations – We tell you the best way to reach any destination, be it a locality, city or village, in India
Travel assistance – last-minute cab bookings, web check-in, transport delay information, and so on.[/box]
These are the very areas wherein their competitive advantage lies. They are using technology to make travel bookings extremely convenient and seamless for the user.
Routofy Planners
Routofy is a team of 17 members working on creating a visionary platform that will solve all travel woes. Its Delhi-based ensemble has experienced people from Goldman Sachs, Microsoft, Flipkart and Amex, amongst others. 10 of its team members are graduates from IIT's and the rest are also from top-notch universities across India.
Ronak Gupta, co-founder & CEO, oversees the overall business strategy and operations at Routofy. A graduate from IIT Delhi, he specializes in Chemical Engineering and also visited INSA Tolouse, France under the Semester Exchange Programme of the college.
Before Routofy, Ronak worked with National Chemical Laboratory, where he worked with both the operations and management teams to make processes more efficient. The experience was invaluable in giving him leadership skills and insights into how organizational and team dynamics can be used to increase productivity.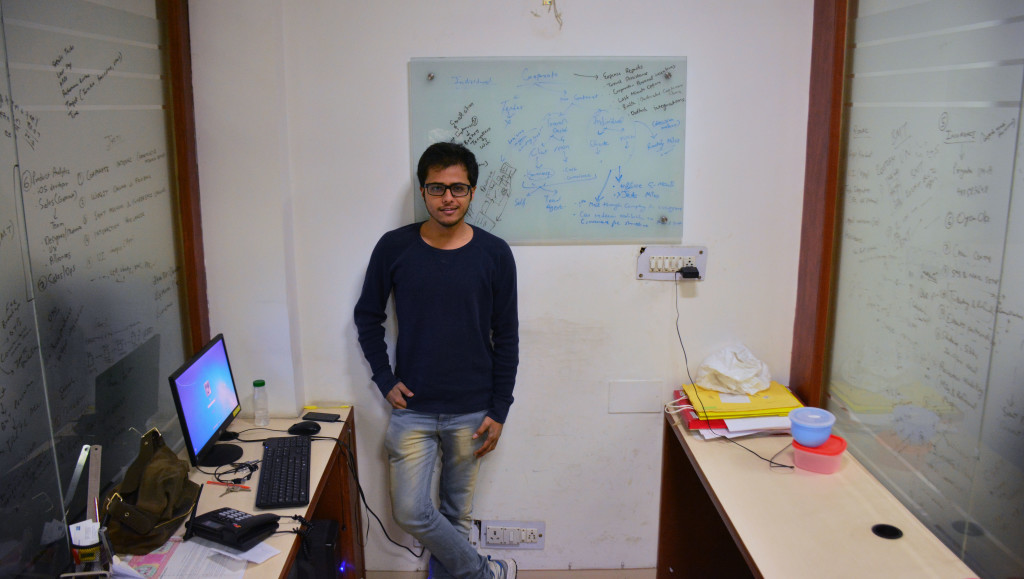 "Being first-time entrepreneurs, the past months have been a great learning experience for us. The journey from a route-planning portal to a full-fledged door-to-door booking platform has been insightful in terms of understanding the needs of consumers and corporate travelers. Within the first 20 days of our app launch, we had brought various corporate clients on board, which are worth USD 2 million." – Ronak
Abhishek Aggarwal has completed his Masters and Bachelors of Technology from IIT Delhi in Computer Engineering. Abhishek has worked on Routofy since the inception of the idea and has headed the Tech team for the launch of their Web and Android platforms.
Before Routofy, Abhishek has interned with Microsoft Corporation Ltd. He developed a performance benchmark Android library to measure CPU usage, latency, memory usage, frames per second and battery usage of a given application with minimum overhead.
Challenges and Learning along the route
Technological Route
They are integrating a lot of vendors in their app so that their reach expands across any location you can find on Google Maps. Coordinating with them all, integrating their highly unorganized and manual systems into their route-planning & booking platform, etc. can be challenging.
When they initially developed the route-planning algorithm, it took them almost 2 minutes to process and present results to users; now they process more than 250,000 results in a fraction of a second. They have re-imagined and re-invented the travel booking process (single checkout for door-to-door) and the journey (travel assistance in the form of last-minute cab bookings, web check-in, transport delay information, and so on).
Business Route
Getting the best ROI with limited budget is one key area of focus was one of their biggest challenges. Also, B2B in the travel space is mainly relations-driven; introducing a new product is this already established environment required a lot of efforts.
They have learnt that adopting a very analytical approach to each new venture is extremely important; constantly measuring the success and failure of each initiative and adapting according to the learnings is the key. With exciting loyalty programs like lifetime discount policy in their referral system, thry intend to ensure viral customer on-boarding and retention. They have used technology to automate offline processes, thus lowering operational costs and focusing on unit economics. Using their funding to achieve positive cash inflows and building sustainability in the market is their objective.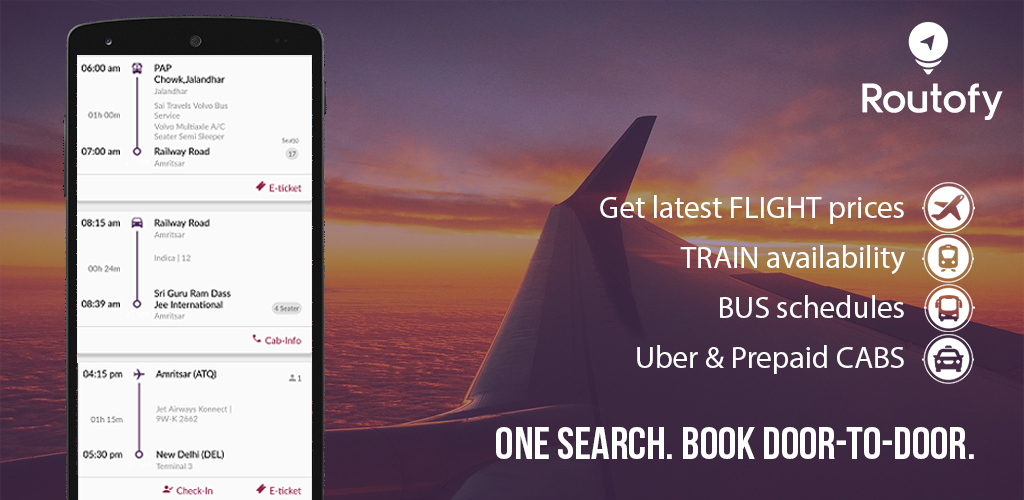 Route Ahead !
They are expecting about 30,000-40,000 downloads of their app in the first quarter. Routofy aims to create an intelligent travel product, where you get what you need right when you need it. They have a very strong tech team, which is working on integrating multiple features in their app that will provide an altogether futuristic travel experience, viz. customized itineraries, personalized recommendations & services and much more.  They envision intelligent travel technology, which provides complete travel assistance during the journey. Next on the cards is integrating new booking functionalities, hospitality options and creating an iOS app.
Last year, Routofy raised an undisclosed amount of seed funding from Snapdeal's founders, Kunal Bahl and Rohit Bansal. Presently, the team comprises of several IIT alumni who have worked in some major companies such as Microsoft, Goldman Sachs, Flipkart, etc. and is gearing up for a Series A round of funding.
[box type="shadow" align="aligncenter" class="" width=""]Also Read:
Be|Homey – Now Share 'Home Sweet Home' Feel During Travel Too !
TraveLibro – A Holistic Approach To Travel And Social Networking !
AxisRooms India's first Global Distribution System technology provider for travel related services[/box]
Comments
comments