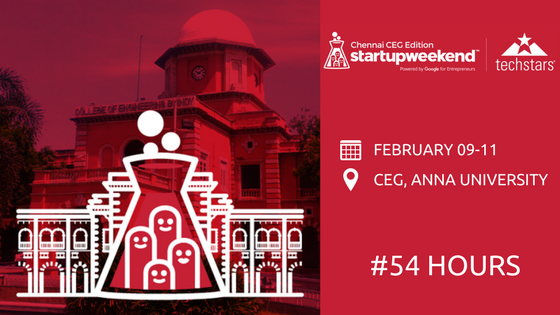 "Everyone should carefully observe which way his/her heart draws him/her, and then choose that way with all his strength."
Each and every one of us has at least one idea that can be turned into a feasible business. This idea that we have ignites a spark within us. Some of us act on the idea while the rest just let the spark die. Are you someone who cannot ignore that spark, and want to ignite it?
Then throw all caution and doubt to the wind and come attend Startup Weekend Chennai CEG Edition 2018!
Techstars Startup Weekend Chennai 2018 is all set to take place in the College of Engineering, Guindy, Anna University; from 9th February, 2018 to 11th February, 2018.
Starting a business and becoming an entrepreneur is exciting as well as terrifying. It is a great challenge, something not all of us can rise up to. Once you are confident that you have an idea that can change the world in your own way, research about it. Get to know that market, check out your competition and understand your customers. The next stage is to find trustable and talented partners to Startup.
This is where Startup Weekend Chennai 2018 comes into the picture. All you need to do is have an idea and a little background research. We are here to connect you to the right people and excellent mentors. People from all walks of life are welcome to Startup Weekend; Designers, Developers, Hustlers and the Business minds.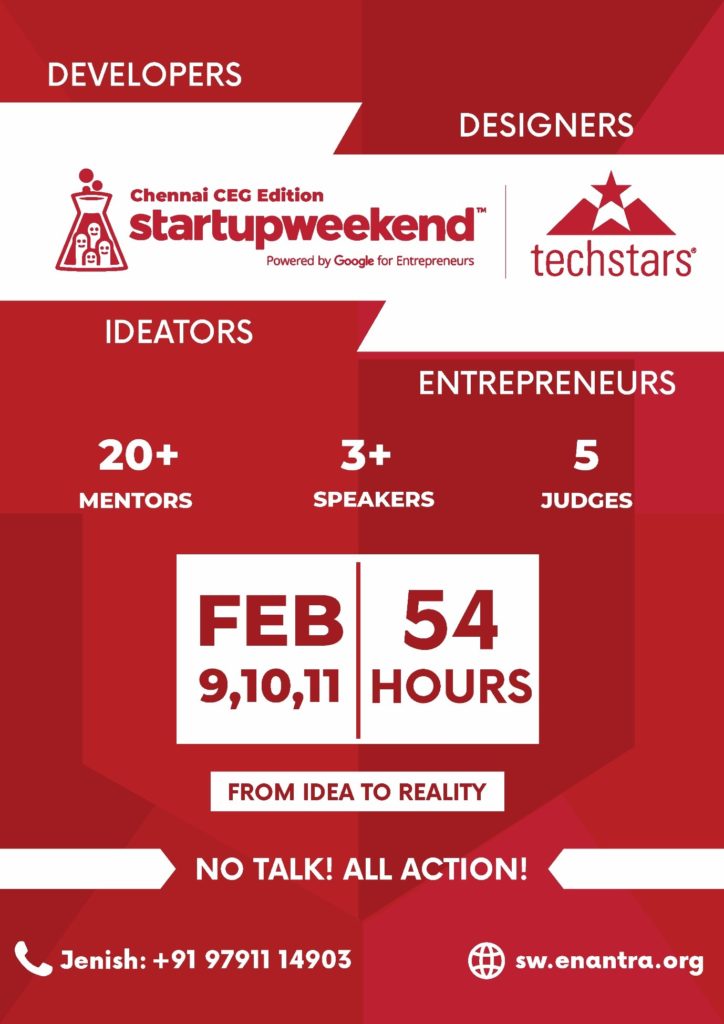 In today's world, be it an IT industry or any other kind of industry; software correlates to innovation, as software development gives the much needed new edge to a business. Thus a developer is the brain of any Startup. Similarly, designer is pivotal part of a Company! Why just be the heart of some company when you can kick start your own? There's more to designing or developing. There's product market fit, customer validation, product development, business plan development, and much more.
Startup Weekend provides you the opportunity to meet growth markets who know how to make money from your ideas, developers who know how to develop ideas with codes, business pros who know how to write business plans and designers who can design excellent UI. We have 20+ mentors coming in this year to help you become an all-round business professional by learning the nuances of business making.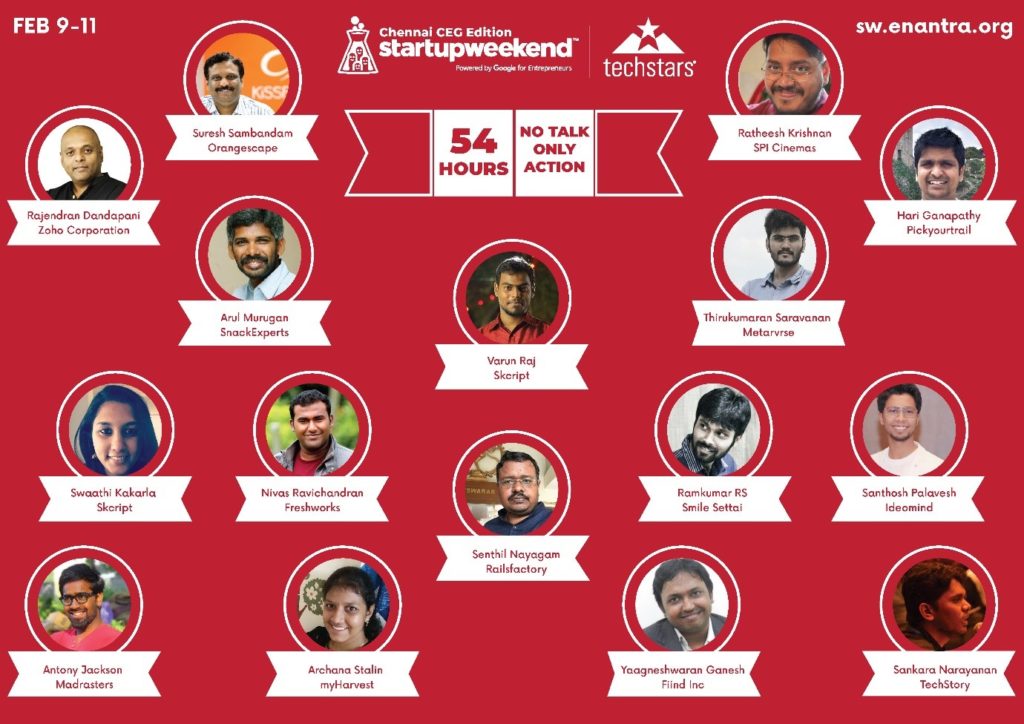 Also, we have chosen Cardinal Red as the theme of this year's Startup Weekend Chennai. This colour symbolises the celebration of Chennai's historical architectural marvels like the Red Building of CEG and the majestic Chennai Central.
We have partnered with Developers Circle from Facebook Community, Google Developer Group (GDG) Chennai, Madrasters Design Community and Women Tech Makers with an objective of spreading the notion of entrepreneurship and technology, especially among women.
Startup Weekend Chennai 2018 has chosen the Night Owl as it's mascot for this year.
"The night lovers tend to be the seekers, the writers and the progressive thinkers. Things tend to get more sense inside the quieter hours!"
The world has witnessed the rise of many independent businesses and personalities. Each of these who have made it to the limelight have had one thing to say – work to your advantage. At night, the world is asleep, and with that comes the quiet which enables one to enjoy uninterrupted workflow with a clear, level head!
It's not lights out at 10.30 anymore!
Last but not the least, apart from the great food on all the days, you'll also get loads of goodies like:
300$ worth Google Cloud Platform credits to build mobile and web apps.
Free .co domain.
15% off on Vimeo Business.
Goodie bag containing customised notepad, pens, mouse pad, sticky notes, and wristband.
Startup Weekend T-shirt
For Winner Teams:
Free Incubation call for the winning teams.
Product Development Mentorship and free use of Hasura Platform for three months.
Free digital transformation support (.com domain, Server Hosting, Dynamic Website, Creative Minimalist logo and business card) from Produx Designs and Technologies.
Free Digital marketing support from Pickmyslot.
So what are you waiting for? Register now to have the best weekend of your life!
A lot can happen over a weekend!