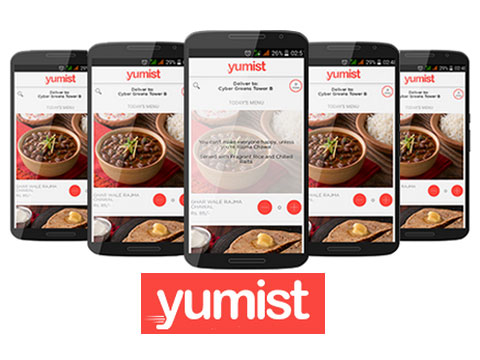 2 May, 2016, Gurgaon: In its recent development, food-tech startup, Yumist has shut down its operations in Bangalore. But on the other hand, it has expanded its reach in Delhi. The company is a joint venture of Alok Jain and Abhimanyu Maheshwari. Founded in 2014, it deals in providing home-style meals to its customers; these meals are prepared in company's own kitchen.
Though the e-mail sent to the company by us remained unanswered, but news in media agencies suggest that company has closed down its operations on temporarily basis. Yumist was operating from a rental kitchen in Bangalore and decided to close the operations until they purchase their own kitchen like that in Delhi and NCR region.
However, it has strengthened its operations in NCR region by launching a mammoth 12000 sq ft kitchen. With this development, company is expecting to increase its customer base and also plans to allure more foodies on to its platform. In addition to that, now it will be catering all day food orders right from breakfast to dinner.
Earlier, the startup had managed to acquire US $2 million funding from Ronnie Screwvala's fund Unilazer Ventures and its existing investor Orios Venture Partners.
Speaking about the development, Ronnie Screwvala  commented, "We have a great product at Yumist and it's made a great connect with consumers and so it's best to focus on one territory and the NCR territory is the largest in the country so this is a good step forward for the growth plans of Yumist."
Also Read-
Paytm Joins Hands With Wipro To Meet Its Requirements For Payments Bank Business
Askmebazaar Lays Off 250 Employees As A Part Of Company's New Strategy