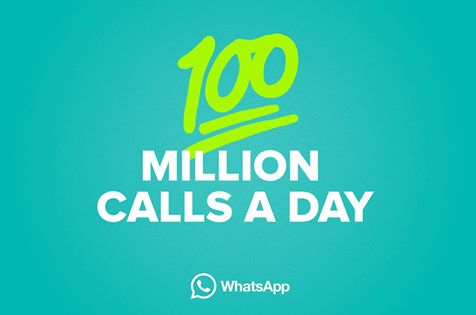 25 Jun. 16, SAN FRANCISCO: Facebook owned messaging platform, WhatsApp is now serving 100 million voice calls every day to its customers, according to the company's latest blog post. Which means, WhatsApp serves roughly about 1100 calls per second.
The company is further planning to improve its call quality in near future.
The latest blog by WhatsApp states "For more than a year, people have used WhatsApp Calling to talk with friends and family around the world. It's a great way to stay in touch, especially when connecting with people in other countries, or when messages alone won't do. Today, more than 100 million voice calls are made every day on WhatsApp – that's over 1,100 calls a second! We're humbled that so many people have found this feature useful, and we're committed to making it even better in the months to come."
WhatsApp CEO Jan Koum posted on his FB wall stating "When I first moved to the USA, making a phone call to friends and family that I left in Ukraine was a frustrating process. You had to pick up a phone that was connected to a wall and hope that the person you were calling was near their phone on the other end. Years later, mobile phones began to make this a bit easier, but switching SIM cards and worrying about your mobile plan still made it challenging to call home. Since the early days of WhatsApp, we've worked to tear down the boundaries that stand between people staying in touch with their friends and family. A little over a year ago, we made it possible to make calls using WhatsApp – for those times when it's important to hear a voice on the other end of your phone. Today, we're proud that people are making 100 million calls a day on WhatsApp!"
Over last few days, WhatsApp has been surfacing in the news after being rumoured that it is working on certain features such as video calling, group invite, zip file sharing and NFC tags.
WhatsApp which is currently acquired by Facebook has more than a billion users, circulates around 42 billion messages and 1.6 billion photos daily. It also shares 250 million videos, thus making it arguably the most popular chat application.
Also Read: WhatsApp Revenue Model And The Reasons Behind Facebook's 19 Billion Dollar Acquisition !
WhatsApp Released Desktop Version Of Application For Windows And Mac
Comments
comments