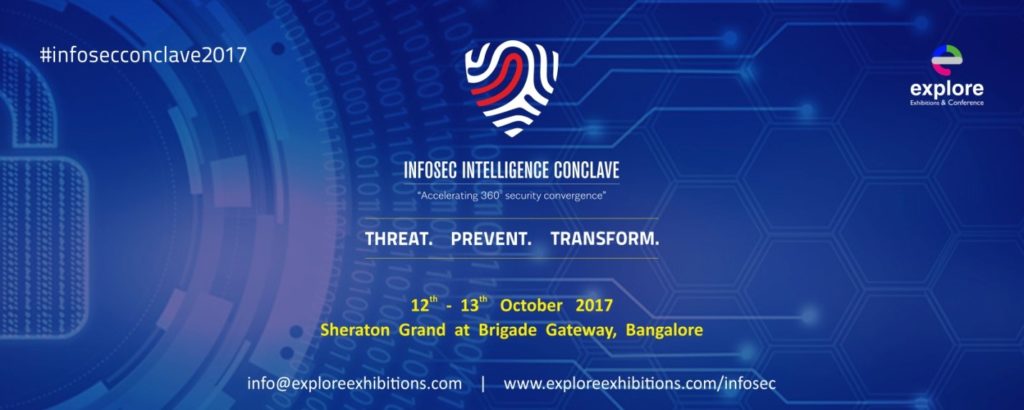 Explore Exhibitions and Conference LLP producer of leading industry event 'Smart Tech' series for C suite, Policy makers, Consultants, B2B Sales managers & executives, is pleased to announce the launch of InfoSec Intelligence Conclave 2017 in Bangalore, India. The event is scheduled to take place on October 12th & 13th at the Sheraton Grand.
Cybersecurity has been on top of minds with WannaCry & Petya, IOT security, cyber resilience and new regulations & policies by Government. The most effective financial sector also has been infected atleast upto 75% when compared with the other industry sectors and the situation is chaotic and immediate action is imperative.
India has been a victim and an easy target for cyber espionage, the Government along with the other public & private organizations has to employ a comprehensive approach to this digital security. While cybersecurity has become the talk of town for every corporate to safe guard their business interest and clients information.
Cyber Security has become a lucrative business wave in the recent years and according to a statistical report, the Indian cyber security market is likely to touch $35 billion and the global cybersecurity market is expected to reach $190 billion by 2025. The upward growth trend has embraced digital transformation and created a roadmap for opportunities and challenges to achieve its strategic vision.
The surge for Cyber Security solutions and its requirements is much required need of the hour. Infosec Intelligence Conclave 2017, will bring together 30+ Top notch speakers, 250+ C Suite delegates from Government & Law Enforcement, Financial Services, Healthcare, Telecommunication and many more to expand their understanding of how to infuse risk awareness into everyday culture and strategies to help you evolving cyber resilience.
Some of our eminent industry speakers/advisors are:
Anuj Tewari – CISO, HCL Technologies
Benild Joseph – President, Information Security Advisor – Information Systems Security
Association (ISSA), Govt. of India
Jasmine Bharucha Gorimar – Head of IT | Information Protection Security, Boehringer Ingelheim
Subhajit Deb – CISO, Dr. Reddy's Laboratories
Sumit Dhar – Sr. Director & CISO, Edge Verve (Infosys)
Trishneet Arora, Founder & CEO, TAC Security & many more…
The topics of discussions include Revolutionizing the future of data security , Protecting Financial Services in cyberspace; When everything is on the net – Internet of Insecure Things; Deconstructing Next-Gen Endpoint security; Best Practices – Embedding Cyber resilience; Protecting critical national infrastructure; Command & Control – the role of the CISO in today's battlefield; Crosshairs – Proactive strategies to mitigate Cyber threats; Redefining critical application enhancements: BYOD enterprise mobility security; Technology convergence & security consolidation; Transforming InfoSec – Business Agility; Unwitting Insiders Rationale for organizational risk and many such interesting topics.
The event is been supported by various leading partners like Paladion – Gold Sponsor, Samsung SDS as Silver Partner, EC Council as Training Partner, Cloud Security Alliance (CSA), ISC Bangalore Chapter, Information Systems Security Association (ISSA), Chartered International Institute Of Security & Crisis Management (ciism), Computer Society Of India (CSI) are the supporting associations, and some well recognized media partners like CXO Today, Telecom Watch, Digital Forensic Magazine, India Tech Online, Private Banking, Electronics Media, Global Security Mag, Telco Professionals, Business Headlines, TechStory, Digital 4 n 6 Journal etc
Conference will act as an annual point of connection for the CXO's & IT security professionals; an opportunity for them to be updated on the latest breakthroughs in exponential technology and ideas; a place to highlight the burgeoning startup communities' in cyber space; a place to focus on how exponential technology can help solve Global Security Challenges; an opportunity to shift traditional way to an innovative way; a source of content, inspiration, action and impact with advanced threat landscape to successfully identify, protect, detect, respond & recover.
To register as a delegate for the Infosec Intelligence Conclave 2017 or to reserve a sponsorship, click here!
Also Read: Top 5 Security Strategies For Home-Based Entrepreneurs From IoT Cyber Threats