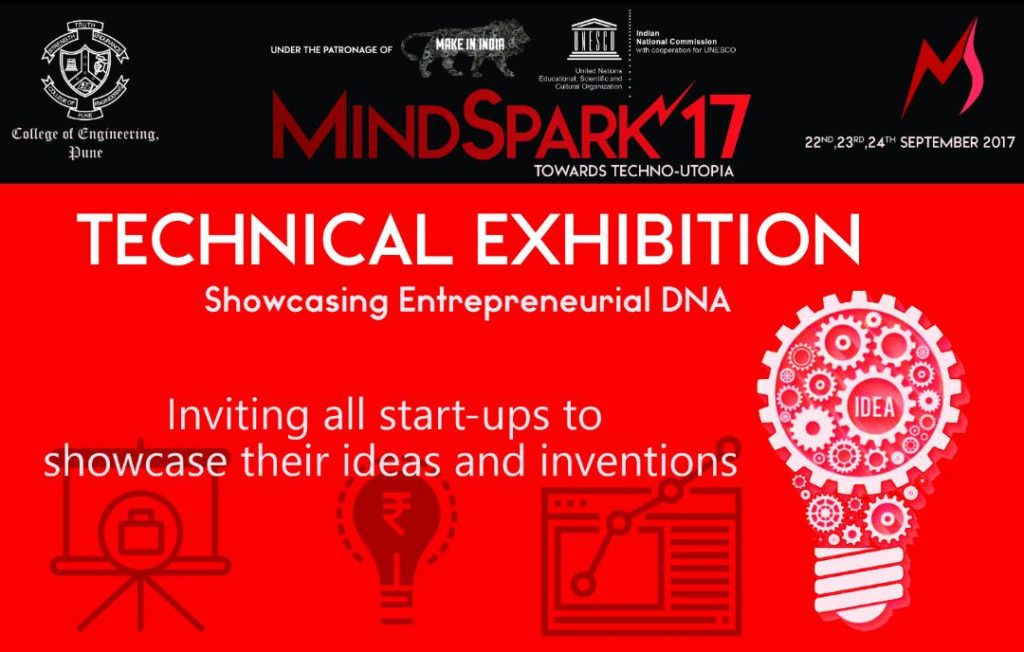 One of the biggest technical fests in the country, COEP's MindSpark is back to take it to another level. This time with new innovations, ideas which will make you stop and ponder. The theme for this years edition is Towards Techno-Utopia which aims to promote the application of research and technology in order to strive towards an ideal society.
To honor this theme, MindSpark'17 brings you the pilot edition of Technical Exhibition showcasing a number of premium new and innovative start-ups which are ready to set your imaginations on fire!! Technical Exhibition is a platform for the budding entrepreneurs and inventors to showcase their ideas, their products in front of a crowd which comprises of the brilliant young minds of the state who come to the fest.
It will be an opportunity for the start-ups to present their ideas to take the world a step closer to Techno-Utopia. The start-ups would be getting a real chance to test their market strategies as well as other rising start-ups of other domains.
We have start-ups like Robolabs which will mesmerize you with their bots; Phantom 3D, which will make you forget reality with their 3D printing, Bamboochi which will open up your imagination with their innovative economic friendly products, and many more exciting start-ups, there is no sector which hasn't been covered.
The Expo also includes a special 2 hours session with a panel including successful entrepreneurs, investors and funders where the start-ups would be given a chance to pitch their ideas in front of a panel.
Among the panelists, we have
Siddhartha Gupta -Program Manager for Oracle Cloud Accelerator
Ved Muthal -Co-Founder & CTO of Peppercorn Labs
Prashant Pansare – CEO of Inteliment Technologies
Rahul Desare -CEO of Sunshot Technologies
Prafulla Thote- MD at Samudra Electronic System Pvt Ltd
It will be moderated by Keerthi Kadam -Founder of EDCollaboration.com & an Editor Director at Pune Open Coffee Club.
With their experience and flair, we certainly hope that the panel discussion would be a very lively and informative affair.
It would discuss many interesting topics which will quench the curiosity of the students and other start-ups attending the session. The start-ups would also be given the chance to recruit interns and conduct any interactive session with the crowd.
This serves as the bridge between students and the start-ups and also start-ups and investors. It provides the start-ups with the exposure which they deserve. This exhibition will provide an idea to the students how life after their graduation looks like and what is expected of them.
Technical Exhibition of Mindspark'17 will be held on 23rd of September wherein the start-ups which have participated will be provided with stalls to bring forth their ideas and products and showcase them. If you are a fan of the new and upcoming innovative technologies, then this is the place to be. Please do visit the Tech-Expo of MindSpark'17.
If being surrounded by technology is what you desire, Tech-Expo is the place to be.
Be there and don't miss a thing. MindSpark'17!