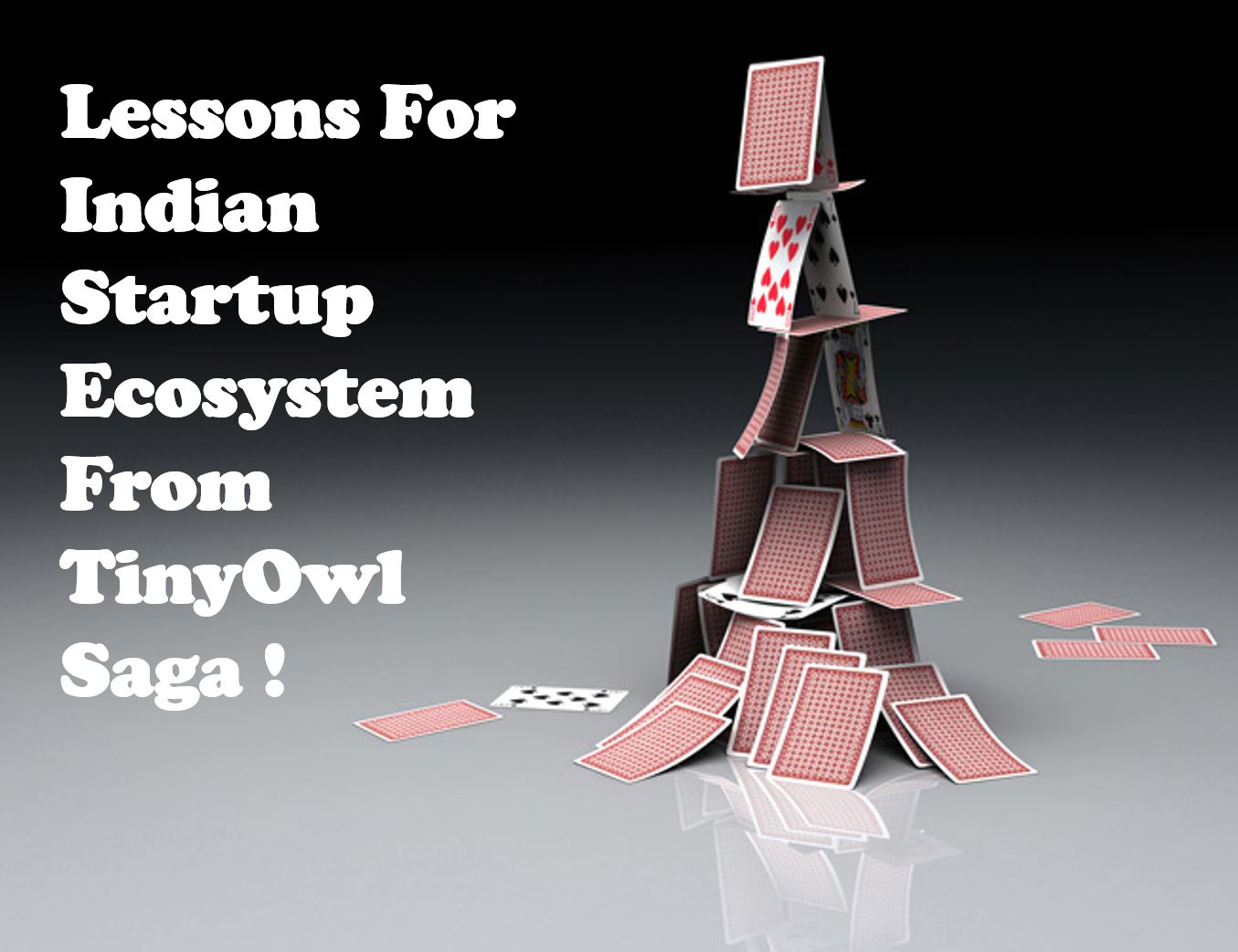 A lot has been written about the recent happenings at TinyOwl, Zomato and Housing. The way things have happened specially at TinyOwl in the last week raises a lot of questions and the one things that everyone is worried about is whether this is the beginning of a bubble burst. At Techstory, we recently spoke with Ravi Gundlapalli, CEO of MentorCloud  and he said something very interesting that if 90% of the startups don't make it, there is something fundamentally wrong with the ecosystem. This we believe was a more important question we needed to ask – Is there something fundamentally wrong with the way the startup ecosystem is progressing and what can we learn from this current crisis ?

In a quest to find our answers, we spoke to Ajeet Khurana, Abhijeet Kumar and Tarak Rindani. Ajeet has been the CEO of IIT Bombay's business incubator (SINE), is an angel investor, mentor, member of Mumbai Angels. Abhijeet is the Co-Founder ah! Ventures, Co-Founder Pronto Infotech, Angel Investor, Serial Entrepreneur, Mentor. Tarak Rindani is a partner at SHADOKA Ventures, is an entrepreneur, Angel Investor, Consultant, Speaker and Author.
In the report below we try and look at some of the main problems that need an immediate fix in the startup industry. This is our analysis (after speaking to the three investors ) of how we feel things should change in the startup ecosystem. There surely will be more perspectives to this which we would love to hear.
Quick Snapshot Of Recent Happenings
So what has happened in the last few months that has caused so much discussion and concern around the startup bubble ?
TinyOwl did its first round of layoffs in September 2015 following which the company received a funding of $7.5 million from Sequoia Capital and Matrix Partners  in October 2015. In November, the company announced that it will be halting operations in 4 out of 6 cities, will be revisiting its business model and will be letting another of it 100 employees go. The second round of layoffs at TinyOwl has led to a lot of drama with one of the cofounders being held hostage by employees in the company's Pune office.
In November this year, Zomato let go of almost 300 of its employees. In an email that Deepinder Goyal sent to his sales team and later circulated to all his employees, Deepinder blamed the state of the company on its sales team. The company also seems to have put its investment in Pickingo on a hold. On 3rd November, Pickingo reported that it was planning to put on hold its plan to enter the food-delivery segment after a proposed deal with online restaurant guide Zomato failed to take-off.
Since the beginning of this year, Food tech companies have raised about $172.9 million in funding according to Traxcn.
Dazo, another food tech company closed its operations in less than a year. On October 9th online convenience store Localbanya announced that they were temporarily suspending operations to upgrade technology and services. Chat based personal assistant app Helpchat fired about 100 employees in October.At Housing.com the company let go of about 600 jobs in the August-September period after which in November the company was looking to layoff 200 more employees.
The Crazy Flow of Money in Indian Startup Ecosystem !
In about the last one year, the crazy amount of funding that has happened in the Indian startup ecosystem hasn't gone unnoticed by anyone. While this is very much a welcome fact, what was surprising was that the funding started happening a lot earlier in the day for startups.When one hears about a  month old startup getting funded that too in a crowded space, one cannot be not surprised.
As Ajeet Khurana puts it "Capital availability has become so high in the last 1 or 2 years that by the time you get an opportunity to invest, someone else has already made an investment in that company. This has given rise to a tendency where people want to invest in companies early on even with the slightest signs of success. This is taking investors in a downward spiral where everyone is starting to invest a little earlier than before, then a little more earlier than before and so on. But FOMO (Fear of Missing Out) is giving rise to a lot of funding happening where it should not be."
Abhijeet agrees "Companies need to delay the funding cycle. If you raise a million dollars 2 months out of college and raise another 10 million 6 months down the line you obviously don't know what to do with that money. Thats the biggest problem right now. It is important that companies test the waters and learn the game. They really need to understand how things work in the market before looking for funding."
Funding of copy cat ideas doesn't seem to be a problem according to Tarak as long as they companies have a unique personality. "All hospitals are similar. All hotels are similar. All vegetable markets are similar. Are they copying each other? No! There is a unique personality, a thought process, a quirk, the story, the je ne sais qua that makes me, me. Same for the startups."
The Unavoidable Mistake That Everyone Will Make !
Every new company that is coming up these days is looking to grow extremely aggressively and is trying hard to create a position for itself in the "market leaders" segment. There is no time to stop, slow down and look back at what is being achieved and at what costs.
According to Ajeet Khurana this is an unavoidable situation in the growth cycle of these high growth companies. He believes that entrepreneurs across the world will definitely make one of the two mistakes. It is upto them to choose which one they want to make. "Founders of a newly created company will necessarily make one of the two errors – either they will plan for higher growth an soon realize that they had over estimated the growth or they will plan for lower growth and soon realize that they could have achieved much more if they had the right kind of resources. So entrepreneurs across the world will have to make an error one way or the other. Given that these companies are all venture funded, the philosophy generally followed is that you should never make the second kind of error. Everybody will bargain for higher growth which means that you will hire for more,  put more money in marketing, open more stores, get more office space and so on. This is quite natural," Ajeet tell us. "When you realize how much you have estimated above realism, you will need to cut back. It is natural progression. I am totally sympathetic towards the problems faced by employees but I don't think things could have gone any other way," he adds.
Tarak agrees and believe that course correction is a necessary evil that has risen because of startups wanting growth yesterday. "Course correction is a much needed quality for an entrepreneur. Those who stubbornly stay the course might hit the iceberg. Having said that, course correction to address the shifting market dynamics, anticipated customer needs, and because of other outside factors is one thing; changing business model mid-course to sacrifice the USP — read authenticity — and turn aggregator is another."
So the question really is not whether we make a mistake or not but to try and see how we can minimize the mistake or minimize the effects of this mistake when reality strikes.
Choosing The Right Parameters Of Success
Growth and only growth seems to be on everyones mind. A huge amount of money is being spent in customer acquisition. But will the customer stick around ? At what costs is the customer acquisition happening ? And what about the revenues and profit margins ? Flipkart, one of India's biggest success stories has grown to the size it has by using the same aggressive customer acquisition strategy. And today most companies are trying to copy the same strategy and are finding it extremely difficult to sustain. The thing that everyone is failing to understand is that Flipkart had a huge first movers advantage and that Flipkart has simultaneously built an ecosystem along with using discount driven customer acquisition strategies. This has made Flipkart  a huge force that is impossible to ignore by any consumer or seller today. Something that is difficult to replicate in an already crowded market.
"Source of the problem is that startups are being evaluated on growth related metrics only and not financial metrics. How may transactions, how many vendors, app downloads, how many customers is more important than how much money, how much revenue, how much profit they are making etc. This clearly is not sustainable.Instead of just creating a customer base, startups should try and look at what value they are creating in the market ? Are they creating an ecosystem ? Do they have any control over entities that they work with are some factors extremely important to consider when you think about growth," says Ajeet.
Abhijeet agrees and feels that the startups are using their funding in the wrong place – a trend that is extremely dangerous and that should be addressed early on by any company's advisors. "There is a dangerous tendency growing theses days which is to raise money to acquire customers by giving out discounts or freebies. You should raise money to build the product, technology and processes and let that in turn bring you more and more customers. The more you acquire customers by giving away discounts, you get into a vicious cycle where the customers will go away the day you stop those discounts and that is a dangerous situation."
Today the fact is that there are too many alternatives out there to use the discounts strategy. At the same time, since everyone else in the market is doing it, an entrepreneur is left with no alternative but to follow the trend and get ahead by giving out even more discounts – thus beginning a vicious cycle.
"Once you have the money you are under pressure to expand.And to deliver people are hiring at a very high cost. A year later they run out of money without having made any revenues. And then the entrepreneur is again under pressure to cut down the costs and this is where the layoffs begin.If you cut down the cost in acquiring customer that is not okay so the only way out is to fire employees. Its a very wrong cycle," adds Abhijeet.
Creating A Second Level of Leadership
Companies today are becoming victims of their own growth. They are getting money, acquiring customers on the basis of this money and feel that they can sustain this growth for a long time. However to create a sustainable growth enterprise an organizational strategy, long term HR view, company culture are extremely important factors to consider.It is a great thing that companies in India are being started by really young people. But at the same time it is very important to have a second line of command – a set of people who have experience and who know how to create long term businesses. It is however very important to find the right fit here. Senior, mid management level employees who understand the growth ambitions of these company and yet can make them sustainable during the downturn could be a huge boon to startup organizations.
"Young companies today are not focusing on creating the right organizational strategies or HR strategies and don't think about these things till the time they feel the pinch by when you are already 100 miles deep in problem. There has to be a way in which the young entrepreneurs need to learn about creating a sustainable enterprise otheriwse with so much money in the market these things will keep happening," says Abhijeet
Effect of Recent Events on Indian Startup Ecosystem
Hiring experienced people in the startup environment has always been a problem in India and the recent layoff will surely add to this problem. " This will definitely have a bad effect on employment in startups. Indians get employment as much to tell the parents and the padosi as they do to make a living. Startups were becoming sexy from jobs perspective, but the recent developments are doing nothing to help that. Of course, for the non sexy startups — real bootstrapped startups — it was always hard to find and retain talent anyways," says Tarak.
Ajeet however believes that a lot of these startups today employ young and fresh talent and that enthusiasm will not subside so soon. "Although there is a lot of firing happening there is also a lot of hiring happening which is a great thing in the startup ecosystem. People coming from outside the startup culture – ie hiring for the senior and mid senior level will surely get affected," Ajeet adds.
The Next Blood on the Street
The one question on everyone's mind now is so what next ? Who will be the one to go down next ?
According to Ajeet the largest number of crashes will now come from hyper local space. In the hyper local space, people are taking one narrow zipcode, raising money and feel that they will replicate the success or at some stage this will be profitable. According to Ajeet both these assumptions are wrong and we will see a lot of blood on the road in this space now.
Abhijeet on the other hand feels that food and local services both will go down. "People are over estimating the size of the market. When it comes to food delivery, people think that they can deliver food to the entire city but the culture in India is still that people eat home cooked food most days. Specially if you look at tier 2 or tier 3 cities. The actual number of people that you actually might serve is very low. Also the margins are extremely low in food delivery and services markets."
Tarak sticks to the law of survival of the fittest and feel that the downfall will be sector immune – the fittest will survive.. the rest will go down. However, he feels that the startup ecosystem should just learn from this and move ahead positively. "If we in the startup ecosystem start believing that the bubble is bursting, it will become true. Lets strive to avoid that. Instead, let this be a teachable moment. Learn, implement the lessons, and do the right thing," says Tarak and gives an interesting analogy of the over sized over valued startups "I have been saying for a long time now that the overgrown startups are like bodybuilders and the money being pumped in is like steroids. They become big; bigorexia — the fear of not being big enough — and it's *never* enough — sets in; and becoming bigger and biggest becomes the goal. Hair loss, loss of vision, puffy appearance, weakened bones-ligaments-tendons, mood swings…wait! are we talking about bodybuilders or startups here"