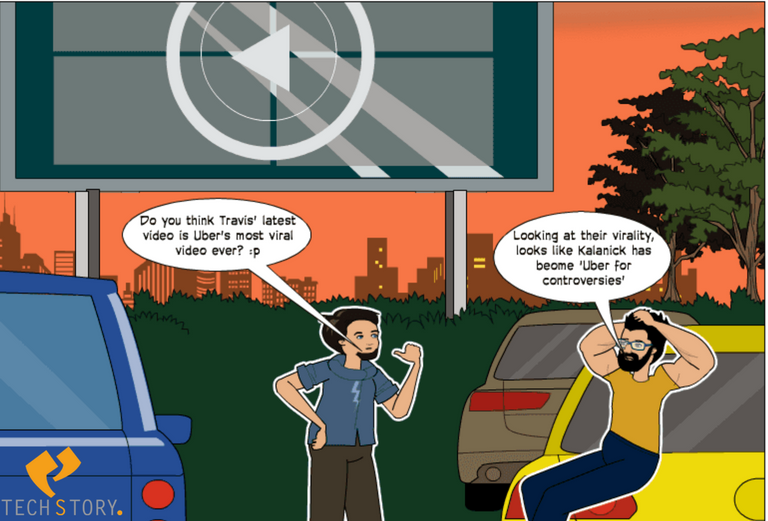 Shiv: Stevieee! I just bought shares in Snap Inc. and guess what!? ?
Steve: I hope you haven't lost it in a minute like their images.. ?
Shiv: Naaah I made it thrice the original amount ???
Steve: Damn.. If Facebook hadn't rolled out its suicide prevention update, all those critics who were pessimistic about Snap IPO would've been on the list now..
Shiv: Couldn't agree more ? Facebook is coming up with interest updates for betterment of the 'community'!
Did you check the fight between Uber cabbie and CEO himself! That cabbie had some serious guts man! ?
Steve: Obviously when companies are looking for the next billion customers, Facebook needs to maintain user retention at least by ensuring they are still alive.. ? And that Uber fight should have been the best viral video in the company's history.. ?
Shiv: Hehe, off late Travis has become the 'Uber for controversies', not sure if it is people troubling him or him troubling people ? Anyway, this has been one of the best weeks so far man, finally someone whom we can relate to while following in LinkedIn, Sachin is here man !
Steve: Uber ?? Yeah ! Finally Sachin is on LinkedIn, let's see if he can do his usual magic and drive LinkedIn to its intended growth. Did you read his first blog post? Also, what is up with the platform? Why are they becoming more like Facebook?
Shiv: Wait he wrote a blog post? Who reads pulse anymore? He should have written in Medium ?, their series update looks interesting. Also, when Facebook can rip-off LinkedIn's jobs' feature, I don't think there is anything wrong in LinkedIn joining the rally of companies that steal their competitors features. ?
Steve: Well, that's a point! But what do you think is going to be the outcome of bringing a sports celeb like Sachin on the platform? More users who on-board the platform just to follow Sachin? What is going to be the value addition in the latest pivot?
Shiv: If you look at it in that way, then Sachin has been a brand ambassador for various companies and also been an investor in a few sports related companies. This could very well be the second innings not just for Sachin but also for other sportstech companies who faced a funding crunch last year.
Steve: Oh yeah! That's an interesting perspective, after a dry 2016 it is not just sportstech companies that are going to be happy, even ecommerce should be happy about PayTM's fundraising Alibaba. Seriously mate, $200 million after a horrible in 2017 for the likes of Flipkart and Snapdeal is no small deal. Do you think we should try out something in ecommerce?
Shiv: No man, the place is too cluttered still! After a decade of stating organising the unorganized vendor market, it looks like ecommerce space in itself has become unorganized market !? Let's see how Alibaba fights Amazon from now !
Steve: Well, this should be an interesting year for Amazon in India ! On one hand, they are facing impending Jack Ma's full throttle entry and on the other they have to face the joined hands of Flipkart and Microsoft fighting both Amazon's ecommerce and AWS !
Now it's a fight between to check if they want to start a Sportstech and Ecommerce? But should they decide their based on the funding season or try to build products that users love and make it big into IPO like Snapchat? Too soon..! Let's wait for more..
(Disclaimer: This is a funny (okay, not so funny) take on what happened in the technology and startup space. The conversation is purely fictional and does not reflect any personal opinion. For more such round ups on the latest happenings in the startup space, check out TechStory every Sunday)
Feature Image: pixton.com