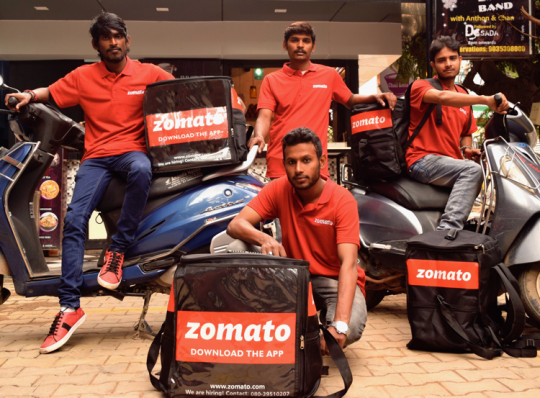 Zomato- India's most used food directory was originally launched under the name 'Foodiebay' in 2008 at the peak of the Indian start-up boom. The founders were Deepinder Goyal and Pankaj Chaddah. Both are IIT Delhi graduates from 2005 and 2007 respectively and were working as analysts for the consulting firm Bain & Company.
The idea for FoodieBay sprang from them when after having to scrounge around for restaurant menus they finally decided to take matters into their own control.  It started with a simple foundational idea- an internet directory for restaurant menus.
The idea, even before FoodieBay, was being pursued by Deepinder with another friend Prasoon Jain in Delhi NCR as a venture called Foodlet. However, Prasoon soon moved to Mumbai and left behind Foodlet as a venture too.
Soon there was a severe lack of HR and business, which kept Foodlet struggling. This is when Pankaj Chaddah stepped in to help Deepinder's idea, and they began afresh by starting FoodieBay.  The graph, since then, started bolting only upwards for the company.
Deepinder describes Pankaj as a "turning point for the company". The team of FoodieBay was just 6  in number but in a short span of 9 months, they became the biggest restaurant directory in the Delhi NCR region by late 2008. The service, after two years of operations, was renamed as Zomato in 2010. 

Funding:
Between 2010 and 2013, Zomato received its biggest funding of approximately USD 16.7 million (INR 167, 000, 00) from "Info Edge India". This gave them a 57.9% stake in the company. In the November 2013, another lucky round of funding got a new investor to pitch in- Sequoia Capital. They with Info Edge took the total sum of that round to USD 37 million.
In a fresh round a year later, Info Edge, Sequoia, and a new investor- Vy Capital raised USD 60 million for the company. The total funding of Zomato by the beginning of 2015, was a promising USD 113 million.  In 2015, along with the 3 initial investors, Temasek- a Singapore based investment company, also pitched in, bringing in USD 110 million for that year.
2016 was a slow year for the company in terms of funding, but 2017 picked the pace up again with WhatsApp's Neeraj Arora adding to the list of investors and raising a conservative USD 20 million. This racked up the total funding of Zomato to USD 223.8 million since its founding in 2008.
With the most recent rounds of funding, things started looking peachy for the company in March 2018, especially with Alibaba's Ant Financial coming into the picture with a whopping USD 150 million.
Growth:
As funding started picking up the pace in 2010, Zomato's presence across India did too. By 2011 the company after establishing a monopoly in Delhi NCR moved to cities like Pune, Bangalore, Chennai, Hyderabad, and Ahmadabad.
It kept pace with the smartphone boom too, by introducing its mobile app at this point in time. The company in order to keep up with its hip brand image and humor its audiences launched a .xxx domain which had pictures strictly dedicated to food porn.
By 2012, overseas operations of Zomato started operating in full gear with the UAE, Sri Lanka, Qatar, United Kingdom, Philippines, and South Africa becoming a part of its user base. In 2013, countries like Turkey, Brazil, and New Zealand were also added to the list.
While its expansion was happening in full force, Zomato also started acquiring foreign-based companies to maximize its business. In 2013 it acquired Portuguese company Gastronauci and the Italian service Cibando. A big acquisition came in when they got a hold of the  American service called NexTable which catapulted Zomato into the US market's competition.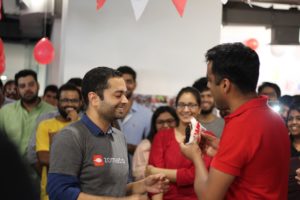 The Ups:
Zomato acquired MapleOS in 2015 to expand operations and build a new customer database. This increased the functionality of Zomato by allowing it to offer online table reservations and mobile bill payment.
In 2017, the company claimed to have turned profitable in all the 24 countries that they operated in, along with rolling out a zero commission model. This was done to give impetus to small businesses and restaurant owners across its user base. They said that their revenue grew by 81% that particular year.
In 2017, the online ordering service of Zomato also crossed the milestone of 3 million orders in one month. In February 2018, after the funding from Ant Financial Services, Zomato's evaluation reached an unprecedented USD 1.1 billion dollars. This made Zomato Media Pvt. Ltd. the newest Indian unicorn company on the block.
The Downs:
2015 came in with the need of Zomato laying off 300 employees in order to curb losses, and 10% of these layoffs came to be in the US.  Another setback in the States happened when Zomato aquired Urbanspoon and rebranded the company as their own. This rebranding did not workout and the venture failed in a mammoth manner.
2016 was probably the slowest financial year for the company, and as a result, it had to rollback its operations in 9 countries which included the US, UK, Chile, Canada, Brazil, Sri Lanka, Ireland, Italy, and Slovakia. To resume presence they had to go ahead with a remote management service.
In May 2017, Zomato faced it's biggest cyber attack with a hacker breaching into 17 million user records. While the concern was overpayment and card details being accessed, the company claimed that only the names, user ID's, email addresses, usernames, and password hashes had been disclosed. The breach was resolved after communicating with the hacker who apparently just wanted to prove the security loopholes in the system.
Lastly, Zomato again had bad PR built up for it when it was just about to reach an evaluation of a billion and HSBC Capital slashed this evaluation down by 50% (making it USD 550 million) thereby raising the company's alleged losses.  
Controversies
Zomato has maintained a very transparent brand image since its founding days which has left little room for a controversy. However, some of the biggest rumors came in when the company's top brass decided to leave in a quick succession.
In the February of 2018, co-founder, Pankaj Chaddah quit citing no specific reasons other than personal agendas.  Soon after, 2 months later, their CBO Mukund Kulashekaran also went ahead with his departure from the company without any formal announcements or comments.
Along with these exits, Samir Kukreja, after a very short  8-month stint also quit his position as the president of Zomato Base, the company's cloud platform. All these exits had taken place when Zomato was on its toes to fight its main competitor Swiggy and a major position reshuffle was happening in its upper management.
Future
The company has had a tumultuous few years, but since 2017 things are looking up. With massively successful business tie-ups like Zomato Gold and online food delivery, it has established a heavy consumer base, especially in India. The company has had its shares of ups and downs but has always emerged to survive.
2018 marks 10 eventful years of Zomato Media Pvt Ltd. and here is wishing them ten more.
Comments
comments