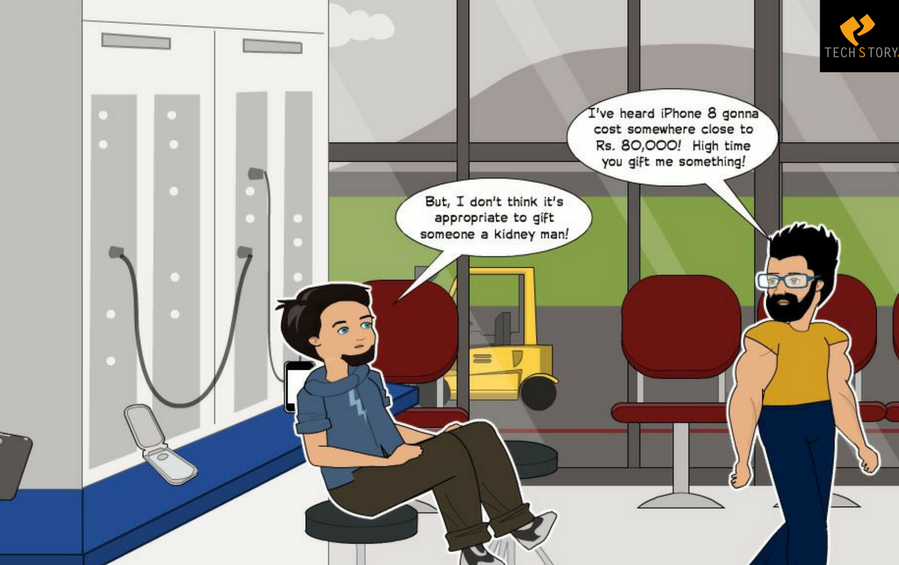 Shiv: Dude! Just when I was thinking of buying iPhone 5s, Apple is launching iPhone 8! ? I've heard its gonna cost somewhere close to Rs. 80,000! ? High time you gift me something!
Steve: I don't think is appropriate to gift someone a kidney man.. ? Will give you a better deal, make enough money to participate in Uber's next round and then may be you can get good returns when they finally go to IPO in 3 years.. ?
Shiv: Hahaha why go Uber when you have Yogi Adityanath in UP! Apparently the UP Govt plans to invest Rs. 1,000 crores to boost startups! Lets go there!
Steve: You seriously want to raise funds for your company and get an iPhone in that? ? Seriously man, Nilekani is far better.. Inspite of having less than 1% stake in the company, he's going for no salary.. ?
Shiv: Haha Isn't that what people do? Get funded, buy classy gadgets, slay and repeat! Nilekani anyway earns crores, his salary in 2010 was 'mere' Rs. 34 lakhs ?
Steve: You keep doing this, then your investor might just sell you off to your competitor for an exit.. ?
Shiv: Haha true! that reminds me, Softbank is trying to make an alliance between Uber and Ola! I wonder why it takes so much of efforts when we already know, its not gonna happen!
Steve: But, it could happen at some point in time.. Either an alliance with Uber or alliance with one of its competitors in the future.. Just imagine what would happen if Didi Chuxing or Lyft decides to enter India.. ?
Shiv: ? Didi, Chinese? I doubt but Grab or Lyft, maybe! Btw even WhatsApp messenger has introduced verified accounts ? any idea how to get one?
Steve: Let's stay away from that.. if WhatsApp is about to get hacked like Instagram, then the first targets would be verified ones.. ?
Shiv: Forget anonymous hackers, what if CIA has access to even our WhatsApp conversations? That could be worse than having Aadhar card details ?
(Disclaimer: This is a funny (okay, not so funny) take on what happened in the technology and startup space. The conversation is purely fictional and does not reflect any personal opinion. For more such round-ups on the latest happenings in the startup space, check out TechStory every Sunday)
Image Credits: pixton