Richard Branson had once quoted, "Clients do not come first. Employees come first. If you take care of your employees, they will take care of your clients."
Working at a startup is typically a synonym for "exciting work culture" and interns have been an integral part of the ecosystem since the beginning. Surprisingly, not every intern decides to go full time in the startup he/she starts with and these are certain triggers that would speak volumes about your startup's culture. If you are able to successfully convert a valuable intern into an employee, then you will be able to convert a quality lead to a customer. Here are quotes from 10 superstar interns who are sharing their thoughts on what triggered them to join full time in their organization.
"If I look back today, the amount of exposure and learning I had at that time was crazy and that is what triggered me to join Pricebaba full-time after another 2 years of studies. Finally, I joined full time in June 2015."
Curiosity That Seeks Reason & A Strong Attention To Detail Makes Yash A Superstar Intern At Ather Energy !
"Interning at Ather was one of the best things that happened to me. Apart from learning business skills, I got the freedom to work with four core teams. Over the course of weeks, I realised that I had picked up multiple programming languages and architectures."
Swati Shandilya, Superstar Intern At Chumbak, Makes The Company's Products Look Fun And Beautiful !
"At first, it was very overwhelming as I had no defined roles. It was very exciting to work with different departments in the company and getting to know them better. I guess the one thing that encouraged me to commit myself full time to the organisation was the challenging job role and the people that I worked with. It all just fit."

Aashish Mogha, Superstar Intern At CashKaro, Excelled In Automating And Strengthening The Product Functionality !
"I started liking the faith and confidence shown towards me by Rohan (Co-founder, CashKaro) to whom I had to report. Also, there is healthy work-life balance at CashKaro. Above all, the whole team is like a family. They never made me feel like an intern. Gradually, CashKaro became my second home and I continued here as a full-time employee."
From Being A Football Fan To Creating The Largest Football Community In India – Story of Siddhant Prakash of The Football Mind !
"The best part about working at The Football Mind is that we all make a very coordinated team just like a football squad. Apart from that, the kind of encouragement I got from my seniors and the opportunities I got early on helped me gain exposure to the football scene in India. The more I interacted with players and coaches the more I became a part of the football universe in India !"
How Intern Superstars Srishti And Gagan Of SHEROES Are Connecting Women With Opportunities Each Day !
"A place where ideas are welcome and there is no thought control is the perfect place to start your career! And SHEROES gave me just that. My seniors here helped me figure out my career path and have been great mentors and leaders helping me at every step along the way. A helping team, learning curve and growth were the incentives that made me go full-time here" – Shrishti
"The organization's mission to connect women to opportunities and the open culture where I felt I could grow really well, drove me to join SHEROES" – Gagan
Intern Superstar Raunaq Singh Gave Up An Extremely Attractive Job Offer To Shape The Future of Healthcare in India !
"I joined CrediHealth when it was just an idea in Ravi's mind. From Data Entry, to finalizing website designs, writing use-cases for the tech team, managing content writers, attending patient calls, learning how to make coffee, fighting for Saturday offs with the boss, I did everything in a period of 5 months and quit CrediHealth in November to join the brand in which I was placed at.
I went for my convocation during the same month and compared notes with friends who had been working in more established setups. The perks were better, but the work was monotonous. I realized, for me, the job was more important than the brand. I quit the idea of joining my dream company for CrediHealth."
Willingness To Learn And A Never Say NO Attitude Makes Vishwanath A SuperStar Intern At Megavenues !
"Shrinvas is a good boss and I have been told that people from Pune are nice. It is nice to be around such people and work from home option in this company is equally exciting. It was nice to work along with level headed professionals like Sanaya, Jassiel, Shrinivas and Rahul. I learnt a lot from them."
 UrbanLadder's SuperStar Intern Meha Shetty Is Defining Product Designs For The Company !
"It was my first Industry experience. I was really excited and scared at the same time. I had heard people saying that life changes when you start working and how "college is the last time when you can have fun". But honestly, Urban Ladder was the perfect transition one could get from college life to work life!"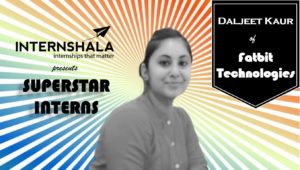 From Seo To Social Media, Brand Awareness To Reputation Management And Influencer Marketing, Daljeet Kaur Learnt Everything At Fatbit Technologies !
"The freedom of work given at Fatbit, made me go work with them full time. The management at Fatbit gave us time to think, plan and execute. Also, I got timely mentorship from my Team Leader, Mr. Amit Sharma. What excited me the most is that I got to know the best way to present myself."
Also Read: Building Startup Culture From Foundation To Finishing !
If you're looking to hire interns, sign up on Internshala for hiring great interns!