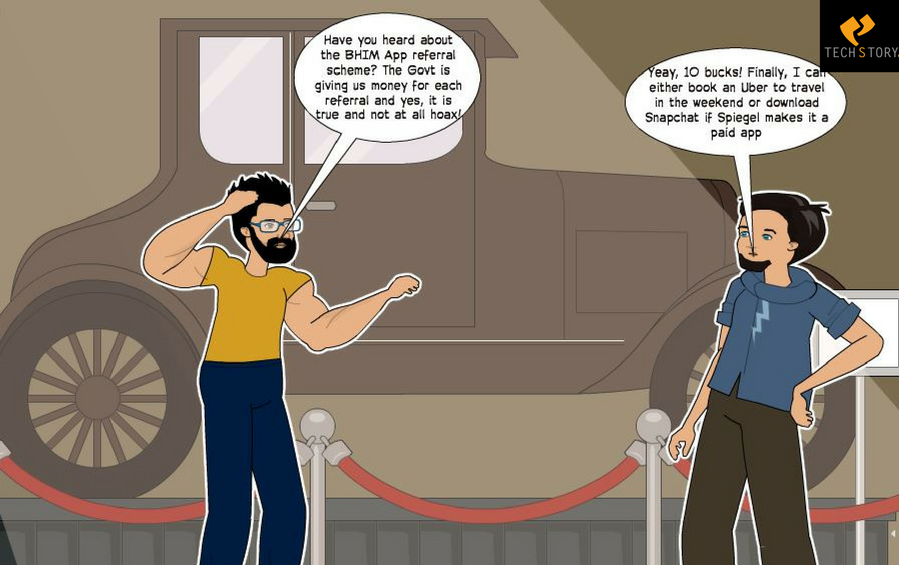 Shiv: Stevie! This is the list of things you need to get me for my birthday! Since Flipkart has raised a massive funding, you can order online, Ohh wait! They won't repeat the same mistake again, will they?! ? Any which way, I want these gifts! ?
Steve: Do you mean they'll commit different mistakes? ? Moreover where are they going to push more offers in? Flipkart or Myntra or Jabong or eBay? Damn, they're so huge now.. ?
Also, are you sure you want stuffs from Flipkart? How about Amazon? Now that they're behind in product catalogues, will they compete in the discount war again?? ?
Shiv: Haha wait a while, You'll have the Snapdeal in that list as well ? See, Gifts is what I want, Flipkart or Amazon- It doesn't matter! You know, iPhone 8 might have a curved display (Just saying) ?
Steve: Curved display? Didn't iPhone 6 have similar problems? ? Just wait man, Amazon digi wallet is coming, let's see if they do something like Freecharge cashback offers for Snapdeal.. ?
Shiv: Haha true that! Did you read about that ScoopWhoop guy? What's wrong with these media startups?
Steve: Not sure, it was one scoop about sexual harassment that set the dominoes effect and now everyone is whooping about it.. ? But the case hasn't been about Media startups alone.. ?
Shiv: Yeah, Founders are getting accused, arrested, bailed and repeat! ?
Steve: The worst part is even snapdeal is snapped with these shady deals when they are already speculated of being sold to others.. You know what? We should come up with an air-tight policy for our startup so we don't get caught in any of the legal issues.. Let's make sure we stay away from this godzilla ?
Shiv: Yeah! SoftBank is doing it all what it takes to sell Snapdeal! Meanwhile, Ola just raised the latest round of funding from Softbank! So the scenario is like- Softbank wants to be at the Helm! Hence interested in Flipkart to compete with Amazon and backed Ola to fight with Uber! ? You getting what these guys are up to!?
Stevie we'll hire someone clean to make these air-tight policies for us! Someone who's associated with SoftBank? ??
Steve: I am not entirely sure, but is it not called 'capital dumping' when you raise in Japan Yen? Right now it looks like Flipkart can sell it to anyone and Ola is already on a ride.. ?
How about someone who is good at merging or selling companies..? I am sure Softbank will have someone like that in their ranks.. ?
Shiv: Yeah sure, they do have one ? Btw, have you heard about the BHIM App referral scheme? The Govt is giving us money for each referral and yes, it is true and not at all hoax! ?
Steve: Seriously man, what am I going to do with 10 bucks referral amount? Book an Uber in a weekend or download Snapchat if Spiegel makes it a paid app in our so called 'poor' country? ???
(Disclaimer: This is a funny (okay, not so funny) take on what happened in the technology and startup space. The conversation is purely fictional and does not reflect any personal opinion. For more such round-ups on the latest happenings in the startup space, check out TechStory every Sunday)
Image Credits: pixaton
Comments
comments